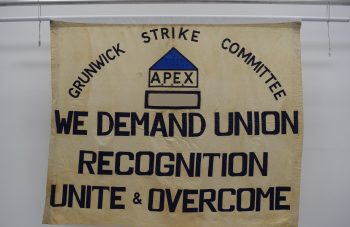 What will happen in the session?
Explore highlights from PHM's collection
Join a 40 minute tour of hand picked collection highlights in a presentation format, followed by 20 minutes for questions and discussion.
Be inspired by ideas worth fighting for; ideas such as equality, social justice, co-operation, and a fair world for all.  Subjects to be explored in this online session include the Peterloo Massacre, the suffragettes, and the Grunwick strike.
We may be able to tailor the tour to your group's interests.  Speak to a member of the Learning Team to discuss.