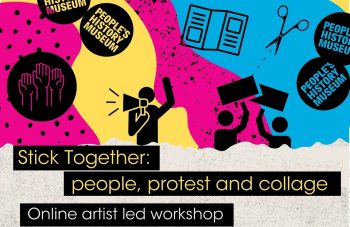 What will happen in the session?
Explore with an artist how to create your own protest collage
Using PHM's unique collection, participants will find out how the practice of collage has been used in historic and contemporary protests and campaigns. 
Participants will work with a professional artist to share ideas and test out how to use different materials, imagery, text and composition to effectively get their message across.
Digital resources will be shared upon booking, providing support before and after the workshop to inspire and help participants create their own piece of protest collage – this could be a poster, zine or badge.