In this blog, Programme Officer Michael Powell shares information about the museum's next major programme, Nothing About Us Without Us – Disabled People's Activism: Past, Present and Future and we introduce PHM's four new Community Curators who reveal why they chose to get involved.
Nothing About Us Without Us
Disabled People's Activism: Past, Present and Future.

Can you begin by telling us a little bit about PHM's programme for next year and the work behind the scenes to get us here?
Across 2022 and throughout 2023 People's History Museum (PHM) will focus on exploring the history of disabled people's rights, activism and fight for inclusion.  This programme will include themed exhibitions, events and activity developed in collaboration with disabled people.
A Steering Group of disabled people, who have been working with the museum on various projects since 2017, are guiding the way forward in all areas of the programme.  It is wonderful to see it starting to take shape and come to life.  They have also led on the appointment of Community Curators, who all identify as disabled people.  The team of four, Anis, Ruth, Hannah and Alison have now been in position since the summer.  At present, they are heavily involved in the research that is going into the programme, beginning with PHM's own collections and archives.
To find out more about how we are creating Nothing About Us Without Us you can download the consultation and planning report for PHM's 2022 – 2023 programme, which was developed through many conversations with disabled people with a range of impairments, guided by the museum's Steering Group between 2019 and 2021.
Please would you tell us what visitors should expect to see at the museum next year?
A core part of this programme will be a headline exhibition, 'Nothing About Us Without Us', exploring the history of disabled people's activism; past, present and future.
Opening Wednesday 16 November 2022 until Mon 16 October 2023, this National Lottery Heritage Fund supported exhibition will be researched, curated and created by our four Community Curators, who have been working on the project as paid staff members since August 2021.
We will also have some exciting collaborations, including a project with internationally acclaimed artist Jason Wilsher-Mills, and a programme of events taking place both online and in the museum.
Meet the Community Curators
We asked Anis, Ruth, Hannah and Alison to tell us a little bit about themselves and their reasons for joining the team at PHM as a Community Curator.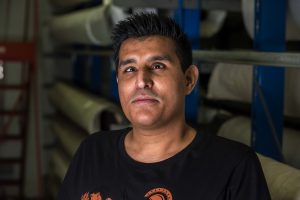 Anis Akhtar
I'm Anis (they), originally from Bradford and now living in Leeds.  I've been visually impaired from birth which saved me from infanticide, a fate that befell intersex people born into my wider Pakistani Muslim family, hence my affinity for disabled people!!!  I'm a straight, non-binary, intersex person/person with variations of sex characters/a hermaphrodite with attitude!  I attended both special and mainstream school.  I am vegetarian, agnostic, dyslexic, neuro divergent, and have anxiety and depression!  ​
My advocacy includes; disability, LGBTI+, the 'honour' based abuse system, inclusive education, Stop the War, campaign for nuclear disarmament, appearance equality and other social justice causes!  These are mostly based in Manchester, Bradford and Leeds, with some regional, national and international outreach.  The social model of disability was introduced to me in 2007,  when I trained as a peer support worker for disabled people, by disabled trainers who taught the concept of D/deaf and Disabled People's Organisations (DDPOs).  I'm a member of many DDPOs, grassroots and community groups!
Can you tell us why you wanted to get involved with the work to develop the Nothing About Us Without Us programme at People's History Museum?
The reason I got involved with this project, is because I'm passionate about intersectionality; I'd like to educate myself on the history of the disabled people's movement and how this links with other social movements.  To focus on disabled people who intersect/identify as; people of colour, LGBTIQQA2+, refugees and asylum seekers.  Highlighting how the disabled people's movement, is linked to and instrumental to other social justice movements!
I'd like the exhibition to have a very intersectional outlook and provide information about our histories/stories, with; past, present and future vibes!  I'm hoping this exhibition will educate, inform and provoke discussions, especially for young people, who often don't know about the social and medical models/approaches and our collective history until they start meeting old school disabled advocates!  I feel young people get caught up with the big impairment specific charities, social media fandom and sensationalism; they're deeply missed by grassroots movements who wish to; include, nurture and support intersectional voices and to continue the fight for equality, diversity and inclusion, for generations to come!
Ruth Malkin
Hi I'm Ruth.  I'm a disabled artist, activist and access consultant.  I'm also a neurodiverse single parent.  I run a creative inclusion consultancy called Inclusion Incorporated.  I am passionate about removing the barriers that exclude people from all backgrounds from taking a full part in society.  I am particularly keen to highlight the barriers in our democratic processes.  Voting, standing for election in local and national government, being counted in the census, being properly represented in the media, that kind of thing.
I've been a part of the disability rights movement since I 'came out' as a disabled person and discovered the social model of disability in my early 20s.  That's a long time.  Awareness of diversity has changed over the years, but what I've found is that, while some physical barriers have supposedly been tackled, other barriers have cropped up.  So when I started out campaigning, there was no internet.  The arrival of the internet made some things more accessible for some people.  But doing things on the internet (as we use it now) just isn't accessible to large numbers of people.  This causes problems when the only way to do something – like access a GP appointment – is via the internet.  There just isn't the awareness of the problems with this in our society that there should be.
Can you tell us why you wanted to become a part of the team that will help to create the exhibition 'Nothing About Us Without Us'?
Inclusion has to be embedded in the planning of any public activity.  People's History Museum, in choosing Community Curators, being managed by a steering group of local disabled people, is demonstrating good practice in this regard.   I want to be part of this amazing headline exhibition so that I can share my experiences, and encourage lots of other people who are often unheard to share their experiences.  Then, we can together be part of the movement for change.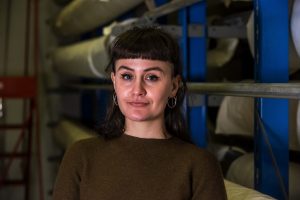 Hannah Ross
Hi I am Hannah, I am a disabled activist and artist who lives in Manchester I am passionate about engaging with young disabled people and collaborating on projects that teach about the rich and intersectional history of the disabled people's movement.  I have previously worked as a project worker at Greater Manchester Coalition of Disabled People, amongst other things coordinating the Self-Developed Project and subsequently the Young Disabled People's Forum project including outreach and one-to-one support with young disabled people (ages 13-25) and also in a similar role at Venture Arts, working on a freelance basis to support Accessible Music Productions at HOME.
What is it about being a Community Curator that you are looking forward to and hope to achieve?
I am really excited to be working on this project at PHM as one of the community curators and want this exhibition to be celebratory, inclusive and intersectional.  I also want it to appeal to the wider disabled community, particular younger people and also non disabled allies and audiences, so that ideas like the social model of disability become more well-known within society more generally.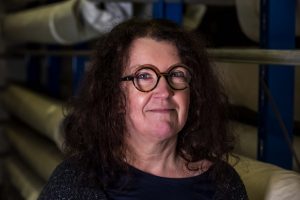 Alison Wilde
I'm Alison.  My lifelong commitment to improving the lives of disabled people began when my sister Sarah was born.  Before I became disabled, as a young woman, my life with her gave me an avid interest in why disablist attitudes are so pervasive in society, and how they can be changed. My work and activism have emerged from these goals.  Sarah's life, and (preventable) death in care, have also given me the determination to continue the fight against systematic failings in health and social care.
My work has included research and teaching at universities, work with a variety of disabled people's organisations, including York and Leeds Coalitions of Disabled People, and Disability Arts Online.  I have also worked on a range of social justice issues, including parenting, gender, and health and social care, and often write on topics such as screen media, disability, gender and audiences.
How do you feel about being a part of PHM's Nothing About Us Without Us programme?
I am thrilled to be part of Nothing About Us Without Us, as it will allow me to contribute to an exhibition which shares the value of disabled people's lives with a wide audience, will celebrate the lives of disabled people who have built, or shared in, our community, and will reach other disabled and non-disabled people.
Interested in finding out more?
This UK Disability History Month, come along to the first public network meeting on Saturday 4 December between 12.00pm and 4.00pm, and meet individuals and organisations who are helping to shape PHM's 'Nothing About Us Without Us' programme and headline exhibition (Wed 16 November 2022 – Mon 16 October 2023 ).  As part of this event, the museum will also be opening up its archive for you to delve into, with a chance to meet some of the team helping to research PHM's 2022 headline exhibition.
If you are interested in getting involved with the programme, have an idea for an event, exhibition or project connected to the history of disabled people's rights and activism, or would like more information, please get in touch with Michael on michael.powell@phm.org.uk