The Great Manchester Run is a weird and wonderful annual event that brings together brings everyone together. Naturally, a team of Radical Runners made up of the museum's community supporters, Trustees, staff and volunteers are taking part in this year's 10k run on Sunday 19 May 2019. As such, we asked Jennifer Tomlin of The Great Run Company to let us know what to expect at the Simplyhealth Great Manchester Run this year.
Rave zones, samba bands, choirs & DJ sets
'The Simplyhealth Great Manchester Run is a running event like no other; with the world's greatest athletes and most inspirational people taking on the streets of Manchester together on Sunday 19 May.  This year, there'll be a whopping 29 entertainment points along the 10k and half marathon course covering all bases including Manchester anthems, local bands, a ladies choir, a classical ensemble – and even a good old samba band.  You're also guaranteed a warm welcome from the people of this fantastic city who turn out every year to support the runners taking part.
Here's a rundown to everything you'll experience:
Haçienda Zone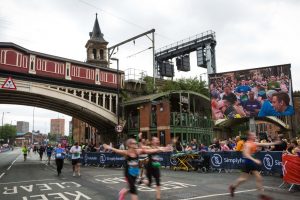 Whether you were actually there, or just wish you had been, the spirit of the legendary Haçienda nightclub lives on in the hearts of party people everywhere.  To give you that much needed boost, just as the finish line comes into view, get ready for a brand new support zone under the Deansgate arches.  With a playlist by New Order and Joy Division co-founder Peter Hook, a massive sound system, disco lights and even a smoke machine, we want to see those hands up until you're right across the line.
LGBT+ cheer point in association with The Proud Trust
You'll also experience a true Manchester party as we've partnered with The Proud Trust to create a LGBT+ cheer point, complete with a DJ, colourful balloon towers and supporters. The LGBT+ cheer point, which will be positioned at 7.5km of the 10k and at mile 11.5 of the half marathon, is set to be an explosion of colour, with branded banners and flags, rainbows and balloon stacks, celebrating the importance of the LGBT+ community in the city.  The zone will feature a team of 20 volunteers from The Proud Trust, with DJ Zoe McVeigh, who will be playing loud LGBT+ music to motivate runners on their challenge.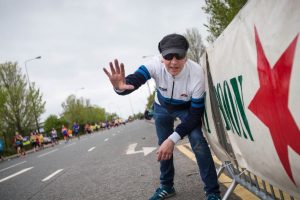 Clint Boon's Boon Army Stage
He calls it his favourite gig of the year, so we've decided to move him so you can now see and hear him twice – at 2.5k and 8.5k of the 10k and just before mile nine and just after mile 12 of the half marathon.  The DJ and Inspiral Carpets keyboardist will take you into the world of Madchester, blasting out the city's most famous anthems from the Stone Roses, Oasis and James.
DJ Helen Stelling Holt
Local Manchester DJ and model, Helen Stelling Holt, will play upbeat party house music, R&B funk and disco tunes at Old Trafford.  Helen Stelling Holt is originally from Newcastle but has lived in Manchester for a decade and is best known in the city for her DJ skills and modelling.  She plays a bit of everything from commercial house & R&B, disco and indie.
Hallé Youth Ensemble Band
The famous orchestra are back, located outside Bridgewater Hall on the first mile.  Listen out for some recognisable pieces expertly performed by young members of Manchester's symphony orchestra.
Bloco Mente Samba Band
As you head up the Mancunian Way for the very first time, Grafton Centre in Hyde's very own Bloco Mente Samba Band will be at mile two and seven of the half marathon to put a spring in your step and get you dancing all the way to the finish line.
Chorlton Ladies Choir
If you're taking on the half marathon, you will be treated to the vocal talents of the Chorlton Ladies Choir, who will be serenading runners with covers of Manchester favourites Oasis and Elbow.
Dobcross Youth Band
The Dobcross Youth Band will appear just up the road from DJ Helen Stelling Holt – and will provide a slight change of pace.  The Saddleworth based brass band will be playing a range of music from their repertoire including hymns and film tunes, so keep an ear out!
Batala Mersey Samba Reggae Drummers
Nothing gets the energy going like a drum band, and the people from Batala Mersey will be driving runners through 6k of the 10k and mile 11 of the half marathon with their rhythmic beats inspired by traditional reggae and samba groups from around the world.
Greatest Hits Radio – Wall of Sound
The Greatest Hits Radio wall of sound team will be positioned in Trafford.  They will have cheer teams in 1970s and 1980s gear to match the music they will play to motivate runners past the half way point of the 10k and mile 10.5 of the half marathon.
Garmin Forerunner Zone
As runners head past 3k of the 10k and mile nine of the half marathon, they'll enter the Garmin Forerunner Zone, full of branding, towers and loud music which is sure to inspire you to want to Beat Yesterday.
Lululemon Cheer Zone
Just before you hit the Haçienda Zone, you'll reach the zone supported by Lululemon, the official sportswear partner of the Simplyhealth Great Manchester Run, who will be positioned at 9.5k of the 10k and just after mile eight of the half marathon.  Expect to see a huge stage full of by cheering supporters, accompanied by booming and motivational music to push you towards the final straight.
Manchester University Go Zone
Supporters from The University of Manchester have created a special Go Zone to cheer runners through their challenge on both the 10k and half marathon routes.  Expect their Go Zone to be a burst of colour and noise, with a PA system, balloons and cheering students!
ENGIE support zone
ENGIE, the official energy partner of the Great Run Series has got your support team covered on course.  At 2k of the 10k and at mile 8.5 of the half marathon, they'll be cheering runners on with the help of a live band and a special support zone.  They'll be offering message boards out to spectators, so ask your team to write down some encouraging words of wisdom to keep you going.
Greatest Hits Radio – Wall of Sound
Close to the Lululemon cheer point, the team from Greatest Hits Radio will have a second huge wall of sound before you approach the finish.  Dig in for the final push and you'll nail that finish line celebration.
Chorus Choir
Manchester's inspiring Chorus Choir group will be singing the half marathon runners on their way at the Etihad Campus.  Be sure to listen out for an inspirational song or two from the huge number of members who will look to entertain the thousands who pass at mile five of the half marathon.
Kellogg's Special K
At around the half way point of the 10k and at mile ten of the half marathon, you'll enter Kellogg's Special K, a branded kilometre supported by the event's snack bar and cereal partner Kellogg's.  The kilometre is close to Manchester United Football Club's Old Trafford stadium, where you'll then turn round to head back to the city centre, facing thousands who are also heading up on the same journey.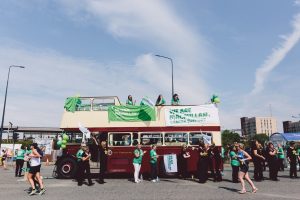 Charity Cheer Buses
If you are one of the thousands of runners taking part to raise money for good causes, then keep an eye out for the charity cheer buses on the route.  The big red London style buses will be branded up with each charity's colours – listen out for your own personalised shout out if you are decked out in your charity vest!
Post Event Parties
Complete your Simplyhealth Great Manchester Run experience with a trip to the Event Village on Deansgate, between Spinningfields and Albert Square that will be packed with celebrating runners, sponsors and partners who will help you rest and recover, as well as tempt you with bespoke Great Run offers.
Spinningfields Oast House Stage
After your 10k or half marathon challenge, runners can head towards Spinningfields to watch a host of outdoor entertainment, taking place at the Oast House.  The outdoor bar area in the heart of Spinningfields will boast a stage and various music acts – it's the perfect way to celebrate completing your challenge!
So get ready for a massive Manchester party!'
Jennifer Tomlin at The Great Run Company.
People's History Museum celebrates the stories of radical thinkers whose big ideas have shaped our society; the men and women who believed in ideas worth fighting for.  As part of our #JointheRadicals campaign, we are delighted to have a PHM team of Radical Runners supporting the legacy of radical stories.  Do give them a radical cheer when you see them!
Sponsor PHM's fantastic and dedicated team of Radical Runners and join PHM in fighting for a democratic, equal and fair society visit.  It has never been more important to keep our vibrant democracy and debate alive.
To find out more about the Simplyhealth Great Manchester Run and to enter, visit greatrun.org/manchester.