This Sunday 27 October 2019 at the museum will be 'There is no planet B' creative disobedience day, which puts the environment in the spotlight.  We invited 10 year old youth activist Lillia to blog about what's at stake and how she is standing up for climate justice.
There is no planet B
Who is youth activist Lillia?
'My name is Lillia, I'm 10 years old and a youth activist.  I'm passionate about the planet and making sure it is a safe place for animals and all people who live on it.  There is no planet B and we won't get another chance to make things right.
We have a proud history of protest in Manchester; 'deeds not words' were written proudly across the suffragette banners when they called others to action, because they knew promises and words meant nothing if not backed up by action and deeds, and the changing of the laws to make sure those actions were done.
Greater Manchester has a history that has seen many stand up against injustice, and doing what is right.  I learnt about the Pankhurst sisters in Manchester and Annie Kenny in Oldham and their roles in the suffrage movement.  I've learnt about Peterloo and how the first trade union was founded here in Manchester in 1818 as well as the Rochdale Mill workers who wouldn't use slave picked cotton during the cotton famine.  And through all this I was inspired by their non-violent civil disobedience and their use of placards and banners to get their message across, as well as the marches, and sit-ins and strikes.  And I really hope that in generations to come people will look back and be learning about the environmental movement and I'll be proud to be part of that history – standing up for climate justice!
Why is climate justice important?
We need climate justice!  Especially as I, and most people, worry about the future of ourselves and the planet but there are people who are already suffering and yes, dying because of the effects of climate change.
In 11 years I will be 21.
Scientists gave us 12 years to limit climate change before there is nothing we can really do.  Since I started striking and protesting for climate justice I had a birthday, and we have gone past the 11 year mark and are now almost at 10 years until we reach a tipping point that we can't turn back from.
I have hopes and dreams for 21 year old me that may only be just that, but at least I am still able to think of my future, for some children in the world it is already too late, and for the children like me, if nothing's done, by the time we are 21 the climate as we know it will be hotter across the world which will cause more flooding, more droughts, forest fires, sea levels rising, crop failures, climate migration and animal extinctions, and it's going to be bad.  It really is scary to think about, but activism gives me hope and a way to feel less hopeless.  Being able to express myself and have my voice heard means everything to me.  Especially being part of the environmental community in Manchester, who have been so supportive of me, especially amplifying my voice and supporting me.  They make me feel less alone, I am not the only person who thinks and feels like I do.
What is a youth activist?
Each Friday you will find me in St Peter's Square in Manchester city centre, 12.00pm to 2.00pm striking with Friday's For Future Manchester group.  I've also helped to campaign for Manchester City Council (MCC) to declare a climate emergency, as well as taken part in actions with Rising Up Families Manchester, campaigning for the Greater Manchester Pensions Fund, to stop investing in fossil fuels, and raising awareness of animal extinction in the UK with the Carnival of Creatures march through Manchester in June 2019.
I joined the Friday's For Future Manchester group in February 2019, and took part in the first youth climate strike a few weeks later and I have been to every youth strike since.  We achieved our aim, working alongside other groups, of getting the UK to declare a climate emergency on 1 May 2019.  I even attended a strike on my birthday in the pouring rain because that is how important the issues of the environment are for me.
Why is it important to be an activist?
Both Manchester and the UK declared climate emergencies and I was so excited each time.  But then nothing!  Both the UK and Manchester has done nothing to treat what is happening to our planet as an emergency.  And I finally learnt a valuable lesson about what the suffragettes meant about 'deeds not words!'  It is really easy for someone to say and promise something but unless they act it means nothing.  That is why I have also joined Extinction Rebellion actions because, like me they want the government to tell the truth about the reality of the climate crisis but also to then act on it and have citizens' assemblies.  This means that people will have a say on how we tackle the climate crisis too, and for me that is really important because as a young person I have a voice, and opinions and I feel it is really important that people of all ages have a say in our future, especially young people now as it will be our futures that will be impacted the most.
This is already happening to millions of people across the world, with storms in the Bahamas.  Big parts of Bangladesh under threat because of sea levels rising.  Congo and Amazon forest fires.  Oil pollution in Nigeria that is polluting the rivers and fish people have to eat – it's poisoning them.  But also because of big businesses, especially fossil fuel companies, that are a major source of carbon emissions.  There are already people suffering around the world and that is before you even look at plastic pollution and animal extinction – we need to act urgently.
When I thought of this it was so overwhelming.  Then I got talking to other youth activists across the city, country and world on social media, who were doing so much in their local areas and I learnt that if we all act on the environment in our local areas and within our own countries it can make a huge impact globally.

What is the purpose of protesting for climate justice?
I found out that in 2018 there were over 2,000 air pollution related deaths in Greater Manchester, and I was shocked to think that could happen in my own city and the council was doing nothing to prevent this from happening so I took part in Extinction Rebellion's northern rebellion (30 August – 4 September 2019).
A part of Deansgate (a main road running through Manchester city centre) was shut down for four days.  I attended each day because it was important to take part in an action that helped to get truthful information to the public about air pollution in our cities.  MCC don't include airport emissions in the carbon figures and targets, and they plan to build a car park on Ancoats retail park and on green belt land – destroying habitats – after declaring a climate emergency.  Scientists from Extinction Rebellion measured air pollution during the action to show that the illegal levels of pollution on Deansgate dropped, making the street a safer place for all.  And yet this action hasn't made MCC do anything about the emergency.  And this week I learnt they are still going ahead with building a car park next to a school.  But that doesn't mean we give up because the northern rebellion made the public aware of what is happening, as they were able to get information out about the truth of the crisis we are facing and how it affects everyone.  It helped the public know the truth that the council and the government put profit before people's health – and that's wrong!
That is why I protest because not only are Greater Manchester councils not taking the climate emergency seriously, but our government isn't either.  We are in the beginning of the sixth mass extinction.  We are being catapulted towards it because of human action.  We are being told to recycle, eat less meat, reduce and yes we have to take responsibility for our actions but the kind of change needed won't happen unless governments and big businesses make changes too – and fast.  Unless they introduce laws that hold businesses accountable to make the planet a safer place.  Unless they divest from fossil fuels (MCC's promise of divestment by 2050 is too late) and move to sustainable ways to power, make, and grow things.  The politicians that run our country and countries across the world need to listen to the voices of activists and scientists and especially indigenous people who observe the land and know it better than anyone about what needs to be done to help slow down what is happening.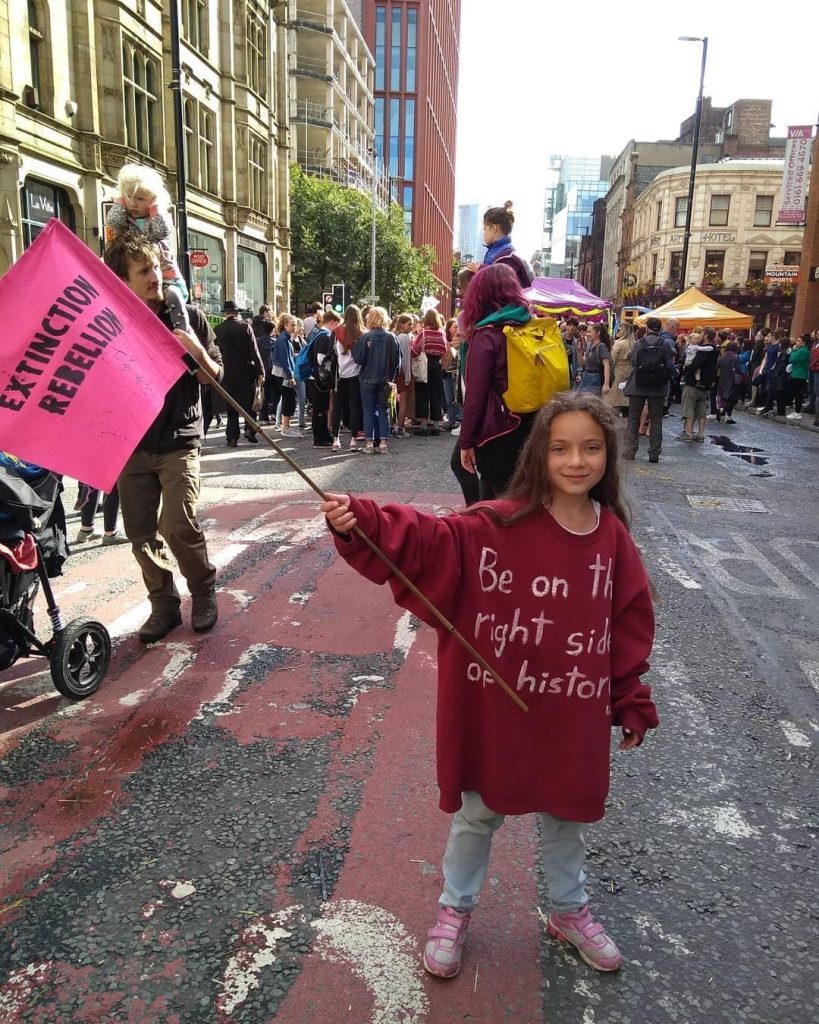 Why is striking important?
I've learnt so much since I began striking.  I am lucky that my Mum works around my education and her work so I can take part in strikes and protests.  School is not the only place education happens, it's not been from a text book, but in the real world and it has really helped me understand that everything we do is connected and that not everything we are taught is right and that it's ok to have my own opinions, and to question.  I've learnt about geography, animal extinction, the history of climate change, migration, racism, feminism, democracy and a little on the law – and how it fits together and overlaps.
But I have also learnt how to express myself, so when I do feel overwhelmed I can put what I feel into speeches, poems, banners and songs and it has given me so much confidence.  Especially to know that what I have to say is important and I have to right to be heard about issues that affect me.
But the most important thing I have learnt through protest is that no matter how you protest just be on the right side of history and stand up for what is right!'
'There is no planet B' creative disobedience day takes place at PHM on Sunday 27 October 2019 from 12.00pm to 3.00pm.  Expect a full day of activities to take part in and ways to find out how to make a difference.
There will be workshops from the Royal Horticultural Society, Lancashire Wildlife Trust and Manchester Museum, with the chance to meet a rare frog, find out about bogs and even make your own seed bomb with the People's History Museum team.  You can meet campaigners including Youth Focus North West's POSH Ambassadors (Pioneers of Sustainable Hope) and Extinction Rebellion for young activists, known as Rising Up! Manchester Families, with a chance to contribute to an artwork to feature in one of its future campaigns with artist Helen Mather.
There will be relaxed opening (11.00am – 12.00pm) and closing hours (3.00pm – 4.00pm) ensuring anyone with sensory sensitivities will be able to enjoy the activities at a less busy time, and a quiet room will be available throughout the day.  PHM's Left Bank cafe bar will be marking the occasion by serving a plant based menu for the day.
Environmental activists Greta Thunberg and George Monbiot have helped produce a short film highlighting the need to protect, restore and use nature to tackle the climate crisis.