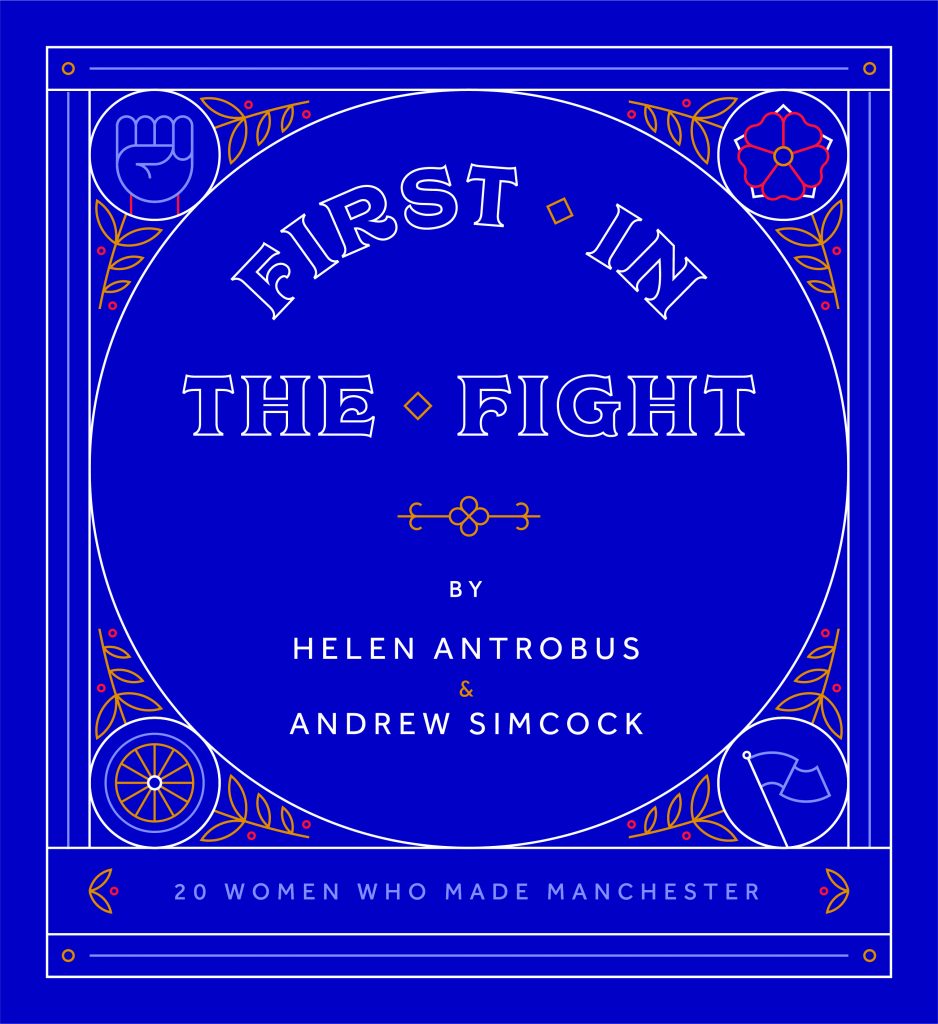 Join the authors, illustrators and contributors for the official launch of First in the Fight on Thursday 14 November 2019 at People's History Museum (PHM).
Written by Helen Antrobus and Andrew Simcock, and with 20 individual Women in Print illustrations, First in the Fight tells of a city where, from the women who marched to St Peter's Field flying the flag for reform to the first entrepreneurs, women have stood shoulder to shoulder in the fight for equality and change.
First in the Fight has been on a fascinating journey of its own, beginning with the public campaign championed by local councillor Andrew Simcock that led to the creation of the Emmeline Pankhurst statue, that now stands in St Peter's Square in Manchester.  All 20 women featured in the book were also part of the campaign, with their stories united by historian and author Helen Antrobus in First in the Fight.
The stories featured in First in the Fight are those of Margaret Ashton, Lydia Becker, Louise Da-Cocodia, Margaret Downes, Elizabeth Gaskell, Annie Horniman, Sunny Lowry, Kathleen Ollerenshaw, Emmeline Pankhurst, Christabel Pankhurst, Sylvia Pankhurst, Mary Quaile, Elizabeth Raffald, Esther Roper, Enriqueta Rylands, Olive Shapley, Shena Simon, Marie Stopes, Ellen Wilkinson and Emily Williamson.
Appropriately the launch takes place at the national museum of democracy, People's History Museum.  The ideas championed by many of these brave, groundbreaking women are told at the museum, which is also home to the Manchester suffragette banner; the inspiration behind the First in the Fight book cover designed by Jane Bowyer.
Inside the book Jane's work is joined by 20 individual designs depicting the First in the Fight women that have been created by the illustrators and artists who make up Women in Print.  These are Laura Boast, Laura Bohill, Emma Bowen, Emily Dayson, Halah El-Kholy, Nicola Fernandes, Alex Francis, Tomekah George, Deanna Halsall, Joyce Lee, Anna Mullin, Helen Musselwhite, Amy Rochester, Nell Smith, Maisy Summer, Ellie Thomas, Chelsea Waites, Eve Warren, Sarah Wilson and Wendy Wong.
Tickets for the First in the Fight book launch can be booked via Eventbrite.  This free event starts from 6.00pm on Thursday 14 November and is part of People's History Museum's Radical Late programme of events (these take place on the second Thursday of each month).  The book will be available to purchase on the evening at the PHM shop at a special preview price of £14.99 (RRP £19.99), with signings taking place.
First in the Fight is published by iNostalgia, an independent publishing company based in Manchester that specialises in books that make social history engaging to all through images and memories.  Its publication is supported by Metrolink and Weightmans solicitors.  You can find out more about First in the Fight at www.firstinthefight.co.uk
ENDS