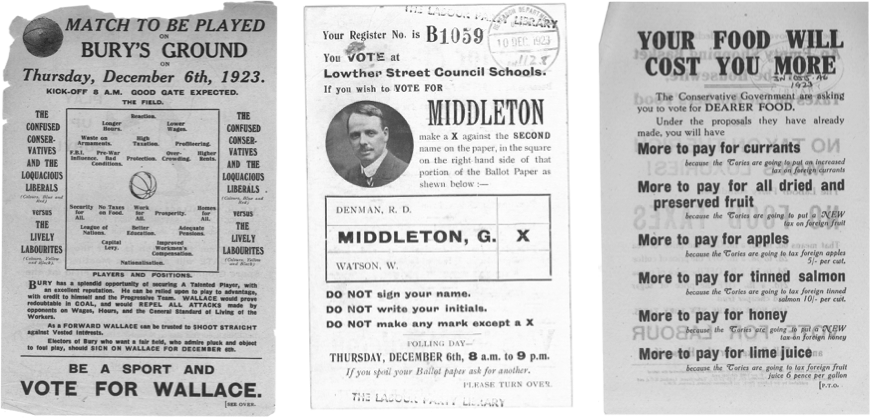 In advance of the UK general election on Thursday 12 December 2019 the national museum of democracy, People's History Museum (PHM) in Manchester, is urging people to use their vote.  The museum is inviting people to be inspired by Britain's democratic story on a visit to its galleries, register to vote at the museum, reflect on historical materials from past elections and continue the debate on Friday 13 December with an election breakfast.
For those who are not registered to vote, in the entrance to People's History Museum there is a registration station where you can fill in your details to register online; this is a simple process that needs to be completed by Tuesday 26 November.  Visitors will also be welcomed by colourful infographics that explain the electoral process created for PHM by artist Alex Gardner.
The stories of those who bravely fought for the right to vote and the sacrifices they made are revealed in the main galleries of the museum; the Peterloo Massacre, the Chartist movement that followed, and the suffragettes of the early 20th century are just some of the chapters in the evolution of democracy that will inspire voters of today.  Original posters, banners, artefacts and photographs are a reminder of those who led the way in championing ideas worth fighting for.  Also exhibiting (until 23 February 2020) is Disrupt? Peterloo and Protest, which explores the Peterloo Massacre 200 years on from this watershed moment in the history of British democracy that took place in Manchester on 16 August 1819.
PHM's galleries and exhibitions are open daily from 10.00am to 5.00pm.  Entry is free, with a suggested donation of £5.  For further information visit phm.org.uk.
People's History Museum holds a wealth of insightful materials into past elections that illuminate the campaigns and issues of the time.  The Archive Team has taken a look back to the last UK general election held during the month of December, which was on 6 December 1923, and put together a small display of some of its collection items, on show in the museum's Archive & Study Centre.
The early 1920s provides a fascinating and a powerful reminder of how important the much fought for right to vote was.  Small instruction cards were produced indicating how to vote, where to put your cross and what to do if you happened to spoil the ballot paper.  Polling station hours were shorter (from 8.00am to 8.00pm) and there were lots of reminders about ensuring you vote before closing time.  With women over the age of 30 (who met a property qualification) able to vote thanks to the Representation of the People Act 1918, their vote was considered valuable and something that could be influenced.
Katy Ashton, Director at People's History Museum, says, "It's interesting to see how much material is focused upon female voters, this includes dedicated publications and letters written by the wives of candidates to the female electorate. Campaigners were also creative; we see lots of poetry and rhymes created, and one of my favourites is a poster that compares the election day to a match of football at Bury Football Club's ground in which the opposing parties are pitched as teams against one another with their political colours becoming their playing colours and a 'fair field' and no 'foul play' talked about."
And on a lighter note, from the photographs appearing in newspapers then and now, it would seem that politicians and babies is a theme that's stood the test of time!
PHM's Archive & Study Centre is open from Monday to Friday 10.00am to 5.00pm (lunchtime closure 12.30pm to 1.30pm).  For further details visit https://phm.org.uk/collections/labour-history-archive-study-centre/
Digest the general election at PHM, Friday 13 December, 7.00am to 11.00am
As the results are analysed and the consequences of the election are debated, after this unprecedented period in British politics, what better place to join the conversation than at People's History Museum.  On Friday 13 December the national museum of democracy will open its doors early and welcome all for a special election breakfast, from 7.00am to 11.00am.
Digest the general election at PHM, Friday 13 December, 7.00am to 11.00am.  For further details visit https://phm.org.uk/events/digest-the-general-election-at-phm/
People's History Museum is open seven days a week, usually from 10.00am to 5.00pm,  Radical Lates are on the second Thursday each month, open until 8.00pm.  The museum and its exhibitions are free to enter with a suggested donation of £5.  To find out about visiting the museum, its full exhibitions and events programme visit phm.org.uk.
ENDS
For further information, please contact Fido PR:
clare.short@fidopr.co.uk / laura.sullivan@fidopr.co.uk
0161 832 3588
A selection of images can be found here: https://www.dropbox.com/sh/fe5vfzpmcr2r6qu/AAA0ljmHktmC-pKMPrs2SMz5a?dl=0
Notes to editors:
About People's History Museum (PHM)
People's History Museum (PHM) in Manchester is the national museum of democracy, telling the story of its development in Britain: past, present, and future.  The museum provides opportunities for all people to learn about, be inspired by and get involved in ideas worth fighting for; ideas such as equality, social justice, co-operation, and a fair world for all.  PHM offers a powerful programme with annual themes; 2018 looked at representation and commemorated 100 years since the first women and all men won the right to vote in Britain, 2019 sees a year of activities around protest movements to mark the bicentenary of the Peterloo Massacre in Manchester, and the programme for 2020 will be on the theme of migration.  Previous winner of Kids in Museums Family Friendly Museum Award.
About Arts Council England (ACE)
PHM is an Arts Council England (ACE) National Portfolio Organisation (NPO).  The work of PHM is supported using public funding by ACE, the national development body for arts and culture across England, working to enrich people's lives.  ACE support a range of activities across the arts, museums and libraries – from theatre to visual art, reading to dance, music to literature, and crafts to collections.  Great art and culture inspires us, brings us together and teaches us about ourselves and the world around us.  In short, it makes life better.  Between 2018 and 2022, ACE will invest £1.45 billion of public money from government and an estimated £860 million from The National Lottery to help create these experiences for as many people as possible across the country.  artscouncil.org.uk