People's History Museum announces plans for 2020
In 2020 People's History Museum (PHM) invites people to join the national museum of democracy on a year long journey in which it will explore through events, exhibitions, learning sessions and creative collaborations the theme of migration.  This will be its most ambitious programme ever and takes place during the year in which it will also mark its own 10th birthday.
People's History Museum 10 years on 
Like the stories that it tells, People's History Museum occupies a building that fuses history with the contemporary.  Located in central Manchester alongside the River Irwell its home combines a restored Grade II listed building with a magnificent modern extension.  In 2010 the museum moved to this location from where, with two permanent galleries, a state of the art conservation studio, a changing exhibition gallery, archive and study centre and extensive learning and community spaces, it invites people to discover 200 years of ideas worth fighting for.
Visitors to People's History Museum meet the revolutionaries, reformers, workers, voters and citizens who have championed for change and rallied for rights and equality for all.  The world that we live in today, and the fairer society that many continue to strive for, is illuminated from a past, present and future perspective by a visit to the museum and in all its work.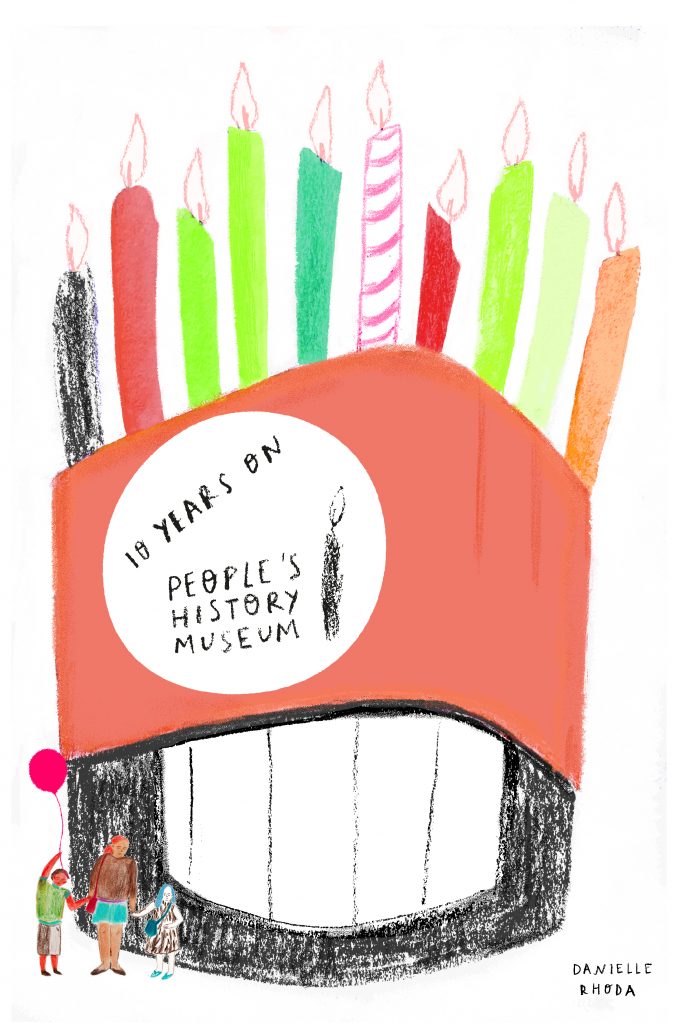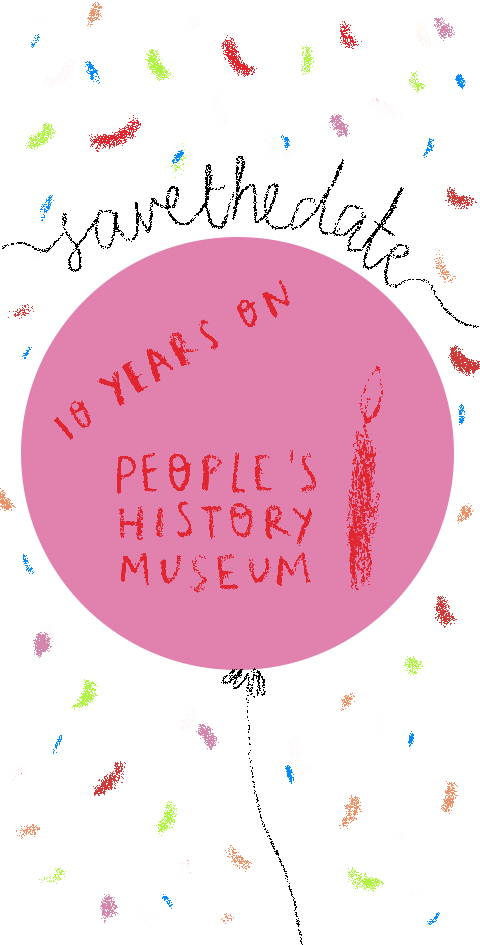 On Thursday 13 February 2020 People's History Museum will open the year by holding a party to celebrate its 10th birthday.  People are invited to join supporters, ambassadors and staff for a special Radical Late night opening, full of creative interventions, to celebrate ideas worth fighting for.  The event will also see the publication launch of a report that maps out the achievements of PHM over the last 10 years and shares thoughts on the future of democracy.

Migration
People's History Museum's headline theme for 2020 will be an exploration of migration.  As a museum that is leading the way with co-creation, the approach taken to bring the theme to life will be co-curated by a Community Programme Team made up of seven individuals whose own lives have all been shaped by migration.  Their combined experiences put them in a unique position from which to examine the topic of migration in today's world, to reflect upon the global situation and to look at the stories of underrepresented groups.
Working with People's History Museum's team, the Community Programme Team will re-examine, challenge and re-interpret the way that the museum's main galleries present the subject of migration through a series of gallery takeovers.  Other creative results that will stem from the collaboration will include new exhibits, digital installations and artistic responses that will appear throughout the year.
Visitors to People's History Museum from February 2020 will discover innovative interpretations of migration throughout the museum.  A new interactive augmented reality (AR) experience brings the chance to meet Jayaben Desai, a migrant from east Africa with a remarkable story; in the 1970s she led a strike at the Grunwick film processing factory in London that lasted almost two years and achieved national acclaim from workers around the country.  The 2020 annual banner display opening on Saturday 25 January 2020 until Sunday 3 January 2021 will offer a powerful visual encounter with banners that have been used as part of past and present migration campaigns from the museum's world renowned collection.  The Hostile Environment will go on display from Saturday 28 March 2020 to Sunday 10 January 2021 sharing the stories and experiences of people who have recently arrived in the UK through objects and imagery.
In March, following an open call, a programme of ten community exhibitions will unfold that highlight contemporary campaigns and migration issues.  These include My Home is not My Home and Our Stories, which will both run from Monday 23 March to Wednesday 27 May 2020, followed by Counter-Flow, from Saturday 13 June to Sunday 13 September 2020.
PHM's new AR experiences, which will also include one on the Match Girls' Strike of 1888, are funded by AIM Biffa Award.  The gallery takeovers by the Community Programme Team are supported by Art Fund.

More in Common  
Examining what the ethos of 'more in common' means to multicultural Britain today and within the context of Brexit will be a major strand of People's History Museum's focus upon migration.  Inspired by the legacy of murdered MP Jo Cox (16 June 2016) the creation of a social space is at the heart of the new More in Common project.  This will be a dedicated area of the museum designed for special one off events and community use, along with regular gatherings that will be managed by participants in the project; people from migrant and non-migrant communities in Greater Manchester who will work together, share knowledge and exchange ideas around the notion of 'more in common'.
More in Common will culminate in an exhibition from the participants in the project that will open on Tuesday 16 June 2020 (to coincide with activities marking the fourth anniversary of Jo's murder) and stay in place until Sunday 13 September 2020.  At the centre will stand the Jo Cox Memorial Wall, which is part of PHM's collection and will go on public display for the first time since it was created in 2016 by those who wrote tributes to Jo in the days following her murder.  Crowdsourced responses and contributions from the UK and internationally will lead to the creation of a new digital memorial wall that will poignantly stand alongside the Jo Cox Memorial Wall.
For more information about getting involved as a More in Common participant visit https://phm.org.uk/events/more-in-common-launch-event/.
More in Common is funded by CultureLabs, an international project focusing on the role of culture and heritage in facilitating social inclusion.  The project has received funding from the European Union's Horizon 2020 Framework Programme for Research and Innovation under grant agreement no 770158.
People's History Museum – 2020
The stories that People's History Museum will be exploring and highlighting in 2020, including that of its own, will be creatively led by a series of colourful hand drawn illustrations that Manchester based artist Danielle Rhoda was commissioned to create.  Having moved to Britain at the age of 13, Danielle has used her own experiences and those of her family's global journey to influence and inform her work.  Danielle's artwork will feature in all of the museum's visuals for 2020, from posters and invitations to social media and animations.
As one of the UK's most Family Friendly museums, the programme for 2020 will be designed to make it fun and interactive for families.  There will be special Family Friendly events, workshops and school holiday activities taking place throughout the year, including Family Days on Saturday 15 February 2020 and Wednesday 27 May 2020.  Schools visiting during 2020 will also be able to explore the theme of migration through workshops, gallery tours, Living History performances and more.
People's History Museum is open seven days a week, from 10.00am to 5.00pm.  Radical Lates are on the second Thursday each month, open until 8.00pm.  The museum and its exhibitions are free to visit with a suggested donation of £5.  To find out about visiting the museum, its full exhibitions and events programme visit phm.org.uk.
ENDS
For further information, or to set up an interview, including with artist Danielle Rhoda, please contact Fido PR:
clare.short@fidopr.co.uk / laura.sullivan@fidopr.co.uk 0161 832 3588
A selection of images can be found here: https://www.dropbox.com/sh/9vgk9qdnxv12qgm/AABKv9Fl5amgP7G-x4PAbD3Da?dl=0
PHM spokespeople:
Katy Ashton, Director, People's History Museum
As PHM marks its 10th birthday Katy can talk about the history of the national museum of democracy and its role today.  Part of this conversation is about how the museum has shaped co-creation, its programme-led approach, its partnership work and what it believes the future of democracy might look like.
Dr Shirin Hirsch, Researcher, People's History Museum
Shirin is a Researcher and key spokesperson for PHM.  She specialises in the history of modern Britain with a particular focus on the labour movement, as well as questions of race and Empire.  Shirin's current research on migration includes an exploration of the Grunwick strike and its leader Jayaben Desai.
Zofia Kufeldt, Programme Officer, People's History Museum
Zofia has been working with the Community Programme Team as well as other groups and individuals to plan PHM's 2020 programme.  She is responsible for inviting people to take over the main galleries, challenging and reinterpreting the history we share.  In addition to talking about the migration history PHM tells, she can share insight into its rich collections.
Abir Tobji, CultureLabs Project Manager, People's History Museum
Abir is leading the partnership between PHM and CultureLabs, which is bringing together cultural partners from across the world.  She can talk about More in Common; how the project will work, its aims and the different opportunities it presents for people to get involved.
Mark Wilson, Exhibitions Officer, People's History Museum
Mark has played a leading role in a number of different aspects of PHM's 2020 programme, including overseeing the curation of The Hostile Environment exhibition.  He can speak extensively about the museum's wider displays and collections.
Notes to editors:
About People's History Museum (PHM)
People's History Museum (PHM) in Manchester is the national museum of democracy, telling the story of its development in Britain: past, present, and future.  The museum provides opportunities for all people to learn about, be inspired by and get involved in ideas worth fighting for; ideas such as equality, social justice, co-operation, and a fair world for all.  PHM offers a powerful programme with annual themes; 2018 looked at representation and commemorated 100 years since the first women and all men won the right to vote in Britain, 2019 sees a year of activities around protest movements to mark the bicentenary of the Peterloo Massacre in Manchester, and the programme for 2020 is on the theme of migration.  Previous winner of Kids in Museums Family Friendly Museum Award.
About Arts Council England (ACE)
PHM is an Arts Council England (ACE) National Portfolio Organisation (NPO).  The work of PHM is supported using public funding by ACE, the national development body for arts and culture across England, working to enrich people's lives.  ACE support a range of activities across the arts, museums and libraries – from theatre to visual art, reading to dance, music to literature, and crafts to collections.  Great art and culture inspires us, brings us together and teaches us about ourselves and the world around us.  In short, it makes life better.  Between 2018 and 2022, ACE will invest £1.45 billion of public money from government and an estimated £860 million from The National Lottery to help create these experiences for as many people as possible across the country.  artscouncil.org.uk
2020 funders
Series of main gallery takeovers by the Community Programme Team
Art Fund
Art Fund is the national fundraising charity for art.  In the past five years alone Art Fund has given £34 million to help museums and galleries acquire works of art for their collections.  Art Fund is independently funded, with the core of its income provided by 139,000 members who receive the National Art Pass and enjoy free entry to over 240 museums, galleries and historic places across the UK, as well as 50% off entry to major exhibitions and subscription to Art Quarterly magazine.  In addition to grant giving, Art Fund's support to museums includes Art Fund Museum of the Year (won by St Fagans National History Museum near Cardiff in July 2019) and a range of digital platforms.  artfund.org
More in Common programme for 2020
CultureLabs
CultureLabs analyses ingredients and proposes recipes to facilitate the involvement of migrant communities and disadvantaged groups that are disconnected from institutional cultural heritage.  CultureLabs investigates and proposes the use of digital services and tools for facilitating access to cultural heritage through tailor-made novel experiences, creative reuse, enrichment and co-creation.  culture-labs.eu
New AR interactive experiences in the main galleries of PHM
Biffa Award
Since 1997, Biffa Award has awarded grants totalling more than £156 million to thousands of worthwhile community and environmental projects across the UK.  The programme administers money donated by Biffa Group Ltd through the Landfill Communities Fund. biffa-award.org
Landfill Communities Fund
The Landfill Communities Fund (LCF) is an innovative tax credit scheme enabling operators (LOs) to contribute money to organisations enrolled with ENTRUST as Environmental Bodies (EBs).  EBs use this funding for a wide range of community and environmental projects in the vicinity of landfill sites.  LOs are able to claim a credit (currently 4.2%) against their landfill tax liability for 90% of the contributions they make.  Since its inception in 1996, over £1.4 billion has been spent on more than 51,000 projects across the UK.  For further information please visit entrust.org.uk or see HMRC's general guide to landfill tax.
Association of Independent Museums (AIM)
The Association of Independent Museums (AIM) is a national charitable organisation which helps independent and independently spirited museums, galleries and heritage sites prosper by connecting, supporting and representing them.  AIM's membership ranges from voluntarily run community organisations to some of the largest museums in the country and includes museums, historic houses, heritage organisations, ships and historic railways as well as museum consultants and commercial suppliers.  AIM provides an independent viewpoint based on operational and business experience of running successful enterprises for public benefit.  New members are always welcome to join AIM's thriving network to learn from their colleagues and to share their expertise.  aim-museums.co.uk