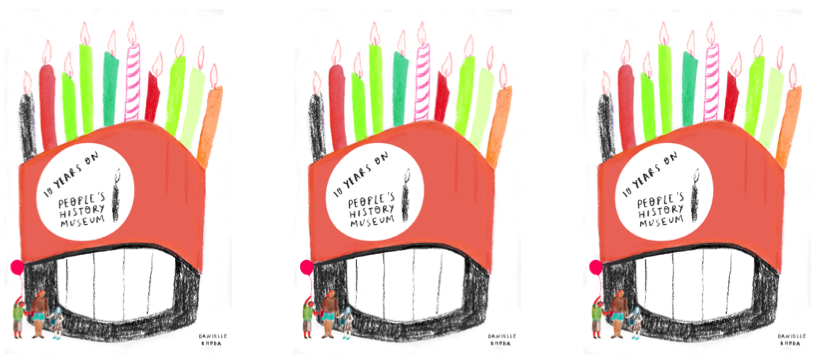 People's History Museum 10 years on
13 February 2020 marks the 10th anniversary of People's History Museum (PHM) opening the doors to its current building; one that like the museum, fuses the historic and the contemporary.  Having a purpose built home to house its collection has been transformational for the museum since its opening in 2010.  As the national museum of democracy PHM proudly stands in the heart of Greater Manchester; a city region recognised for its own progressive spirit and representation of radical ideas.
People's History Museum takes visitors on a journey of democratic discovery.  As democracy is debated more intensely by people around the world than ever before, the work of the museum has never been more important.  This is where the story of the evolution of British democracy is told and where ideas worth fighting for are brought to life; past, present and future.  From election by ballot, votes for women, and workers' rights, to fair pay, time off, and equality for all – these are just some of the campaigns featured.  PHM is a place that brings people together, where people are invited to tell and share their stories, where diverse community voices matter, where young people are empowered and where visitors are inspired to be active citizens.
PHM focuses upon some of the most significant issues of our time.  In the coming year its programme will be led by an exploration of migration, then disability rights and climate change in the years to follow.  The museum will continue to build on its work with children and young people, having welcomed 130,000 school pupils to take part in learning programmes about the history and importance of democratic engagement.  Looking ahead to the next ten years, PHM will mark its 10th birthday with the publication of an Impact Report, reflecting upon its achievements and the impact of its work over the last decade.
Katy Ashton, Director of People's History Museum, says, "People's History Museum plays a vital role in celebrating and sharing the stories and experiences of those who have championed change; who have put others before themselves to achieve progress for all.  We are here as a reminder of those that have fought for rights and freedoms, and those that are continuing to campaign for change today.  Without this building and our incredible supporters, we would not have been able to achieve what we have, not only as a nationally but internationally significant museum.
"Like the radical heroes our visitors meet, we are proud to be a museum that is breaking boundaries.  We've led the way over the last ten years with co-creation; opening our doors and collections to communities to support them in telling and exploring their own stories.  We've done incredible work with young people, and as we begin the next chapter of our own story, will be developing this further with Vital Voters.  This is a new project that will harness the inspiration behind ideas worth fighting for and combine it with an exciting new digital approach to engage young people with the power of democracy."
People's History Museum 10 years on
People's History Museum will mark its 10th birthday with a programme that reflects its ethos, creativity and role as a museum that changes lives.  It will reveal a new interactive augmented reality (AR) experience on its main galleries that explores the Match Girls' Strike of 1888, something that has been made possible thanks to a grant through the AIM Biffa Award Programme's History Makers Scheme. Biffa Award is a multi-million-pound fund that helps to build communities and transform lives through awarding grants to community and environmental projects across the UK, as part of the Landfill Communities Fund. It is the first of a series of new elements in the main galleries that will be revealed throughout the year, including interventions led by the specially appointed Community Programme Team as they explore the theme of migration for 2020.
Gillian French, Biffa Award Head of Grants, says: "It is a privilege to be able to support People's History Museum's Match Girls' Strike AR experience. It is really important that we continue to support projects like this that remind people of those that came before us and who played such significant roles in the lives we are able to lead today."
The celebrations begin with an invitation to join PHM for its birthday and across the weekend:
PHM's 10th Birthday Party on Thursday 13 February (6.00pm to 10.00pm) takes place to coincide with the moment exactly ten years ago that the new People's History Museum building opened its doors.  You are invited to join supporters for a special birthday party featuring a democratic disco, live performances, drag queens, party food and games, birthday cake, unveilings and creative fun.
Katherine Savage, EY Partner, People Advisory Services, says, "We're proud to be the exclusive sponsor of People's History Museum's 10th birthday party.  The museum is a fantastic asset to our city, sharing stories of those who have fought for rights and freedoms both past and present, and celebrating diversity.
"At EY, diversity and inclusiveness are core to who we are and how we work.  We are committed to fostering an environment where all differences are valued, practices are equitable and everyone experiences a sense of belonging."
PHM's 10th Birthday Party is a pay what you feel event, sponsored by EY and supported by Girl Gang Manchester, with booking required by Thursday 6 February: www.phm.org.uk/events/phm-10th-birthday-party/
The love for People's History Museum continues on Friday 14 February, with a Radical Relationships guided tour (12.00pm to 1.00pm).  Join PHM's Visitor Services Assistant Bob Dinn for a unique tour around the galleries to discover more about some of the less well known love stories through history.  Mary Wollstonecraft, Friedrich Engels and Beatrice and Sidney Webb are amongst the romantic radicals featured.
Radical Relationships guided tour is a pay what you feel event, with booking required via https://phm.org.uk/events/radical-relationships-guided-tour-2/
Valentine's evening is when Get Cape. Wear Cape. Fly delivers A Love Letter to PHM with a special gig (6.30pm to 9.00pm) to mark the museum's 10th birthday and the band's 15th birthday.  The night of live music, all curated by the band's Sam Duckworth, will take place in the atmospheric setting of the museum's Edwardian Engine Hall.
Tickets for A Love Letter to PHM are £10 (plus £1 booking fee) and can be booked via www.phm.org.uk/events/a-love-letter-to-phm-from-get-cape-wear-cape-fly/
Saturday 15 February is when the home of ideas worth fighting for hosts an Open house at PHM!, a day of activities taking place in every space in the museum.  This is a chance to explore People's History Museum in a way not normally possible every day; to go behind the scenes with a tour of The Conservation Studio, handle some of the objects from the collection and discover some of the treasures of the archive.
Open house at PHM! is a day for all the family that will include craft activities, interactive music and story sessions, Living History performances and more.
Booking is not required for the Open house at PHM! All the events are pay what you feel at the event, with some activities offered on a first come first served basis.
People's History Museum, located in central Manchester, is open seven days a week, from 10.00am to 5.00pm.  Radical Lates are on the second Thursday each month, open until 8.00pm.  The museum and its exhibitions are free to visit with a suggested donation of £5.  To find out about visiting the museum, its full exhibitions and events programme visit phm.org.uk.
ENDS
For further information, or to set up an interview please contact Fido PR:
clare.short@fidopr.co.uk / laura.sullivan@fidopr.co.uk 0161 832 3588
PHM spokespeople:
Katy Ashton, Director, People's History Museum
As PHM marks its 10th birthday Katy can talk about the history of the national museum of democracy and its role today.  Part of this conversation is about how the museum has shaped co-creation, its programme-led approach, its partnership work and what it believes the future of democracy might look like.
People's History Museum's Impact Report
The report outlines the impact of the work that People's History Museum's has had over the last 10 years and will be published for the first time at PHM's 10th Birthday Party.  To receive a copy of the report please email Clare or Laura, as above.
Notes to editors:
About People's History Museum (PHM)
People's History Museum (PHM) in Manchester is the national museum of democracy, telling the story of its development in Britain: past, present, and future.  The museum provides opportunities for all people to learn about, be inspired by and get involved in ideas worth fighting for; ideas such as equality, social justice, co-operation, and a fair world for all.  PHM offers a powerful programme with annual themes; 2018 looked at representation and commemorated 100 years since the first women and all men won the right to vote in Britain, in 2019 the focus was on protest to mark the bicentenary of the Peterloo Massacre in Manchester, the programme for 2020 is on the theme of migration and 2021 will explore disabled people's rights and activism.  Previous winner of Kids in Museums Family Friendly Museum Award.
About Arts Council England (ACE)
PHM is an Arts Council England (ACE) National Portfolio Organisation (NPO).  The work of PHM is supported using public funding by ACE, the national development body for arts and culture across England, working to enrich people's lives.  ACE support a range of activities across the arts, museums and libraries – from theatre to visual art, reading to dance, music to literature, and crafts to collections.  Great art and culture inspires us, brings us together and teaches us about ourselves and the world around us.  In short, it makes life better.  Between 2018 and 2022, ACE will invest £1.45 billion of public money from government and an estimated £860 million from The National Lottery to help create these experiences for as many people as possible across the country.  artscouncil.org.uk
PHM's Vital Voters project is supported by the following organisations:
Nesta
With thanks to Nesta for supporting the Vital Voters project via their Amplified fund which supports cultural and creative organisations seeking to develop digital ideas that improve the lives of others. nesta.org.uk
The Speaker's Art Fund
The Speaker's Art Fund has awarded People's History Museum grant funding to support the Vital Voters project. The Speaker's Art Fund was founded in 1929 by Speaker Whitley and has been a charitable trust since 2004. The Fund promotes public knowledge and understanding of the system of government and of the constitutional and political history of the United Kingdom, with particular reference to the historical and continuing role of Parliament. This is achieved through the collection and display of works of art and other related activities.
UK Parliament Education and Engagement
The UK Parliament Education and Engagement Team seeks to inform and educate young people about the work and role of the UK Parliament through their award-winning education services. Working alongside schools, colleges and communities across the United Kingdom, the service promotes an understanding of both the House of Commons and House of Lords. The Education and Engagement Team work on a variety of public-facing campaigns, ranging from UK Parliament Week and the EqualiTeas programme to Vote 100 and the Your Story, Our History film series.
Further information on the learning opportunities at UK Parliament can be found here.
PHM's new AR experience is supported by AIM Biffa Award:
AIM Biffa Award History Makers
Through the Association of Independent Museums (AIM), Biffa Award gives grants to museums, galleries and cultural facilities so that they can tell the stories of some of our lesser known historical figures through the History Makers Scheme.
Association of Independent Museums (AIM)
The Association of Independent Museums (AIM) is a national charitable organisation which helps independent and independently spirited museums, galleries and heritage sites prosper by connecting, supporting and representing them.  AIM's membership ranges from voluntarily run community organisations to some of the largest museums in the country and includes museums, historic houses, heritage organisations, ships and historic railways as well as museum consultants and commercial suppliers.  AIM provides an independent viewpoint based on operational and business experience of running successful enterprises for public benefit.  New members are always welcome to join AIM's thriving network to learn from their colleagues and to share their expertise.  aim-museums.co.uk
Biffa Award
Since 1997, Biffa Award has awarded grants totalling more than £175 million to thousands of worthwhile community and environmental projects across the England, Scotland, Wales and Northern Ireland. The programme administers money donated by Biffa Group Ltd through the Landfill Communities Fund. www.biffa-award.org
Landfill Communities Fund
The Landfill Communities Fund (LCF) is an innovative tax credit scheme enabling operators (LOs) to contribute money to organisations enrolled with ENTRUST as Environmental Bodies (EBs).  EBs use this funding for a wide range of community and environmental projects in the vicinity of landfill sites.  LOs are able to claim a credit (currently 4.2%) against their landfill tax liability for 90% of the contributions they make. Since its inception in 1996, over £1.6 billion has been spent on more than 56,000 projects across the UK.  For further information please visit www.entrust.org.uk or see HMRC's general guide to landfill tax.
PHM's 10th Birthday Party is sponsored by EY:
EY
EY is a global leader in assurance, tax, transaction and advisory services.  The insights and quality services they deliver help build trust and confidence in the capital markets and in economies the world over.  EY develop outstanding leaders who team to deliver on their promises to all of their stakeholders.  In so doing, EY plays a critical role in building a better working world for people, clients and communities.
EY refers to the global organisation and may refer to one or more of the member firms of Ernst & Young Global Limited, each of which is a separate legal entity.  Ernst & Young Global Limited, a UK company limited by guarantee, does not provide services to clients.  For more information about the organisation, please visit ey.com.