The words of activist and author Salena Godden will greet visitors to People's History Museum in Manchester, the national museum of democracy, with the unveiling of her poem Pessimism is for Lightweights as a new permanent feature.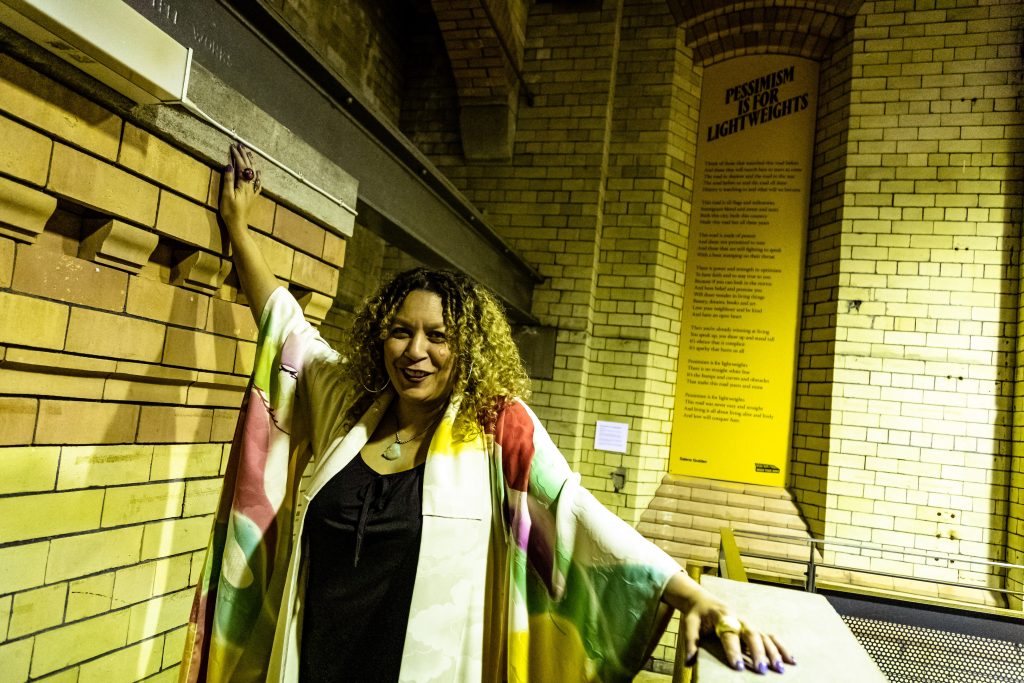 Salena's words carry a message of hope, courage and resistance that have moved many people from different walks of life who have all embraced the poem's message.  Inspired by the protests and rallies of the worldwide Women's March, the poem will now inspire visitors to the museum's Grade II listed Engine Hall where it holds community exhibitions and events.  The piece begins 'Think of those that marched this road before, And those that will march here in years to come'.
Salena Godden says, "This poem has had a life of its own, its message of hope, courage and resistance has travelled and resonated with so many people of all ages and from very different walks of life.  I'm so delighted that this poem finds itself a permanent home in the brilliant People's History Museum in Manchester.  Thank you so much."
Katy Ashton, Director of People's History Museum says, "The meeting of Salena Godden's courageous and moving words with the home of ideas worth fighting for, where we try to capture the spirit reflected in Pessimism is for Lightweights, feels very special.  We're thrilled that our visitors will be greeted by the welcome of these words and the inspiration behind their message."
People's History Museum, located in central Manchester, is open seven days a week, from 10.00am to 5.00pm.  Radical Lates are on the second Thursday each month, open until 8.00pm.  The museum and its exhibitions are free to visit with a suggested donation of £5.  To find out about visiting the museum, its full exhibitions and events programme visit phm.org.uk.
ENDS
For further information please contact Fido PR:
clare.short@fidopr.co.uk / laura.sullivan@fidopr.co.uk 0161 832 3588
About People's History Museum (PHM)
People's History Museum (PHM) in Manchester is the national museum of democracy, telling the story of its development in Britain: past, present, and future.  The museum provides opportunities for all people to learn about, be inspired by and get involved in ideas worth fighting for; ideas such as equality, social justice, co-operation, and a fair world for all.  PHM offers a powerful programme with annual themes; 2018 looked at representation and commemorated 100 years since the first women and all men won the right to vote in Britain, in 2019 the focus was on protest to mark the bicentenary of the Peterloo Massacre in Manchester, the programme for 2020 is on the theme of migration and 2021 will explore disabled people's rights and activism.  Previous winner of Kids in Museums Family Friendly Museum Award.