Simplyhealth Great Manchester Run inspired by Longfella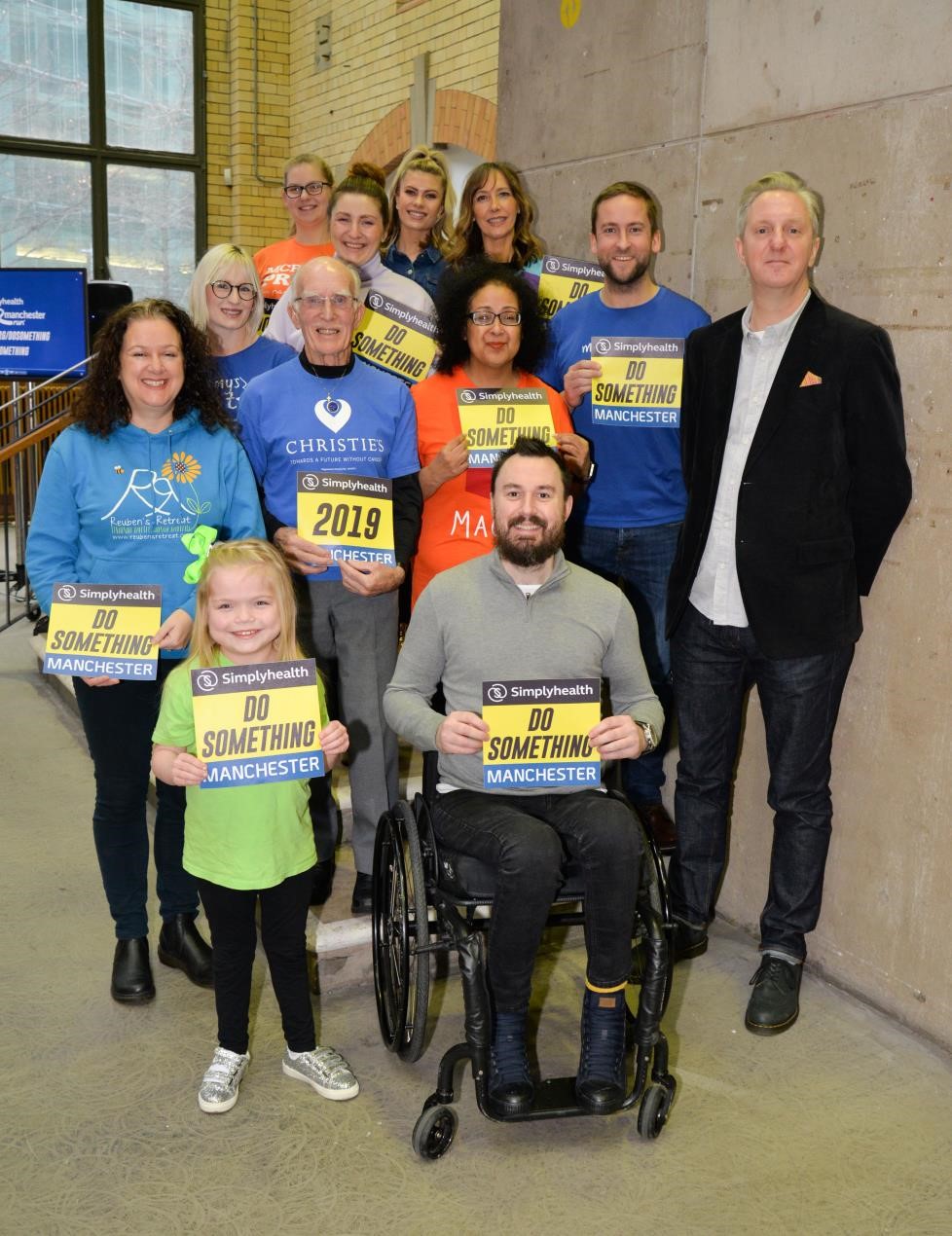 Ahead of the upcoming 2019 event, the Simplyhealth Great Manchester Run has worked with runners and well known Manchester faces to create a film showcasing the inspirational poem, Do Something, by the much-loved Mancunian poet Tony Walsh.
The film was revealed for the first time today (23 January) at the People's History Museum in Manchester to celebrate the launch of this year's Simplyhealth Great Manchester Run, which takes place on Sunday 19 May.
The poem, which was created specifically for Manchester's most loved running event, embodies the universal feelings of ambition, motivation and celebration experienced by those who take on the challenge; and the new film sees Longfella's poignant words spoken by actors, influencers and real runners who connect to them.
TV stars Julie Hesmondhalgh and Tony Audenshaw, DJ and musician Clint Boon, and 11-year-old Pride of Britain winner Ella Chadwick all feature.
Returning for a 17th year, it gives runners the chance to experience an event like no other in the heart of the city centre, with 10k and half marathon courses known for their buzzing atmosphere and incredible local support. 
Paul Foster, chief executive of The Great Run Company, said: "Since the first event in 2003, over 300,000 people have crossed the Simplyhealth Great Manchester Run finish line on Deansgate. Whether they're taking on a personal challenge, raising money for charity or simply running for fun, Do Something explores a range of themes that resonate with each and every one of these runners.
"Do Something is an inspirational piece of writing, it is only fitting that we feature some of our most inspirational runners in the film, who have overcome adversity, raised thousands of pounds for charity and continue to inspire new runners every day."
Some of the inspirational runners who feature in the film include:
Julie Hesmondhalgh: the Tameside-based TV star has long been a patron of Reuben's Retreat, a charity set up by Nicola and Mike Graham, from Mottram, after their little boy Reuben passed away from a brain tumour aged just 23 months.
Claire Turner: while she was director of Manchester Pride in 2003, Claire, 48, from Manchester agreed to be a poster girl for a spoof bra advertisement, encouraging gay women to check their breasts for lumps. Ten years later she was diagnosed with Lobular Carcinoma in Situ (LCIS), an early form of breast cancer. For nearly three years her mammograms were clear, but in 2018 she underwent a mastectomy after it was discovered she had Lobular Invasive Breast Cancer Stage 2. She is running the event for the first time for the Lobular Breast Cancer Alliance and The Nightingale Centre at Wythenshawe Hospital.
Tony Audenshaw: the actor, who plays Bob Hope in Emmerdale, is a regular at the Simplyhealth Great Manchester Run and long-time supporter of Bloodwise.
Holley Tierney: while 23 weeks pregnant with twins, the 28-year-old dance teacher from Manchester was diagnosed with blood cancer. After refusing to abort her babies, they were born at 29 weeks and Holley underwent chemotherapy just six days later. She connected with Mummy's Star, the only charity in the UK and Ireland dedicated to women and their families affected by cancer during pregnancy or shortly after a birth. She is raising money for the charity at the event this year. 
Martin Hibbert: the 42-year-old football agent from Bolton was left paralysed from the waist down after the Manchester Arena bombing, but defied the odds and took part in the Simplyhealth Great Manchester Run 2018 in a racing wheelchair alongside former Paralympian Richie Powell and best friend Lee Freeman.
Victoria Spence: the 23-year-old Mancunian blogger became an internet sensation after sharing her honest account of how she overcame an eating disorder. She now aims to educate and inspire her 80,000 Instagram followers to love themselves for who they are.
Clint Boon: the radio presenter, DJ and Inspiral Carpets keyboardist has hosted the Boon Army Stage on the course for over a decade, entertaining thousands of participants as they take on their running challenge.
Susan Conboy: after the debilitating symptoms of ulcerative colitis left her housebound for eight years, the 51-year-old from Northwich received treatment and care from the Countess of Chester Hospital. She is undergoing a new medication regime, which has improved her quality of life and enabled her to train for the Simplyhealth Great Manchester Run.
Heather McHugh: two days after giving birth to her third child in May last year, Heather, 27, a midwife from Kingswinford in the West Midlands, found herself in pain with an unrelated pelvic injury. After visiting A&E, she was referred to the maternity unit to be checked over, and after a few hours she was battling sepsis. Heather is running the half marathon to raise money for the Sepsis Trust and to celebrate her one year anniversary of surviving the deadly condition.
Colin Pilkington: the 82-year-old from New Moston has raised money for The Christie for the last eight years, however it will be his 16th Simplyhealth Great Manchester Run in 2019, having only missed one since it began. He runs in memory of his late wife Eileen and this year is also running for his grandson, who is battling a brain tumour in Germany.
Ella Chadwick: the charity fundraiser and Pride of Britain winner was born with Congenital Nephrotic Syndrome, a rare illness which causes kidney failure. Ella survived 40 gruelling operations in the first six years of her life before having a lifesaving kidney donated from her grandmother. She has raised thousands of pounds for the Royal Manchester Children's Hospital.
Bambos Neophytou, Brand Director at title sponsor Simplyhealth, said: "The Simplyhealth Great Manchester Run is renowned for its buzzing atmosphere and enthusiastic crowds. Whether you're training for your first event, have got your eye on a PB, or have children who are budding young runners who want to experience their own finish line moment, Simplyhealth is supporting runners and their families every step of the way.
"We're proud to have Diabetes UK as our official charity partner of the Simplyhealth Great Run Series 2019.  Our partnership enables us to continue our great work in supporting people with their health, and encouraging as many people as possible to become more active to reduce the risks of developing diabetes. Good luck to everyone taking part and we look forward to seeing you at the finish line to celebrate your achievement."
Manchester City Council's Executive Member for Schools, Culture and Leisure, Councillor Luthfur Rahman, said: "The Simplyhealth Great Manchester Run always shows our city at its best and this film highlights just some of the inspirational stories which are generated by the event, year after year.
"As Tony's poem attests, the greatest thing about this major sporting event is that it is intended for everyone to get involved, whatever their personal goals. We can't wait to support yet another unforgettable run this May."
Katy Ashton, Director of People's History Museum, said: "The Simplyhealth Great Manchester Run's amazing supporters and participants are hugely inspiring, and it's them that help to make this such a fantastic occasion for the city.  As a museum that shares the stories of those that have championed ideas that have inspired us all, we are delighted that this year's launch event was celebrated at People's History Museum."
Entries for the Simplyhealth Great Manchester Run are now open.
To watch the film, find out more and enter, visit: Greatrun.org/DoSomething
FOR MORE INFORMATION CONTACT
Kerry Simpson, The Great Run Company
Kerry.Simpson@thegreatruncompany.com
07808627592
Notes to Editors:
The Great Run Company
As the UK's original running events series, we know a thing or two about motivation. Over the last three decades we've realised it doesn't matter why people run or how far they go – the one thing every runner has in common is that moment of triumph when they cross the line.  We want everyone to experience that feeling, so we'll do whatever we can to help our customers achieve their goal and be their greatest.
Starting with the very first Great North Run in 1981, our events have always been a celebration of what makes our locations great. The Great Run Series now sees 230,000 participants a year taking part. The events programme stretches across the UK from Aberdeen to Portsmouth offering a full range of distances from 5k through to the half marathon. Great Run Local is a series of weekly events staged in our key cities. All designed to provide the support and advice for participants of all abilities to achieve their personal goal.
To find out more about the events and services provided by Great Run and its partners visit www.greatrun.org.
Simplyhealth
Since 1872 we've been helping people get healthcare through our health plans, charity partnerships and by being a voice in healthcare.
Today we're delighted to be the UK's leading provider of health plans, dental plans and pet health plans, which help individuals, families, employees and pets to get support with their health when they need it.
We don't have shareholders which means we are totally focused on making sure no one goes without the healthcare support they need, and why we are passionate about being a voice in healthcare and partnering with charities to reduce health inequality.
Last year we donated £1.13 million to our charity partners which equates to over 10% of our pre-tax profits. Additionally, our partnership with the Simplyhealth Great Run Series raised over £40 million for charitable causes.
To find out more visit: www.simplyhealth.co.uk