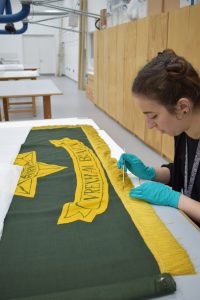 In 2014 the Textiles Conservation Studio was contacted by Wrexham Museums to request a quote for the conservation and mounting of three Veterans association standards for the communities veterans.
They wanted to be able to safely display them in the council chamber, to have them more easily accessible to the council members, the veterans themselves, visiting school groups, and members of the community of all ages.
We provided an estimate for conservation, mounting, and framing in association with a conservation framer in Liverpool.  The community was successful in their crowd funding for the work to go ahead, and in May 2017 work began.
The three standards were surface cleaned using soft brushes and a filtered, low suction vacuum; and then humidified gently to remove creases and detangle fringing.  Then we prepared mounting boards of a strong, light-weight materials covered with layers of un-bleached, un-dyed cotton for the standards to be sewn to.  The threads we used were colour matched cotton and the stitches were small enough to be invisible to the viewer.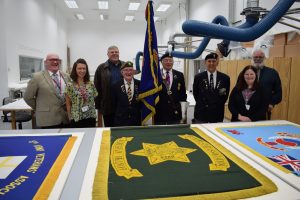 Part way through the project we hosted a visit from the Wrexham Veterans, so that they could see their standards mid-treatment in our purpose built studio.
Based on this visit they decided to take the fourth standard out of active use earlier than they had planned, in order for it to be mounted and displayed alongside the others.
Working with communities in this way is extremely rewarding and one of our favourite aspects of the work that we do for external clients.