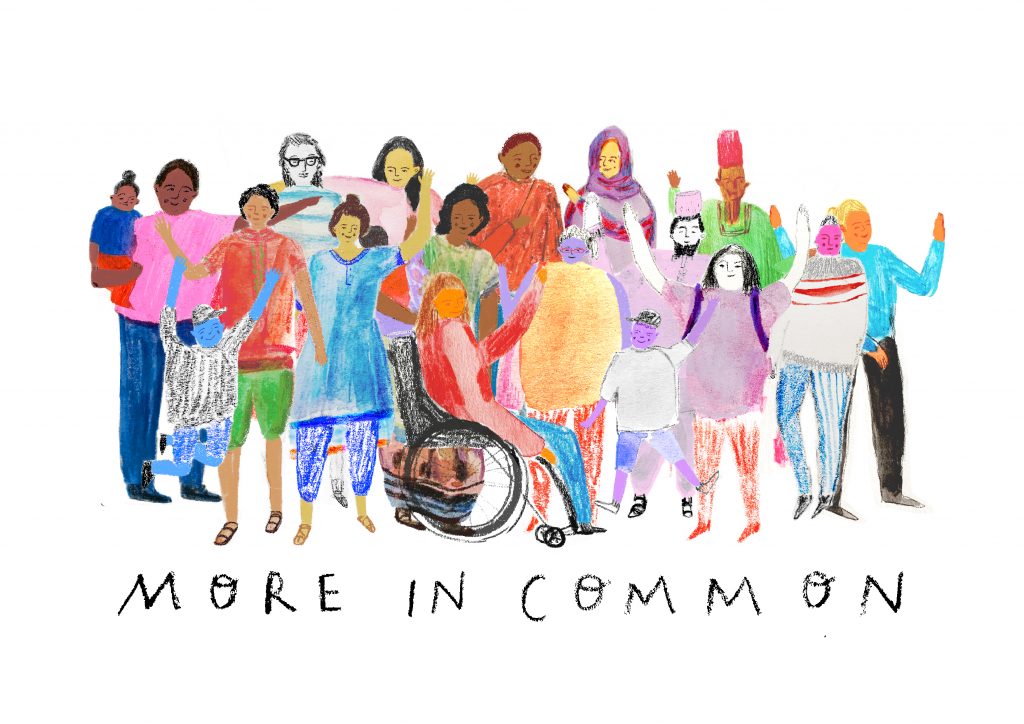 'We are far more united and have far more in common with each other than things that divide us.' Jo Cox, 2016
Do you enjoy meeting new people? Do you enjoy listening to people and sharing stories? 
People's History Museum is looking for volunteers to help create a welcoming social space within the museum.
People's History Museum (PHM) is the national museum of democracy, telling the story of its development in Britain: past, present, and future.  The museum provides opportunities for all people to learn about, be inspired by and get involved in ideas worth fighting for; ideas such as equality, social justice, co-operation, and a fair world for all.
PHM's year long programme for 2020 explores migration, co-created by a Community Programme Team made up of people whose lives have been shaped by migration.  The museum is creating The Common Room – an open, inclusive and collaborative social space within the museum where visitors and groups from a diverse range of backgrounds can explore what they have in common.
The room will provide space to:
Meet people
Have conversations
Try new things
Exchange knowledge, skills and experience
Create things together.
The room will be available for community groups and organisations to hold activities, events, meetings and workshops that strengthen and unite communities.
Join us in creating a welcoming social space where people can meet to share and exchange ideas of what we have in common.
What does the role involve? 
Providing a warm welcome and talking to visitors from a range of different backgrounds and different ages in The Common Room.
Encouraging visitors to engage with each other and with the exhibitions and activities in the space.
Keeping the space tidy and stocked with relevant materials. Replenishing supplies such as refreshments, tea and coffee or photocopying resource materials.
Helping to prepare the space for booked events, workshops or meetings.
Greeting groups who have booked to use The Common Room.
Contributing to the evaluation of The Common Room.
If you don't feel confident with all aspects of this role, please get in touch for a discussion as we would be happy to consider how we may be able to adapt the role to suit your needs.
We are looking for people who: 
Like to meet new people and enjoy starting conversations with people they don't know
Are good at noticing when something needs doing or someone needs help
Are open to trying out new things and getting involved in activities
Are enthusiastic about people from different backgrounds coming together to sharing stories, ideas and learn from each other
Have the ability to communicate in a language other than English; this would be an added value but is not essential.
You don't need to have all of these qualities to be involved.
What will you gain from this role?
Opportunity to meet new people and take part in new experiences.
Opportunity to develop social and conversational skills.
Opportunity to build confidence and experience of working in a customer service environment and working on activities in a cultural venue.
Relevant training including how to welcome visitors to a cultural venue.
Opportunity to gain experience and training in other departments within the museum.
A reference from the museum after three months of volunteering
Please note: The museum can reimburse out-of-pocket expenses on production of the original receipt.
What is the commitment?
At least one four-hour shift, once each week between Monday and Sunday.
There are two shifts available per day; a morning shift from 10.00am – 2.00pm and an afternoon shift from 1.00pm – 5.00pm.
Please indicate, when you get in touch, which days of the week and shifts you can volunteer on and how many shifts each week you would like to do.
Length of role: March 2020 to February 2021.
If you are not able to commit to the full 11 months, please let us know when you get in touch and we will do our best to adapt the role to suit your needs.
How to get involved and next steps
To express an interest in this role please send a short email, video message or sound recording to moreincommon@phm.org.uk and tell us a bit about yourself by answering the following questions:
Who are you?
Why you are interested in The Common Room volunteer role?
Which skills and/or experience you would like to develop during this role?
Which shifts and days of the week can you volunteer on?
How many shifts each week would you like to do?
If you are unable to send an email, video message or sound recording you can call 0161 838 9190 and ask to speak with Abir Tobji, Culture Labs Project Manager.
You can also send the above information by post to:
More in Common, People's History Museum, Left Bank, Spinningfields, Manchester M3 3ER
Please be aware that due to limited spaces we may not be able to offer everyone who gets in touch a volunteer role.
Dates
The deadline for expressing an interest in this role is Thursday 12 March 2020 at 5.00pm.
We will review the expression of interests and get back to you on Friday 13 March 2020.
We will hold a getting to know you session at the museum on Tuesday 17 March 2020.  This will involve the chance to find out more about The Common Room role and an opportunity to meet others interested in this volunteer role.
We will invite those who will be taking up The Common Room volunteer roles to join us on the Thursday 26 March 2020 to have an induction session for the role.
The Common Room volunteer role will start the following week commencing Monday 30 March 2020.
Please let us know, when you get in touch, if you are unable to attend any of these dates.
Where a volunteer is disabled, every effort will be made to supply all necessary aids, adaptations or equipment to allow them to participate fully in all aspects of the opportunity.
As an equal opportunities employer, we welcome applications from all suitably qualified persons.  However, as black, Asian and minority ethnic (BAME) and disabled people are currently under-represented within our organisation, we would particularly welcome applications from BAME and disabled applicants.  All appointments will be made on merit.