2019 banner display opens from Saturday 19 January 2019 at PHM
People's History Museum in Manchester will open 2019 with a new exhibition of historic and contemporary banners that reflect themes of protest.  This display launches a year of exhibitions and events to commemorate 200 years since the Peterloo Massacre (16 August 1819).
Each of the 26 banners has been carefully selected by the team curating the 2019 programme, picking out key moments of protest from the museum's world renowned collection of over 400 political and trade union banners.
These are banners that have been a part of, and have witnessed, a range of different protest campaigns.  Their diverse images, vivid colours and powerful words give life to campaigns in a unique way, with visitors able to explore the stories they reveal throughout the museum's galleries.  From temperance campaigns to poll tax protests, the banners represent disruptive flashpoints and the different actions taken to achieve change.  Those featured represent UK wide protests, with a particular emphasis on Greater Manchester as a reflection of the region's radical roots, which link back to the Peterloo Massacre in Manchester.
Banners featured in the display include: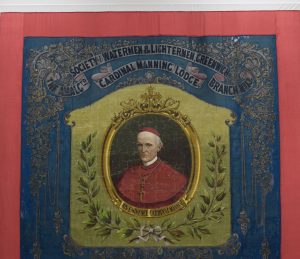 The Great Dock Strike of 1889 was a pivotal moment in the history of protest, with the call for workers' rights seen as a key development in the emergence of the modern trade union movement.  The Amalgamated Society of Watermen and Lightermen banner pays tribute to Cardinal Manning who supported social reform,  appealed for unemployment relief and campaigned for decent housing for the poor.  This banner has undergone four years of expert conservation in The Conservation Studio at People's History Museum, before going on display as part of the 2019 banner display for the first time since this work was carried out.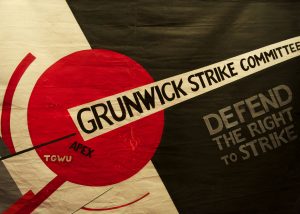 The banner produced by the Grunwick Strike Committee, tells the story of a dispute that took place at the Grunwick Film Processing Plant in Willesden, north west London.  In August 1976, over a quarter of the workforce joined a trade union and went on strike to protest about their appalling working conditions.  The dispute is remembered in particular as it was led by Jayaben Desai, an East Asian migrant woman.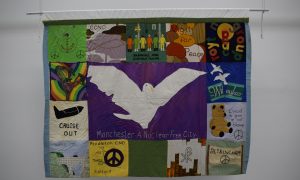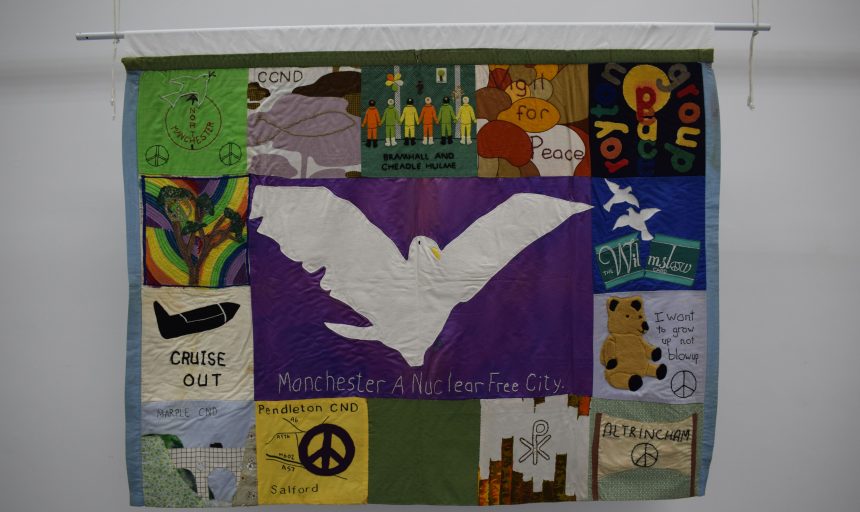 The Campaign for Nuclear Disarmament (CND) banner dates from the early 1980s, when Manchester became the first nuclear free city in the world.  Greater Manchester CND groups made the different patchwork squares on the banner.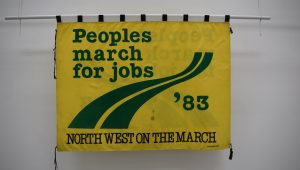 The Peoples March for Jobs began in April 1983 as a reaction to high unemployment.  The march took 42 days with protestors walking from Glasgow in Scotland and North West England to London.  The march was well attended, with 500 unemployed marchers and up to 20,000 people attending a rally held in Hyde Park in London at its conclusion.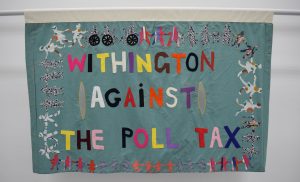 The 'Poll Tax' is often remembered as one of the most unpopular policies of Margaret Thatcher's Conservative government. The Withington Against the Poll Tax banner was made by Ruth Abrahams in Withington, south Manchester, and was carried on 31 March 1990 at a demonstration attended by 70,000 people in Trafalgar Square, London.  In 1990, 70% of people in Manchester refused to pay the tax.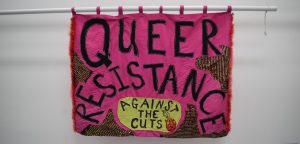 Queer Resistance is an LGBT+ collective that formed to protest against government cuts.  This Queers Against the Cuts banner was used by Queer Resistance North West between 2008 and 2012 on numerous anti-austerity demonstrations.   This vibrant banner features gold sequins and pink feathers.
Michael Powell, Programme & Learning Officer at People's History Museum, says, "This exhibition has been curated to reflect the story we tell at People's History Museum as the national museum of democracy, from Peterloo to now.  Protest comes in many different forms, and we've tried to include all aspects in our banner display for 2019, from peaceful protests to creative disruption and direct action."
The arrival of the banners will be a transformative moment in People's History Museum's 2019 programme, marking the start of an exciting year of activity designed to view the Peterloo Massacre through a contemporary lens.  The museum's headline exhibition, Disrupt? Peterloo and Protest, will open on Saturday 23 March 2019 and run until Sunday 23 February 2020.  The exhibition will explore creative disobedience and its role in today's ideas worth fighting for.  The storytelling will be illuminated with original artefacts brought together for the first time, and at its heart will be a specially commissioned film in which the legacy of Peterloo and the road to democratic reform unfolds.
People's History Museum changes the banners that it has on display annually, meaning over a quarter of the displays in its main galleries are refreshed each year.  Overseeing the collection is a team that includes specialist conservators, with a studio space dedicated to caring for these large and often fragile items.
People's History Museum is open seven days a week from 10.00am to 5.00pm, Radical Lates are on the second Thursday each month, open until 8.00pm.  The museum is free to enter with a suggested donation of £5.  To find out about visiting the museum, its full exhibition and events programme visit www.phm.org.uk.
ENDS
For further information or to arrange a visit / interviews please contact Fido PR:
clare.short@fidopr.co.uk / laura.sullivan@fidopr.co.uk
0161 832 3588
A selection of images can be found here: https://www.dropbox.com/sh/52q8rxahhnz9cgo/AAAmsX6nCVFUIGZ2Tq3CL3tOa?dl=0
Notes to editors:
About People's History Museum (PHM)
People's History Museum (PHM) in Manchester is the national museum of democracy, telling the story of its development in Britain: past, present, and future.  The museum provides opportunities for people of all ages to learn about, be inspired by and get involved in ideas worth fighting for; ideas such as equality, social justice, co-operation, and a fair world for all.  PHM offers a powerful programme with annual themes; 2018 looked at representation and commemorated 100 years since the first women and all men won the right to vote in Britain, 2019 sees a year of activities around protest movements to mark the bicentenary of the Peterloo Massacre in Manchester, and the programme for 2020 will be on the theme of migration and identity.  2017-2018 winner of Kids in Museums Family Friendly Museum Award.
About Arts Council England (ACE)
PHM is an Arts Council England (ACE) National Portfolio Organisation (NPO).  The work of PHM is supported using public funding by ACE, the national development body for arts and culture across England, working to enrich people's lives.  ACE support a range of activities across the arts, museums and libraries – from theatre to visual art, reading to dance, music to literature, and crafts to collections.  Great art and culture inspires us, brings us together and teaches us about ourselves and the world around us.  In short, it makes life better.  Between 2018 and 2022, ACE will invest £1.45 billion of public money from government and an estimated £860 million from the National Lottery to help create these experiences for as many people as possible across the country.  artscouncil.org.uk
The Conservation Studio at PHM: arrangements can be made to visit The Conservation Studio which is renowned for the treatment of textiles; maintaining the museum's own banner collection and undertaking external commissions.
A viewing area from Main Gallery Two enables visitors to see the Conservation Team at work.  This state of the art facility has an internationally regarded reputation.
Spokespeople:
Jenny Mabbott, Head of Collections & Engagement: 
As Head of Collections & Engagement, Jenny is responsible for overseeing the way that PHM commemorates the bicentenary of the Peterloo Massacre.  In addition to talking about PHM's approach and collections, she can provide both the historical and contemporary context to Peterloo.
 Michael Powell, Programme & Learning Officer:
Michael has worked with historians and communities to plan PHM's programme of activity for 2019.  He has also been responsible for developing the learning programme in partnership with Manchester Histories.  In addition to talking about the 2019 bicentenary, he can share his insight into the museum's rich collections and archives.
Jenny van Enckevort, Conservation Manager:
Jenny oversees The Conservation Studio where the team look after not only the museum's collection, but also take external commissions.  The studio's large scale facilities and specialist equipment make this a unique operation.  The work that it does to conserve the museum's world class collection of banners is just one of the areas that Jenny can talk about.
Kloe Rumsey, Conservator:
Kloe specialises in object conservation and cares for the whole collection, including banners, furniture, ceramics and posters.  Kloe is currently working on the artefacts that will be on display in the exhibition Disrupt? Peterloo and Protest (23 March 2019 to 23 February 2020) and can talk about these objects and their stories.