To complement the performance of a specially commissioned song that celebrates the story of the Skelmanthorpe flag, on loan from Tolson Museum, on display in PHM's Disrupt? Peterloo and Protest exhibition, we asked Commoners Choir member Catherine Long to describe this tuneful project and the 50 mile, three day walk it inspired.
50 Miles, 100 Voices, 200 Years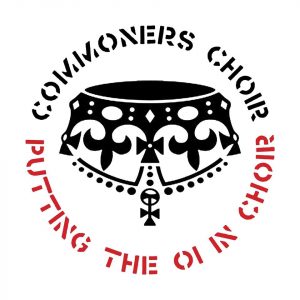 'Putting the 'oi!' into choir', sums up the way that Commoners Choir is not at all a typical choir.  We sing about what makes us angry or passionate, we are explicitly political about what we sing and we love to sing in unusual places and to collaborate with as many different people as we can.  And we love a good walk in the hills…
Given all of that, the national commemorations marking 200 years since the Peterloo Massacre in Manchester in 1819 were always going to be something that inspired us.  Although the people who gathered that day on 16 August 1819 were terrorised, at least 18 killed and around 700 injured, what they were standing for persisted and has sowed the seeds of so much more.  One Peterloo-connected story that particularly took our fancy, being a choir that is based in Yorkshire, was that of the Skelmanthorpe flag.  That a group of textile workers in Skelmanthorpe, a small Yorkshire village quite a way from Manchester, were moved to make a flag showing their solidarity – not just with the people who were there in St Peter's Field, but with working people all over the country and with enslaved people around the world – really struck us.  People with power have always played divide and rule and this expression of support, sympathy and solidarity across the Pennines was a challenge that we wanted to echo and bring up to the present day.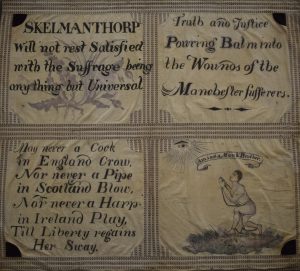 Inspired by this, the core of our project has been a song.  Boff Whalley, our brilliant songwriter and choir leader, has taken a verse from the Skelmanthorpe flag as a starting point:
'May never a Cock
in England Crow,
Nor never a Pipe
in Scotland Blow,
Nor never a Harp
in Ireland Play,
Til Liberty regains                         
Her Sway.'
The song sings of the history of the Skelmanthorpe flag, tracing its journey up to today as a symbol of support, collaboration and solidarity, and features the repeated refrain, 'we've more in common than divides us' in echo of the words of the late Jo Cox.  (Labour MP Jo Cox was the Member of Parliament for Batley & Spen in West Yorkshire.  In 2016, just before holding a constituency surgery, she was murdered by someone with far right views.) However, only singing the song, brilliant though it is, didn't feel like it was enough.  The project grew.  We also wanted to sing with other choirs from both sides of the Pennines.  So we are performing with SHE Choir, Open Voices and WAST (Women Asylum Seekers Together) from Manchester, and Shepley Singers from Yorkshire.  We also wanted to include a physical expression of solidarity, so we're making a replica of the Skelmanthorpe flag, (the original Skelmanthorpe flag is currently on display in People's History Museum's (PHM) exhibition, Disrupt? Peterloo and Protest until Sunday 23 February 2020), and we are going to carry the replica across the Pennines on a three-day, 50 mile walk, camping as we go and inviting anyone who wants to join us to do so at any point along the way for as much or as little of it they like.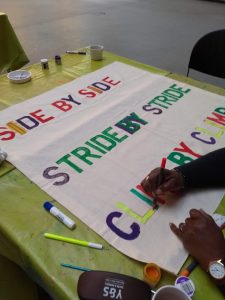 We'll be bringing our replica flag on foot all the way from its home village of Skelmanthorpe on Thursday 4 July to the site of the Peterloo Massacre in Manchester city centre on Saturday 6 July.  Along with our replica flag, we're going to carry flags made by choir members and also flags made by participants of PHM's monthly Fabric of Protest workshops.  Inspired by the range of issues illustrated on the Skelmanthorpe flag, people are coming up with all sorts of slogans and images that represent what they care about today; they're going to look wonderful as they're carried across the hills.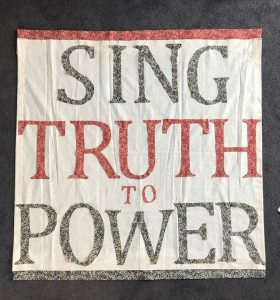 It's been a lot of fun developing this project.  The flag workshops have generated a lot of lively discussion and a lot of laughter.  At the start, people were a bit lost where to begin, with so much to protest about or to celebrate today.  But after some chat and some thought, most people would home in on one thing and then they'd be unstoppable until they'd turned out a beautiful flag that says something important.
And while some of us have been creating flags, Boff Whalley and Jane Morland have been working with all the singers involved, producing fabulous harmonies.  Other choir members have been walking across the hills, occasionally getting lost, to painstakingly map out routes for the flags' journey.  People are organising lifts, planning campsite dinners for hungry walkers and making connections.  Even before we've done the walk great things have been happening, and we hope that by the time we arrive fresh from our walk for our final performance at People's History Museum on Sunday 7 July at 3.00pm the atmosphere will be even more unruly, joyful and celebratory.'
Commoners Choir, Shepley Singers, SHE Choir, WAST and Open Voices will be performing the specially commissioned song at PHM on Sunday 7 July at 3.00pm as part of the museum's year long programme exploring the past, present and future of protest, marking 200 years since the Peterloo Massacre.  Tickets £4.  Booking essential.
For further information about the walking route and performance times in Skelmanthorpe and Manchester, visit www.commonerschoir.com.
The Skelmanthorpe flag, on loan from Tolson Museum, is on display in PHM's exhibition Disrupt? Peterloo and Protest until Sunday 23 February 2020.  The exhibition is part of PHM's year long programme exploring the past, present and future of protest, marking 200 years since the Peterloo Massacre; a major event in Manchester's history, and a defining moment for Britain's democracy.  The exhibition is supported by The National Lottery Heritage Fund.
People's History Museum is open seven days a week from 10.00am to 5.00pm, and is free to enter with a suggested donation of £5.  Radical Lates are the second Thursday each month, 10.00am to 8.00pm.