People's History Museum (PHM) houses the world's largest collection of trade union and political banners.  In this month's blog, our Conservator, Kloe Rumsey shines a light on the conservation work she undertook to prepare a previously unseen banner for the 2020 Banner Exhibition.
A patient banner and the problem with plastic
In 2020 we were very lucky to be able to include nine banners in the 2020 Banner Exhibition that have never been on display in the museum before.  Some of these are banners that have been loaned to us from current campaigns, some are recent acquisitions into the museum's collection, and some are banners that have been rolled in our store, waiting for the Conservation Team to have time to conduct the necessary work on them, to make them safe enough to hang.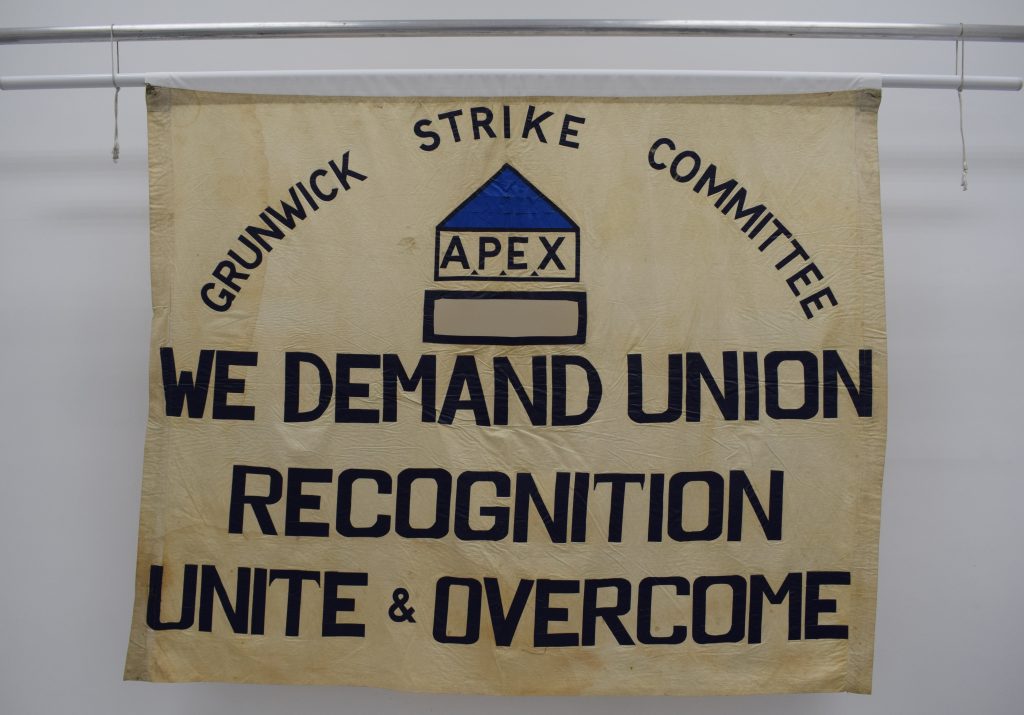 One such patient banner is an A.P.E.X (Association of Professional, Executive, Clerical and Computer Staff) banner from the Grunwick strike (1976 – 1978).  This banner has been waiting in the banner store for over 30 years and was finally on display for visitors in Main Gallery Two until Sunday 3 January 2021.
Many of our banners that are described as in a 'non displayable condition' have not previously been treated because they have huge holes, pieces falling off them, or are in such otherwise fragile condition that it would take hundreds and hundreds of hours to conserve them; but don't worry, their time will come!  This Grunwick strike banner, however, had no large areas of damage, and the fabric it is made from is a remarkably sturdy cotton that has not begun to weaken.
So what was the problem then?
The problem with this banner was the presence of a plastic coated textile that makes up all of the text and the upper motif.  30, or even 20, years ago, the conservation of plastic materials in museums was still in its early days of development.  By 2020, however, the discipline has been well studied and developed by conservators around the world, and, as part of the global conservation community, we can start to tackle the issues caused by plastics in the collection.
Wait, what problems?  I thought plastics last forever?  They do and they don't.
What are the problems with plastics?
Plastics last long enough to cause us the massive environmental problems that we are seeing around the world, but in museums, conservators have been witnessing the more subtle deterioration of plastic materials for decades.  This can be drastic changes in colour or flexibility, or the leaking of fluid plasticisers occurring as the chemical structure begins to harden with age.  Acidity is the main problem here; it worsens over time and when in contact with light, and starts to damage the materials around it, as well as catalysing its own decay.  It is for these reasons that this banner was rolled safely 30 years ago – to protect it, and to protect surrounding objects while in the store.
Conservation work was needed to make sure that the banner had not become too fragile to hang safely, and to assess the plastic to understand its needs and issues.
How do you conserve plastic?
Step one – we have to identify the type of plastic that has been used.  We have no access to testing equipment, but from examination (even smell can help us here) and knowledge of the manufacture of plastics we believe it is likely to be Polyvinyl chloride (PVC).  Alas this is one of the real problem plastics for museums.  It is the most 'unstable'.   Fortunately the storage of the banner both in the dark and in the environmentally stable conditions of the store had slowed down the ageing process.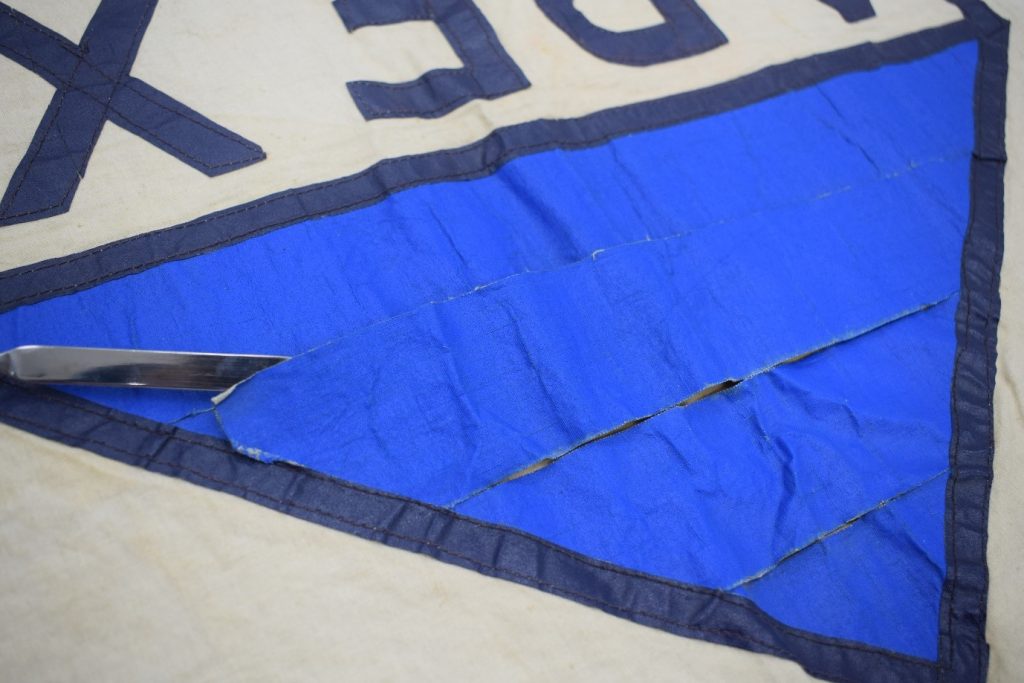 Step two – the banner needed a thorough clean.  We avoid removing dirt gathered during the life and use of the banner, but there is always dust that is built up over years of storage or abandonment.  There were also significant creases that had been caused by stretching and distortion of the plastic lettering.  This caused a bit more of a problem as smoothing out the cotton fully would require changing the shape of the plastic.  We can't just iron the banners as it would cause damage, but there are methods of applying gentle heat enough to reshape in a controllable way.  This is where our identification of the plastic comes in handy.  Removing creases is safer for the textile element of the banner, but by researching PVC, we have learned of deterioration that begins at high temperatures and we had to leave creases in some areas to avoid exposing the letters to heat, however controllable our methods could be.
How do we care for plastics?
The more we know about plastics, the more we know that the best thing we can do for them is to carefully store and observe them.  We know that they will deteriorate, and that we must get the most out of objects in the collection while we still can; display them, and teach their history.  For example, Sellotape famously causes damage to paper and is often removed, but on this banner, it has been used as part of the lettering and therefore we must care for it and monitor the deterioration (yellowing, drying out), as we know that it will suffer over time.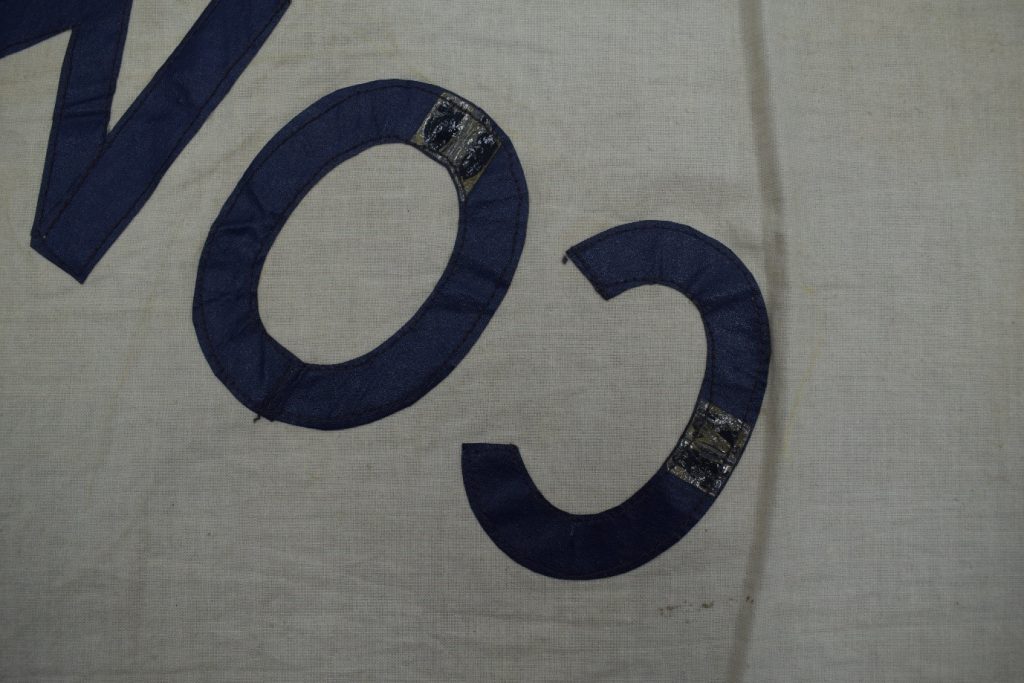 With that bleak prospect in mind we are very pleased to be able to get this banner on display for visitors to the 2020 Banner Exhibition, and despite our concerns and the concerns of our predecessors 30 years ago, this banner is in remarkably stable condition and is likely to remain so for at least another decade.
Kloe Rumsey, Conservator, People's History Museum
Kloe specialises in object conservation and cares for the museum's whole collection, including banners, furniture, ceramics and posters.

The 2020 Banner Exhibition, was on display until Sunday 3 January 2021.
Revamping a quarter of PHM's main galleries, the majority of banners on display at the museum change annually.  The 2020's selection of historic and contemporary banners including the Grunwick strike banner, were all specially conserved by the museum's expert Conservation Team.  The exhibition was carefully curated to include a number of banners which reflect on past and present migration movements, exploring the many challenges and opportunities migration presents.
It was part of PHM's year long programme exploring migration, co-created by a Community Programme Team made up of people whose lives have been shaped by migration.
People's History Museum is open seven days a week, from 10.00am to 5.00pm, Radical Lates are on the second Thursday each month, open until 8.00pm.  The museum and its exhibitions are free to visit with a suggested donation of £5.  Find out about visiting the museum, its full exhibition and events programme. To find out about visiting the museum, its full exhibition and events programme visit the home page.