This summer it is not only the pitter patter of tiny feet that will be filling People's History Museum as the national museum of democracy welcomes families through its doors, but hundreds of beautifully decorated ceramic feet thanks to an awe inspiring exhibition and installation created by artist Eva Mileusnic.  And this is not just an exhibition to look at; there will also be a series of Family Friendly workshops taking place throughout the summer.  We wanted to find out more about Eva's art, inspiration and what visitors can expect from Counter-flow: the movement of cultures from one place to another exhibition and the workshops.
Counter-flow: Eva Mileusnic's inspiration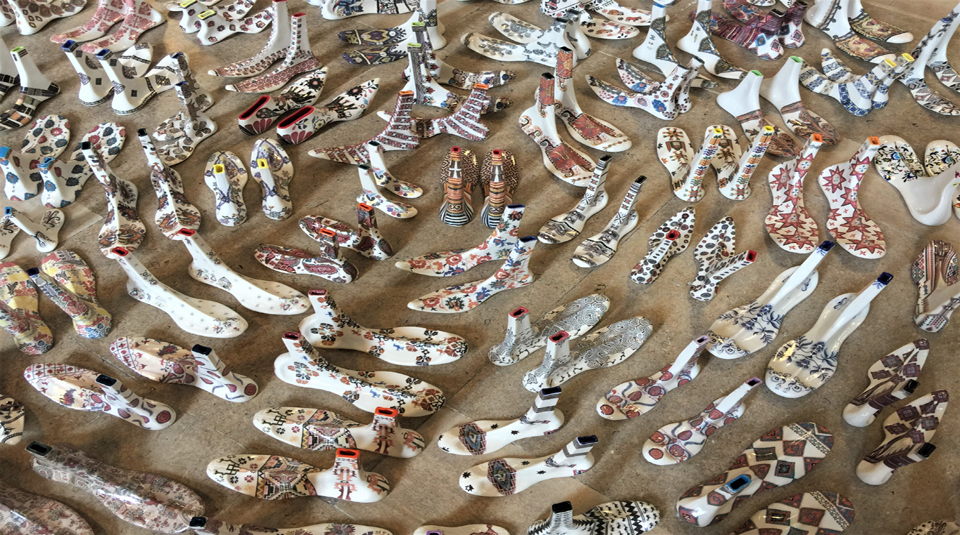 Why does the spread of cultural identities feature so prominently in your work?
My aim, throughout all my work, is to highlight and embrace the diversity of the cultural and national identities of the UK.  In particular with Counter-flow it is a reaction to current negative issues surrounding the movement of people across geographical borders that are highly politicised and feature heavily in the media.  And through my work I also hope I can help raise awareness and create dialogue around the ongoing refugee crisis.
Where did the idea of using 'lasts' as the canvas for your art come from?
The word 'lasts' is an old English word for 'footprint', which made me think about the journeys taken by migrants and the subsequent movement of cultural traditions worldwide.  That is when I set off on my own journey; collecting various sizes and shapes of vintage iron cobbler's lasts – the foot-like forms that are used in shoe repair and manufacture.  What initially started off as a series of exhibitions of white porcelain feet has developed as my ideas and inspirations have grown.  Traditional world textile patterns are something that I am drawn to, and that's when I started experimenting, by first decorating a pair of ceramic 'feet' with Hungarian traditional flower motifs.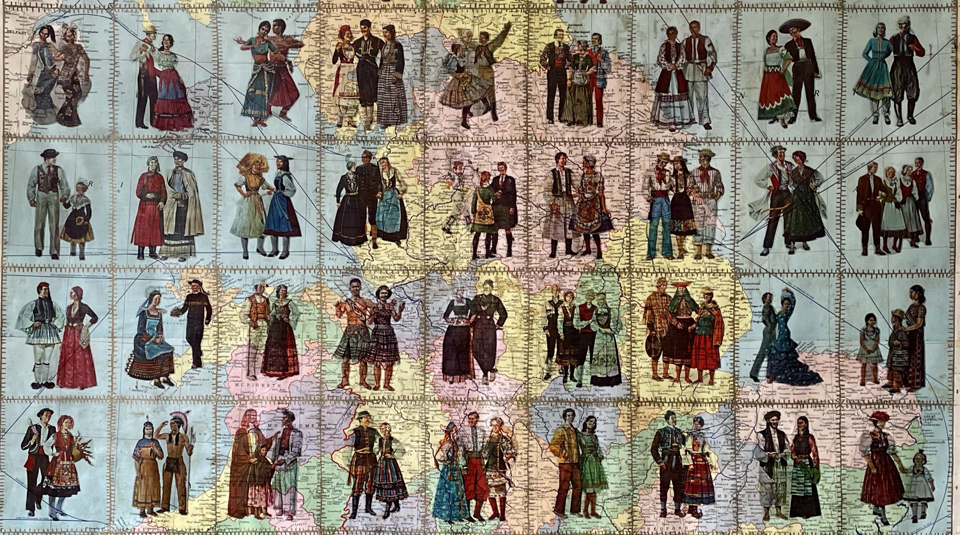 How is your own story woven into Counter-flow?
My family has a history of migration and in looking to traditional Hungarian flower motifs I was able to creatively tell the story of my parents Iren and Istvan in simple, graphic way.  And in the case of my husband's Serbian family I again found the inspiration for what I wanted to achieve in traditional Serbian textile patterns.

To create the visual spectacle of Counter-flow this must have taken many hours of work, can you tell us more about the creative process involved?
The process of making a ceramic foot like the ones that you see in Counter-flow starts with making two-part plaster moulds from the original iron cobbler's lasts and preparing them for slip casting liquid clay.  Once the clay is cast in the moulds, the clay 'feet' are then removed and fired to bisque in a kiln to dry them out.  The bisque fired 'feet' are glazed and refired in the kiln to a very high temperature.
Then it's time for the decoration of the feet, which involved researching traditional world textile images, using photoshop to resize each image and create sheets of images to send off for professional ceramic decal transfer printing with ceramic pigments.  Once these are created I cut out each printed textile image and apply them to pairs of feet before finally firing the decorated 'feet' in the kiln for the transfers to fuse onto the glaze.

We can see lots of different textile references featured on the ceramic feet, can you tell what fascinates you about these?
Cultural symbolism, tradition, identity and heritage are all embedded into the traditional / folk textiles, which I find interesting, and I try to seek out examples from each country I visit.  My fascination perhaps comes from the fact that my childhood home was filled with Hungarian textiles and Hungarian folk art.
Lots of your art involves working with community groups. How has this influenced your approach to Counter-flow?
Working with community groups has been hugely influential on the evolution of my work onto the large scale that you see with Counter-flow.  For example, in 2018 1,000+ plaster feet were made for a public engagement project involving diverse community groups from Leeds, with public plaster cast workshops taking place in art hubs around the city.  The finished works formed the large-scale installation A Critical Mass, which was exhibited at Leftbank, Leeds in January 2019.  100s of the plaster feet have now taken the journey across the Pennines to People's History Museum to be used in family workshops.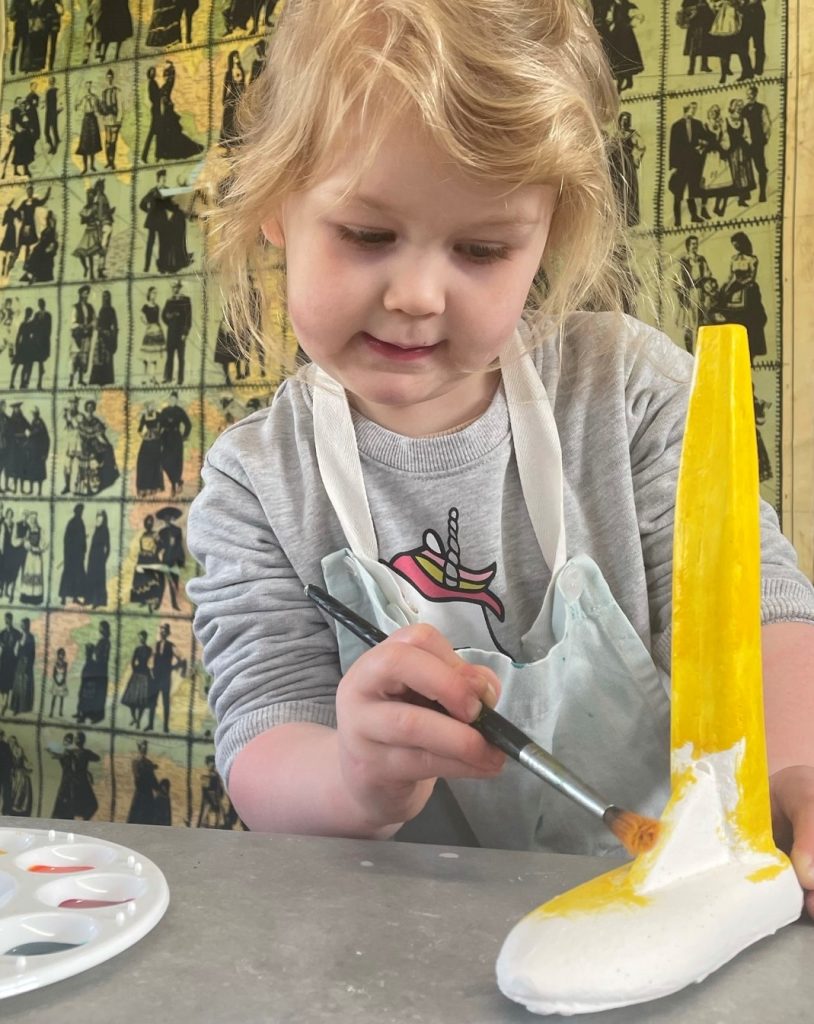 The fact that families are going to be given the opportunity to attend a workshop at PHM to decorate their own pair of plaster feet is very exciting.  Can you tell us more about what this will entail?
Families will be able to decorate a pair of plaster cast feet with a design that reflects their own identity or story using a variety of surface decorating techniques, which we will take them through in the workshops.  Each pair of feet has been cast with sections of the world map on the soles, which could be used as one of the creative ways a family story is explored.
What will be the next step for the ceramic feet that have been featured within Counter-flow?
The ceramic feet that are featured as part of Counter-flow started their journey at Bradford Cartwright Hall, and then continued through Cumbria and Northumberland on the Craft + Conflict tour and returned to Bradford Cathedral to commemorate the Cathedral's Centenary celebrations in 2019.
After the exhibition at People's History Museum I hope the ceramic feet will continue their journey throughout the UK's cities and beyond!
What's on?
Counter-flow: the movement of cultures from one place to another exhibition opens from Wednesday 21 July 2021 to Sunday 10 October 2021
Counter-flow Family Friendly workshop: identity feet – two sessions every Wednesday of the school holidays beginning on Wednesday 28 July 2021. Workshop tickets are priced at £6, £2 and free (plus booking fee for paid tickets) and find here the workshop schedule of dates and booking information.
Entry to the museum is free with a suggested donation of £5.  Opening hours are Wednesday to Sunday, 10.00am to 4.00pm.