Whilst the museum is closed we're taking the time to explore some of the treasures within People's History Museum's (PHM) collection and their relevance today.  This month PHM's Programme Officer, Zofia Kufeldt puts the spotlight on a Grunwick strike poster from 1977.  This beautifully hand drawn poster was used to publicise a meeting held by Bethnal Green and Stepney Trades Council in London during the Grunwick strike of 1976 to 1978.
Going back to Grunwick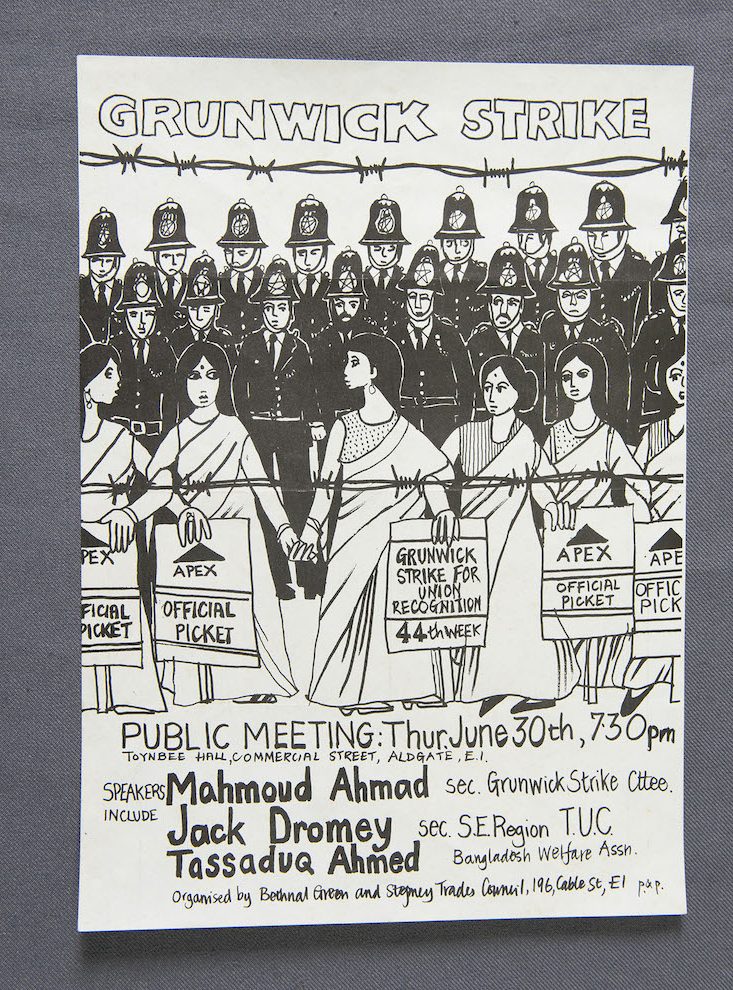 What was the Grunwick strike?
The Grunwick strike (1976-1978) is an important moment in the storytelling of the national museum of democracy, not only because of the action taken by workers, but because it marks a particularly significant chapter of history concerning anti-racism.
Workers at the Grunwick film processing factory in north west London were protesting against their treatment by managers and seeking trade union recognition.  The strike was led by Jayaben Desai, who like many of the protesting workers was a migrant from east Africa.  Although the strike was unsuccessful, Grunwick is remembered for how thousands of workers of different genders and ethnicities united to defend the rights of migrant workers in the face of inequality, discrimination and injustice.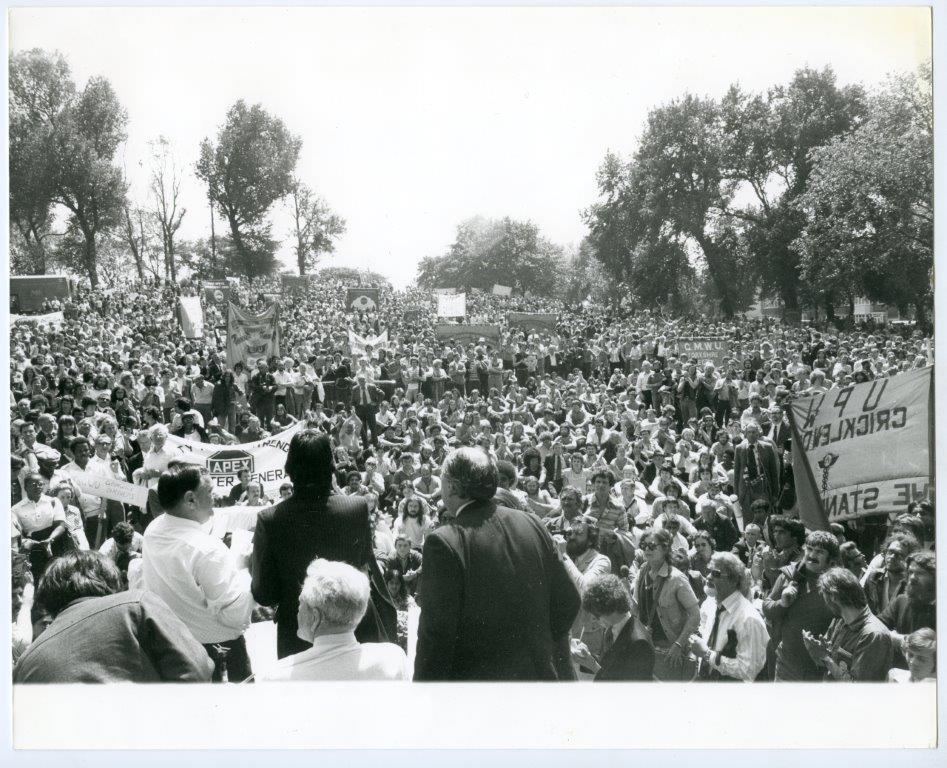 Why is the Grunwick strike relevant today?
Unlike previous disputes involving black and Asian workers, the Grunwick strike received trade union support and workers from across Britain showed solidarity.  At the strike's peak around 20,000 people joined the picket line.  The two year picket was possible because the strikers received strike pay from the trade union which was comparable to the low pay they received at the Grunwick factory.  Long term, the impact of the strike improved conditions and the recognition of migrant workers.  It also transformed the role of Asian women in trade unions and in Britain.
Today, during the Covid-19 pandemic, the strike seems more relevant than ever.  The London School of Economics and Political Science (LSE) highlights that the majority of frontline workers in the UK are women, whilst workers from a black, Asian or ethnic minority background are overrepresented in the health service in Britain.  Although the context has changed since the Grunwick strike, many workers are still facing race, class and gender injustices whilst carrying out their work; it is more urgent and important than ever to listen to their concerns and defend their rights.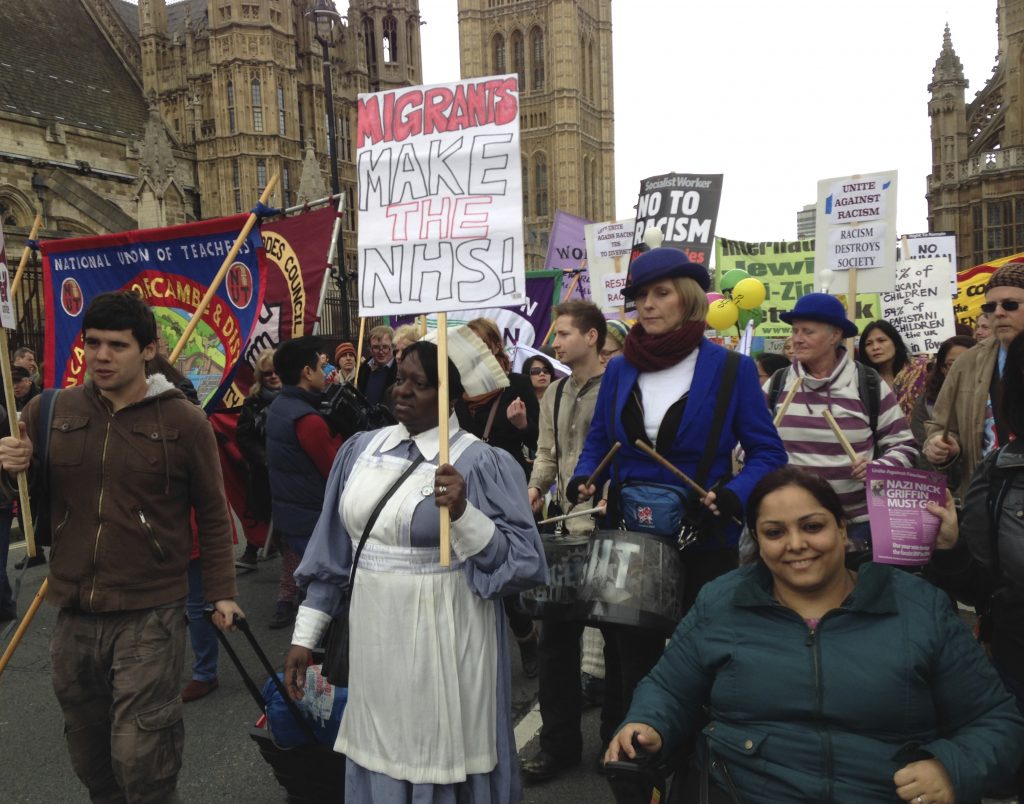 Is the Covid-19 pandemic changing the way we think about migrant workers?
Covid-19 has highlighted that the British economy, particularly the NHS and care systems, cannot function without the contributions made by migrant workers.  Throughout history the UK has relied on migrant labour, particularly in its essential industries.  UK governments have often encouraged migrants into the country, as they bring economic benefit, but legislation has often forced these migrants into low paid and essential services regardless of their previous experience.
My grandfather came to Britain in World War II.  Connected to the armed forces and unable to return to Poland, he was allowed to stay and work under the Polish Resettlement Act of 1947.  Through the resettlement programme he was restricted to working in certain industries which were most hit by shortages.  He undertook agricultural work and worked on the railways before taking up a job in the cotton industry.  Like many of the migrant workers involved in the Grunwick strike, many Poles who were resettled were highly qualified and found it hard to translate their skills and status into equivalent jobs and lifestyles in their new environments.
Covid-19 has emphasised our reliance on migrant workers and the essential services that they provide.  Viral videos and social media have shown that people are beginning to think about migrants differently.  The video #YouClapForMeNow, featuring key workers from a mix of different ethnic backgrounds, including first, second and third generation migrants reciting a poem illustrating the difficulties they face in the UK, triggered an outpouring of thanks to immigrants in the UK and went viral worldwide.  Another viral video of Syrian refugee and NHS worker Hassan Akkad resulted in a U-turn on the NHS surcharge for migrant health workers, and saw the NHS coronavirus bereavement scheme extended to low paid workers.
However, immigration is a controversial political topic and whilst there has been a recent shift towards acknowledgement and gratitude, inequalities still remain and the Windrush scandal in 2018 shows how quickly the contribution of migrants to society and the economy can be forgotten.  How Britain's relationship with migration develops long term is still yet to be seen with many migrant key workers fearing their pay will fall below the Home Office income requirement.
What else is PHM doing to document the ongoing discussions and campaigns around migration and Covid-19?
We'd like to hear what you think about these issues.  How is the pandemic influencing perceptions and ideas on migration?  What do you think needs to change?  Share your ideas and comments with us on social media using #PHMHaveYourSay.
We believe that collecting material on events happening now is vital for PHM to tell the continuing story of ideas worth fighting for, including how Covid-19 has impacted and influenced responses to and experiences of migration.
If you have any objects, photographs or videos that you think can help us to tell this story please get in touch at collections@phm.org.uk.
If you'd like to talk more about migration and the impact of Covid-19 join our online Have Your Say event on Wednesday 17 June at 1.30pm on Zoom.  Part of Refugee Week's (15-21 June) 'Imagine' theme, we're inviting you to imagine, explore, and discuss how the Covid-19 pandemic could change our perceptions of and ideas about migration.
Interested in reading more?
Find out why PHM Co-Chair of Trustees Lord Steve Bassam chose to sponsor PHM Radical Jayaben Desai in his very personal blog post
Learn more about Jayaben Desai and the Grunwick strike in a Q&A with PHM Researcher Dr Shirin Hirsch
Look out for new blog coming later this month exploring the history of migrant workers within the museum's collection