Protest Lab is part of the museum's 2019 programme exploring the past, present and future of protest, marking 200 years since the Peterloo Massacre.  Find out how Programme Officer Michael Powell and his team created the space and get an insight into which contemporary objects have been collected for display.
Protest Lab and collecting the contemporary
What is Protest Lab?
Protest Lab is a space created within People's History Museum's (PHM) 2019 headline exhibition, Disrupt? Peterloo and Protest for visitors and local people to use to promote and take part in activism in commemoration of those who gathered at St Peter's Field in Manchester on 16 August 1819.
It is a place to leave information, a space to interact with and a space that is free to use for meetings or events to promote or plan campaigns.
Protest Lab is part of PHM's 2019 programme exploring the past, present and future of protest, marking 200 years since the Peterloo Massacre; a major event in Manchester's history, and a defining moment for Britain's democracy.
Why was a Protest Lab created?
The spirit of Peterloo is still very much alive today across Greater Manchester.  From campaigns fighting for votes for women, LGBT+ and disability rights, the people of Manchester and its surrounding towns and villages have taken a leading role in shaping and setting the national conversation on the fight for equality.
At this museum we strongly believe that to make history relevant, exciting and of purpose it has to sit in the world we live in today.  We chose Disrupt? Peterloo and Protest as our exhibition title as we wanted the exhibition to allow us to explore the variety of ways in which people actively participate in protest and campaigning today, in commemoration of the Peterloo Massacre.
We created the Protest Lab space within the exhibition to link Peterloo directly to activism today.  The particular focus is upon non-violent creative disobedience, everyday and collective activism as themes to engage people who perhaps protest in different ways without realising they do, or consider that they don't at all, to be inspired by the actions of those who gathered at St Peter's Field to actively get involved in democracy and campaigning today.  Our intention was for people to see that social norms and values have often changed or been challenged by small groups of people working together to demand each change, and also to realise that even if you only don't eat specific things, or shop in particular places, these are all small but significant ways of protesting today.

How did people offer objects to Protest Lab?
As part of Protest Lab we promoted an open call for objects; asking people to add their own items that tell a story about protest to the exhibition.  These could range from traditional items such as placards and badges from a protest march, to everyday objects that tell a personal story of protest.  From March 2019 we ran a series of public drop off days, inviting people to come in with their objects and meet a member of the team.  Our last drop off date, was fittingly on Thursday 12 December 2019, the date of the 2019 general election.  We also strove to be flexible; and to enable the exhibition to be as accessible as possible we often arranged to meet people at times and places to suit them.
Each person who donated an object also wrote their own label and supplied, if possible, further images.  We felt it was really important that everyone wrote their own label, so they could share their own story, in their own words.  If people did not feel comfortable writing their own label, we recorded their spoken label, enabling people to tell their story in an alternative way.

What does the finished Protest Lab look like?
Protest Lab has evolved in exciting and unexpected ways throughout 2019 and it has been a real team effort from museum staff to maintain and add to it during the year.  The idea was that the space began as a blank canvas on the day the Disrupt? Peterloo and Protest exhibition opened, and became filled up with submissions from local people and communities over the year.  It has been a tremendous success.  We have had 40 fantastic objects submitted via the open call, ranging from the local to the international.  From climate change inspired parking tickets, that primary school children from Denton used to put on their parents' cars to encourage them to switch off their engines at school pick up time, to an anonymous fabric patch left by someone involved in the pro-democracy Umbrella Movement protests that are still ongoing in Hong Kong.  We were overwhelmed with submissions of images and comment cards, so much in fact, that we had to create a special volunteer position to both manage and maintain these spaces.  We hosted six, month-long exhibitions within the space from groups who asked to use the space.  These included exhibitions from the Booth Centre, Manchester and Journeys Festival International Manchester.  We also hosted a great range of interesting events, workshops and discussions within the space throughout the year.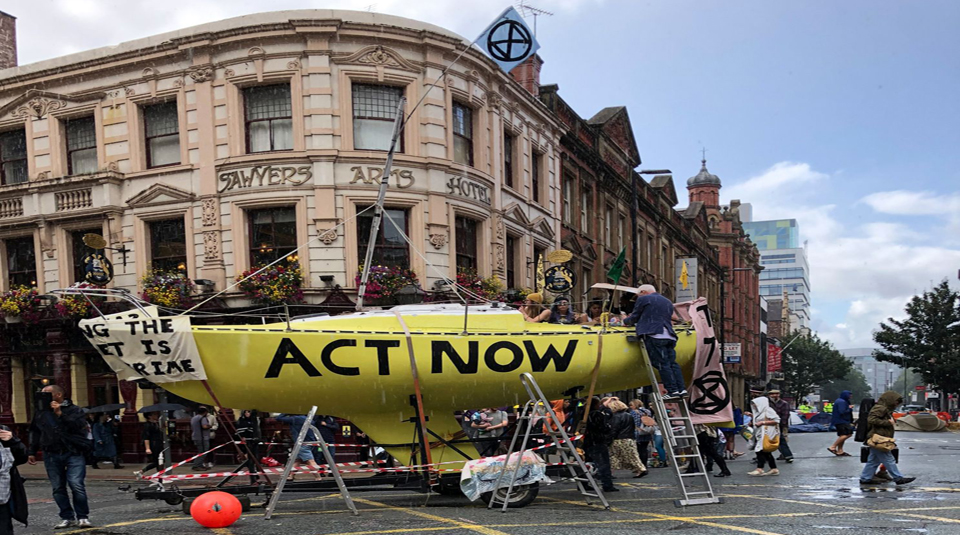 A highlight of the events programme was our monthly Have Your Say event with members of Extinction Rebellion just four days after the Northern Rebellion happened on Deansgate (just round the corner from PHM) in the summer of 2019.  And before the exhibition closes on Sunday 23 February 2020, we have two more exhibitions to display from young people from Greater Manchester Youth Network's (GMYN) Changemakers programme and the campaign group, These Walls Must Fall.  There will also be a series of fortnightly workshop sessions in the space with young people from Manchester Secondary Pupil Referral Unit (PRU), RECLAIM and 42nd Street, who have commissioned artist Andrew Westle to create a party as a form of a protest campaign event in February 2020.
What is the legacy of Protest Lab?
So what next?  We are currently working through all the submissions we have received to the Protest Lab and are getting in touch with people who have donated objects to see if we might be able, where possible, to add some of these to the museum's permanent collection.  Protest Lab has been extremely useful in helping to further our contemporary collecting plans and policies.  It has helped slim down and make accessible both our processes and the forms we use when we seek to collect objects from donors.  It has also created a wealth of crowdsourced data, which will help guide and drive future programming themes at PHM; based upon our audiences telling us what they care about and are interested in.  Protest Lab has also helped the museum to develop new relationships and strengthen pre-existing relationships with campaign groups and organisations across the UK, through offering free space for groups to meet.
It has been a fantastic project to work on, which could not have happened without a willingness to be flexible and take risks from everyone involved with it at PHM.  With special thanks in particular to our Visitor Services and Communications & Marketing teams, who have supported the programming and development of this concept to make it happen.
Disrupt? Peterloo and Protest exhibition is at PHM until Sunday 23 February 2020 as part of PHM's year long programme exploring the past, present and future of protest, marking 200 years since the Peterloo Massacre; a major event in Manchester's history, and a defining moment for Britain's democracy.  The exhibition features objects, including original Peterloo artefacts, brought together for the very first time, alongside pieces telling more recent stories of protest in the Protest Lab.
The exhibition is supported by The National Lottery Heritage Fund.
People's History Museum is open seven days a week from 10.00am to 5.00pm, and is free to visit with a suggested donation of £5.  Radical Lates are the second Thursday each month, 10.00am to 8.00pm.