We are eagerly anticipating the arrival of the latest amazing creation of artist Jason Wilsher-Mills.  The Manchester Argonaut sculpture will be an eruption of colour, creativity and vibrancy unlike anything you've ever seen.  It will be making its home at People's History Museum from Saturday 16 July (until 28 January 2024) marking the start of our new programme Nothing About Us Without Us, which will explore the history of disabled people's rights, activism and the fight for inclusion.
Here Jason gives us a sneak preview of The Manchester Argonaut and shares some of the ideas that have inspired him and the messages behind his work.
 The Manchester Argonaut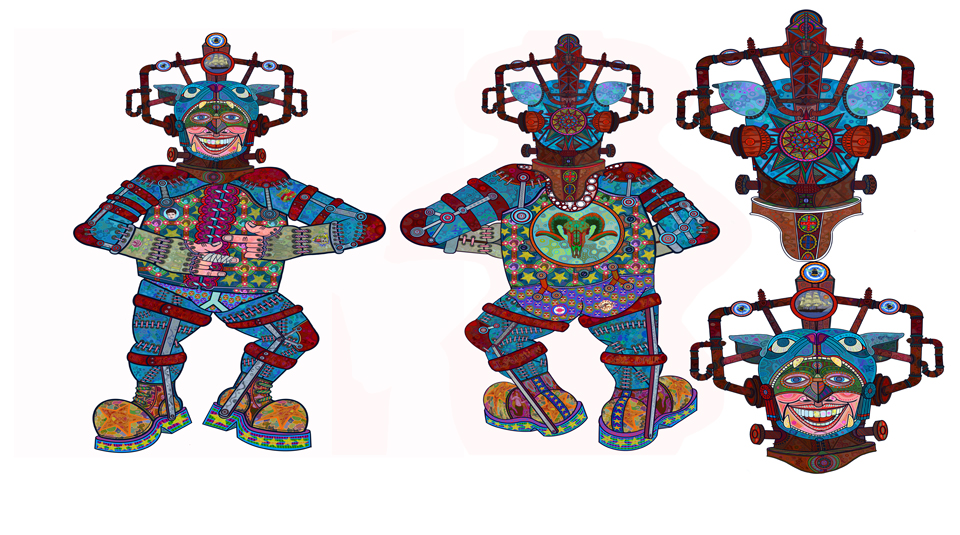 How did The Manchester Argonaut come to be? And who have you worked with on the journey that has led to its creation?
My new sculpture, 'The Manchester Argonaut' came out of an Arts Council England funded project, 'Jason & his Argonauts on Tour' which saw me working with groups of disabled people all over the UK, including Scunthorpe, Dorset, Northamptonshire, London and of course Manchester.  I worked with Teamwork Trust, Venture Arts, Starlight Arts, This New Ground & Oakley Grange Arts Group.
The Manchester Argonaut is very intricate, how long did it take you to create and what have been the processes involved?
 The work is an amazing achievement, given that for much of the time the country was in lockdown, due to Covid-19, so many of the workshops that took place were delivered online.
The sculpture itself is a positive and authentic depiction of disability and reflects on its highly decorated surface the many stories and experiences I encountered throughout the 12 months it took to design.
As I knew it was going to be shown at People's History Museum, I wanted it to reflect the rich history and culture of the city, so took as my starting point the city's music.
Can you tell us more about the music that inspired you, and how the story of Manchester is reflected in The Manchester Argonaut?
I listened to The Smiths, The Fall, etc but it was when I was listening to and learning about Joy Division and their enigmatic lead singer, Ian Curtis, that I found out that he had written songs about disability and had worked supporting disabled people to find employment.  This triggered the flame of creativity and I started watching videos of him dancing, so I could capture his incredible and energetic movements.  As a disabled person himself, I thought he would make a wonderful model for the work, and it certainly proved to be the case.
I also studied the Manchester crest and included aspects of this within the design of the sculpture, including the ships and bees, etc.  I was going to include a lion's head, but it became a jaguar when I saw an image of an Amazonian Jaguar warrior, which seemed apt and quite right for the work.  I then added industrial piping to the head, so it almost resembles a northern cyberman.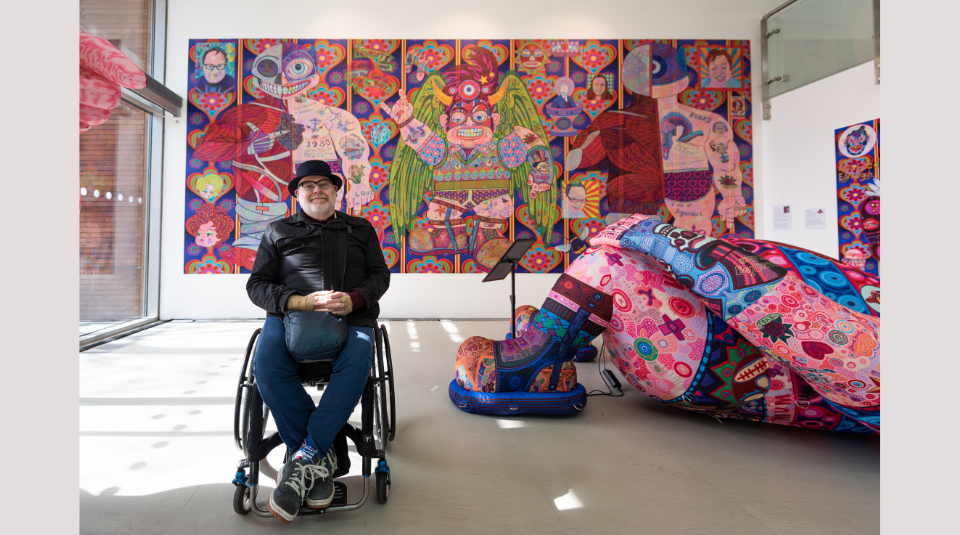 Why have you chosen for The Manchester Argonaut to make its first appearance at People's History Museum?
The sculpture is my most complex to date and I am incredibly proud that it has a home at PHM, albeit a temporary one, but this is the right place for a piece of work that is all about activism and the rights of disabled, who are sometimes overlooked by those who see the cost of everything, but the value of nothing, including human lives.
Do not be fooled by the bright and humorous look of the work as it really is a 'Protest Song' and as the late great Woody Guthrie so rightly wrote on his battered old guitar, 'This machine kills fascists'.  All I can say is ditto.
Jason is a UK based disabled digital artist who reflects his interest in the democratic process in his work.  He has produced large scale pieces for the Houses of Parliament, Tate Exchange and the Yorkshire Sculpture Park's The Summer of Love (21 June – 22 September 2022).  PHM was home to three sculptures from his Jason & his Argonauts on Tour in 2019.
Funded by Arts Council England (ACE).
Part of PHM's programme exploring the history of disabled people's rights and activism through a co-curated programme of exhibitions, events and activity.
Interested in finding out more?
Read a blog from Programme Officer Michael Powell, sharing information about the museum's major programme, Nothing About Us Without Us – Disabled People's Activism: Past, Present and Future and introducing PHM's four Community Curators who reveal why they chose to get involved.
Visit both The Manchester Argonaut at People's History Museum from Saturday 16 July 2022 until 28 January 2024 and Until it Looks Like This (Saturday 16 July 2022 to Sunday 11 September 2022) – a new summer show of work by studio artists from one of Manchester's leading visual art organisations, Venture Arts. Pieces on display include photography, installation, ceramics, textiles, illustration and print.
Come along to a Nothing About Us Without Us network event and archive open afternoon on Saturday 16 July 2022 and help celebrate the launch of two new exhibitions at PHM as well as meeting individuals and organisations who are helping to shape PHM's Nothing About Us Without Us programme and headline exhibition (opening Autumn 2022).

A series of artist talks, tours and workshops are taking place on Saturday 16 July and Wednesday 27 July as part of Until it Looks Like This.  All are free to take part in and suitable for any age.  Find out more about what is happening on Saturday 16 July and Wednesday 27 July.