When People's History Museum (PHM) reopened back in May 2021 visitors were invited to explore a series of new co-created, community led and collaboratively approached exhibitions that all focused on the museum's headline theme of migration.
One of the most poignant of these was the exhibition My Home is Not My Home, which gave a unique and intimate insight into the hidden world of domestic work and included a powerful video installation.  A new film about the project premiered for International Women's Day 2022 on the museum's YouTube channel.  We caught up with one of the creators, Marissa Begonia, the founding member and director of The Voice of Domestic Workers (VODW) to tell us more.
The Voice of Domestic Workers: Calling for justice and rights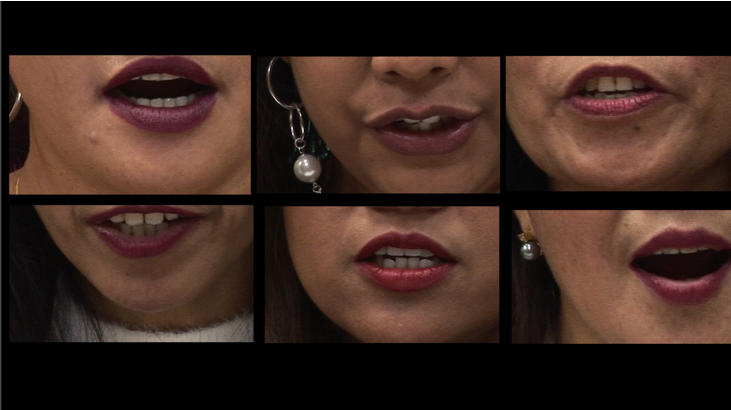 Please can you begin by telling us about the My Home is Not My Home exhibition?
My Home Is Not My Home  (Wednesday 19 May to Sunday 11 July 2021) was a moving exhibition of stories and experiences made by The Voice of Domestic Workers (VODW).  It was selected following PHM's open call for submissions, by a Community Programme Team made up of people whose lives had been shaped by migration.
It presented a combination of video interviews and mobile phone footage produced by migrant domestic workers who had been trained in video production during participatory workshops.  The workshop series was a collaborative project by Dr Joyce Jiang, an academic from University of York, Tassia Kobylinska, a filmmaker at Goldsmiths, University of London, and 12 migrant domestic workers from The Voice of Domestic Workers in London.  The films offer a glimpse into the everyday work and life of migrant domestic workers.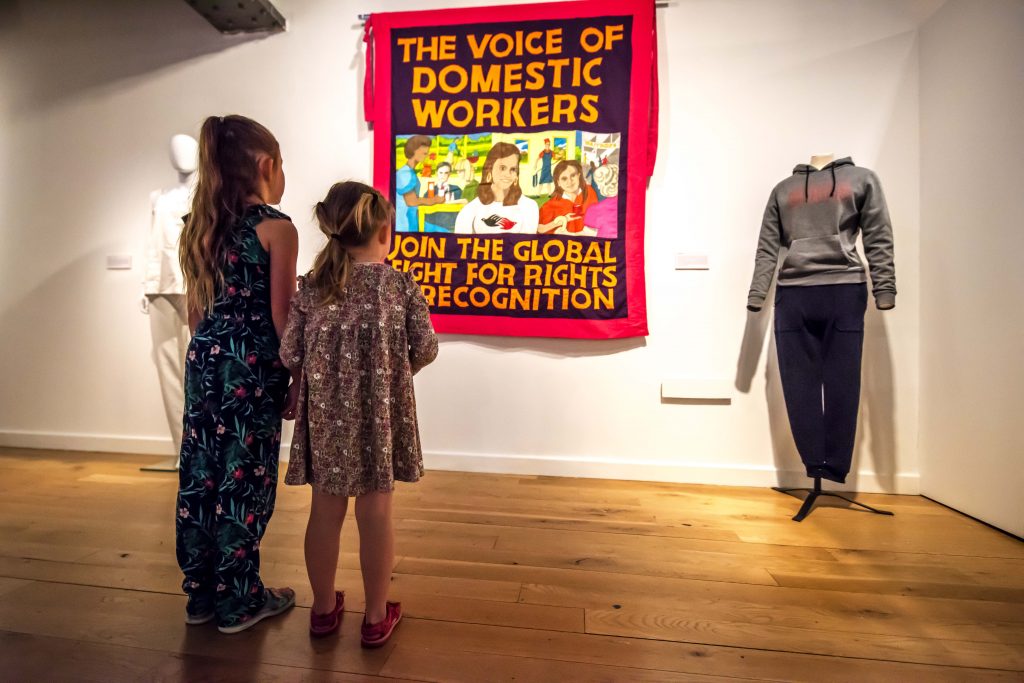 My Home Is Not My Home also included photos, documents and other items that were integral to the identity construction of migrant domestic workers.  They provided visitors with new ways to think about what we see, or don't see – in migrant domestic workers and even in ourselves.
The result was a compelling and reflective encounter that shared a unique and intimate insight into the domestic work carried out in private homes from women whose stories these belong to. The films and exhibits gave an insight into a hidden world of exploitation, abuse and strength as one community.  It also exposed the invisibility and marginality of migrant domestic workers due to their class, gender and ethnic positions.  It explored the question of how art practices intervene in dominant structures and culture when the conditions of migrant women workers are impaired by sexualisation, racism and labour exploitation.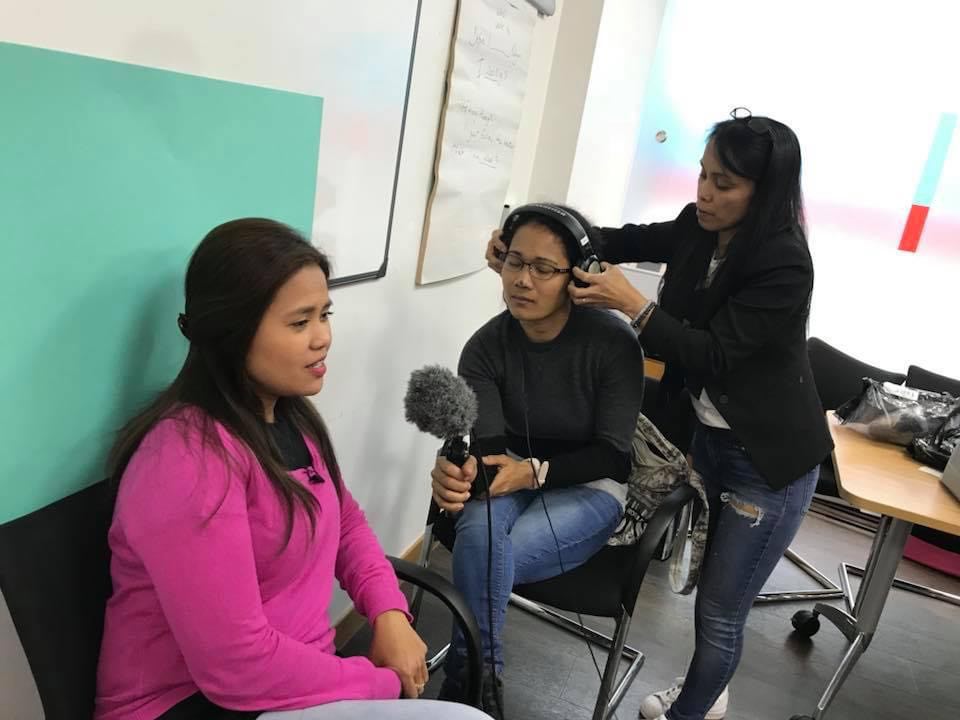 How did the new compilation of interviews, launched for International Women's Day 2022, come about?
Three of participants in the My Home is Not My Home exhibition, Mimi, Mary and Grace visited People's History Museum in July 2021 together with me, Dr Joyce Jiang and Tassia Kobylinska.
Mimi, Mary and Grace were very happy to see their work being exhibited at PHM and had the opportunity to take a tour of the museum, visit the archives and talk to visitors.  They were stunned to learn that their fight for their rights today, is also the fight of the workers of yesterday.  They also found their campaign slogans, many of which were revived from previous campaigns of the suffragettes.  Inspired by this history, their energy was so high that they were ready to do another video recording interviewing each other.
So Tassia, Marissa and Joyce, Mimi and me and Mary and Grace discussed amongst each other how the film was processed and edited, our experiences during the workshops and their own personal contributions and for The Voice of Domestic Workers (VODW), how important it is to equip its membership with skills and knowledge to be able to campaign for their own rights.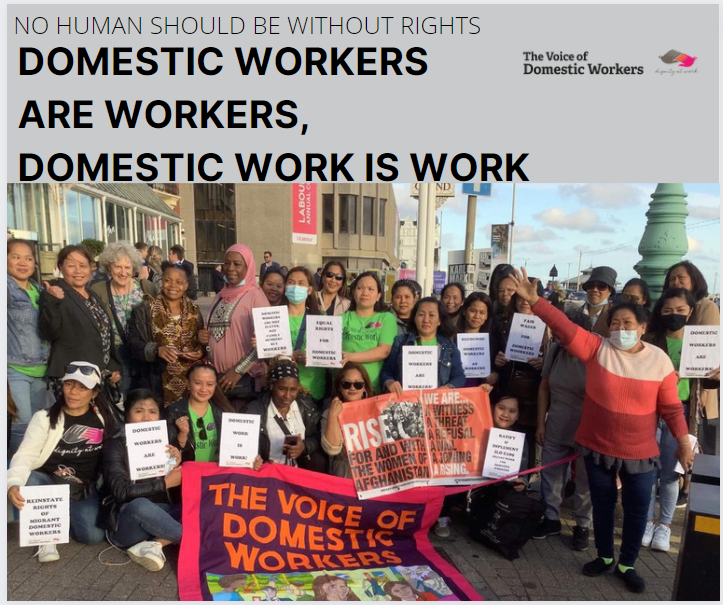 What does The Voice of Domestic Workers do and what are you campaigning for?
The Voice of Domestic Workers (VODW) is an education and support group calling for justice and rights for Britain's 16,000 migrant domestic workers.  The group provides educational and community activities for domestic workers – including English lessons, drama and art classes, and employment advice.  It also provides support for domestic workers who exit from abusive employers.
Each year the Home Office issues approximately 19,000 visas under its 'Overseas Domestic Worker Visa in private households' scheme, which allows families to bring domestic workers to the UK.  However, working in private households, migrant domestic workers rarely have the opportunity to share their stories of hardship, struggle and disempowerment.
Prior to 2012, migrant domestic workers could enter the UK with a one year domestic workers visa.  In order to apply for this visa, they had to work for an employer for at least one year abroad and this employer then needed to move to the UK and bring them to the UK as well.  They could renew the visa over a five-year period and then apply for indefinite leave to remain and ultimately British citizenship.
In 2012 the UK government changed the rules so that migrant domestic workers could only come to the UK on a non-renewable six-month visa; tied to one named employer.
In 2016 as part of the Modern Slavery Act, the law was slightly modified so that a migrant domestic worker could change employer, but only within the six months original visa period, which could then not be extended.
Since 2016 VODW has collected substantial evidence that shows that the route of the National Referral Mechanism (NRM) is not effective in addressing the particular needs of migrant domestic workers.
We believe that the Nationality and Borders Bill will criminalise and dehumanise refugees and migrants including children.  Many charities and organisations have raised concerns and called for the Bill to be scrapped.  Anti-slavery sectors including VODW have called on Part 5 to be removed from the Nationality and Borders Bill as it is harmful to victims of modern slavery and traffickers can potentially escape punishment.  This undermines the government's own policy objectives.
The Voice of Domestic Workers is campaigning for the right to return to the old visa system before 2012.  On Tuesday 8 March (International Women's Day), The Amendment 70A on Domestic Workers' Rights will be debated and voted on at around 3.00pm in the House of Lords.  Members of The Voice of Domestic Workers, with campaign allies and supporters, will be outside Parliament to give flowers to the Peers between 2.00pm and 5.00pm.  Read the Briefing for Report Stage of the Nationality and Borders Bill in the House of Lords.
Interested in finding out more?
Watch the new film about the project on the museum's YouTube channel.
Visit Migration: a human story, a series of interventions which challenges visitors to rethink what they know about migration, until Sunday 5 June 2022.  Part of a huge programme of events and exhibitions on the theme of migration. With support from Art Fund and The Joseph Rowntree Charitable Trust.
Read the blog, Hope for Justice: Working to end modern slavery from  Adam Hewitt from this Manchester born organisation, who tells us more about what modern slavery is, how the charity helps those affected by modern slavery and how you can look out for the signs.
Join us on Saturday 12 March for an International Women's Day celebration. A packed day of stalls, activities, talks and protest songs.  Suitable for 16+.
Click the link below to buy the book, Our Journey: Standing Up For Our Rights – a collection of over forty voices giving a unique insight to the complex experiences of modern slavery and trafficking from The Voice of Domestic Workers.