Letter discovered detailing first written account of suffragette force-feeding to go on display at People's History Museum from Wednesday 21 November 2018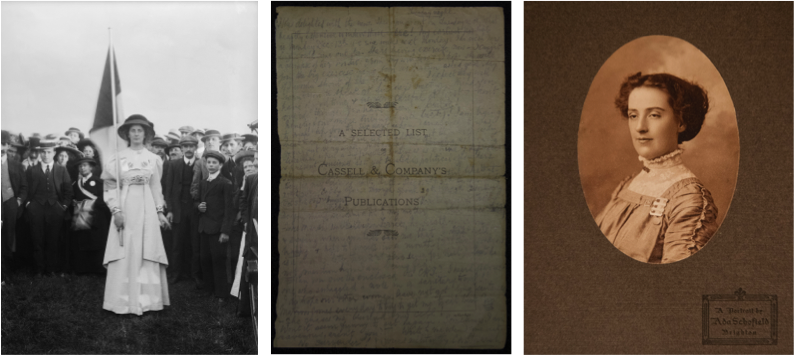 People's History Museum has discovered a letter written in prison by one suffragette to another detailing the first known written account of force-feeding.  The handwritten letter written by suffragette Charlotte Marsh will now go on display at the museum from today (Wednesday 21 November 2018) as part of its Heritage Lottery Fund supported exhibition, Represent! Voices 100 Years On (until 3 February 2019).
The discovery came about when Phillip Sycamore, the grandson of suffragette Selina Martin, loaned some of his grandmother's personal papers and memorabilia to People's History Museum.  These pieces include letters, her Women's Social and Political Union (WSPU) hunger strike medal, and a photograph of Selina wearing her Holloway Prison brooch; both the medal and the brooch were presented to Selina by the WSPU to honour the sacrifices that she made for the suffragette movement, including imprisonment.
As part of her research into Selina's story, People's History Museum's Programme Officer Helen Antrobus spent time researching and examining the objects, which is when the discovery of the letter, written on a title page torn from a book, was made.
The letter was written to Selina in November 1909 by Charlotte Marsh, one of the first women to be force-fed in prison, and is in pencil, barely decipherable.  The women were being held in Winson Green prison, Birmingham.  Charlotte and Selina were arrested alongside six other women for protesting about the visit of Prime Minister Herbert Asquith to Bingley Hall in Birmingham.
Helen Antrobus, Programme Office for People's History Museum, says, "The letter reveals the strain, both emotional and physical, that these women were enduring and how they looked to each other for the support and strength they needed.  Their aim was to be treated as political offenders, and at this time they wouldn't have known how historically notorious force-feeding was to become.  Their sacrifice, determination and united spirit is clear within the letter, which is extremely moving to read."
Charlotte Marsh writes, "Matron comes everyday to try and get me to eat but no – she can chase me around my cell!  Won't it seem funny to eat again.  Sometimes I am ravenous, aren't you?  Write to me when I come out.  No surrender!"
Charlotte asks Selina to send her mother, Mrs Marsh, a picture and to let her know that she is well and happy and hopes to write in the next month.  The letter also alludes to the fact that the women campaigners in prison were regularly smuggling letters between themselves, even using sanitary towels to hide their notes in.
Selina Martin's collection is now on display as part of the exhibition Represent! Voice 100 Years On, which tells the stories of those who have fought for representation a century on from when the Representation of the People Act of 1918 gave all men and some women the right to vote in Britain.  These pieces have now been joined by the letter written by Charlotte Marsh, which will all be on display until 3 February 2019.
Jenny Mabbott, Head of Collections at People's History Museum, says, "It is wonderful that in creating an exhibition that tells the stories of those seeking representation we have been able to reveal previously unheard voices of those from the past who fought for equality.  Hearing Charlotte's story in her words brings alive the incredible spirit of those campaigning for women's suffrage."
Selina Martin's own story is that of a working class suffragette from Ulverston who found herself in prison three times, on each occasion refusing to eat to make her protest.  Whilst her family were told she was in good health and being treated well, her letters and diaries tell a very different story.  During her imprisonment in Liverpool in the winter of 1909, Selina was beaten, force-fed, and left to freeze in her cell.  The Governor of the gaol claimed she was being treated "as humanely and kindly as possible".
Selina Martin and Charlotte Marsh have both been named Radical Heroes by People's History Museum.  This membership scheme celebrates the people whose ideas have shaped our society, with the opportunity for individuals or organisations to sponsor the Radical Hero of their choice to raise funds to support the national museum of democracy's historical collections, exhibitions and Learning Programme.
People's History Museum is open seven days a week from 10.00am to 5.00pm, Radical Lates are on the second Thursday each month, open until 8.00pm.  The museum is free to enter with a suggested donation of £5.  Represent! Voices 100 Years On is a Family Friendly exhibition that runs until 3 February 2019.  To find out about visiting the museum, its full events programme and for more information on Radical Heroes, visit www.phm.org.uk.
ENDS
For further information or to arrange a visit / interviews please contact Fido PR:
Clare.short@fidopr.co.uk / laura.sullivan@fidopr.co.uk
0161 832 3588
A selection of images can be found here: https://www.dropbox.com/sh/7pwzyst9yflib7p/AAAKiYeeAxZIyQHeW6vkYcRJa?dl=0
Notes to editors:
The People's History Museum's (PHM) resources, collections and spokespeople are available to support the telling of the story of the centenary of the Representation of the People Act (1918) and to reflect its themes and issues from a contemporary perspective.
Spokesperson:
Helen Antrobus, Programme Officer:
Along with curating the exhibition and planning the events programme for 2018, as a historian, Helen's specialist area is 20th century radical women.
About People's History Museum (PHM)
People's History Museum (PHM) in Manchester is the national museum of democracy, telling the story of its development in Britain: past, present, and future.  The museum provides opportunities for people of all ages to learn about, be inspired by and get involved in ideas worth fighting for; ideas such as equality, social justice, co-operation, and a fair world for all. PHM offers a powerful programme with annual themes; 2018 looks at representation and commemorates 100 years since the first women and all men got the vote, 2019 will see a year of activities around protest movements to mark the bicentenary of the Peterloo Massacre in Manchester and the programme for 2020 will be on the theme of migration and identity. 2017-2018 winner of Kids in Museums Family Friendly Museum Award.
About Arts Council England (ACE)
PHM is an Arts Council England (ACE) National Portfolio Organisation (NPO).  The work of PHM is supported using public funding by ACE, the national development body for arts and culture across England, working to enrich people's lives.  ACE support a range of activities
across the arts, museums and libraries – from theatre to visual art, reading to dance, music to literature, and crafts to collections.  Great art and culture inspires us, brings us together and teaches us about ourselves and the world around us.  In short, it makes life better.  Between 2018 and 2022, ACE will invest £1.45 billion of public money from government and an estimated £860 million from the National Lottery to help create these experiences for as many people as possible across the country.  artscouncil.org.uk
About the Heritage Lottery Fund (HLF)
Thanks to National Lottery players, Heritage Lottery Fund (HLF) invest money to help people across the UK explore, enjoy and protect the heritage they care about – from the archaeology under our feet to the historic parks and buildings we love, from precious memories and collections to rare wildlife.  hlf.org.uk.  Follow HLF on Twitter, Facebook and Instagram and use #HLFsupported.
Charlotte Marsh writes to Selina Martin in November 1909
Tuesday night.
I was delighted with the news. I heard you go out on Tuesday next. What beastly expensive windows those are! My earliest possible is Monday Dec: 13th i.e. six weeks next Monday. I do wish Mrs Leigh could come out too. She is having exercise now – I caught a glimpse of her on Sat: from my window and I hope she will join the big exercise going soon as Matron asked yesterday if I would shout if she did. I expect they will want you to speak at Tuesday's meeting, mind you have a good time and be very careful at first and don't overdo things. You have been a brick!
Ninety four more tubings (with luck)! I am trying to make up for the six days when I imagined it was best to eat rather than let Gladstone get the better of us by going out very weak. Just fancy me thinking reasoning like that when a Suffragette's business is to think of the present and present business is to get treated as political offenders. I think hunger must have made me think like that.
Here is my diary up to date. Sept 22nd to 25th Hunger strike. 25th to 28th Eat by force through spout. 29th to Oct 5th Fed ordinarily. Oct 5th to 8th/ 2nd Hunger strike. Oct 8th onwards fed by tube twice daily.
Do you mind sending a pic to my mother – Mrs Marsh 14 Otterburn Terrace, Newcastle-on-Tyne and saying when you last saw me that I was am well and happy and hope to write in a month (3rd div: you known is a month later than 2nd also same for visit). But do not mention how I am being fed. Can you give the enclosed to CAJ? I heard of someone who smuggled a note in a sanitary towel!! I do hope our other women have not got long sentences. Matron comes everyday to try to get me to eat but no – she can chase me around my cell! Won't it seem funny to eat again. Sometimes I am ravenous, aren't you?
Write to me when I come out. No surrender! Yours militantly, S. Marsh.