People's History Museum tells the stories of the women of Peterloo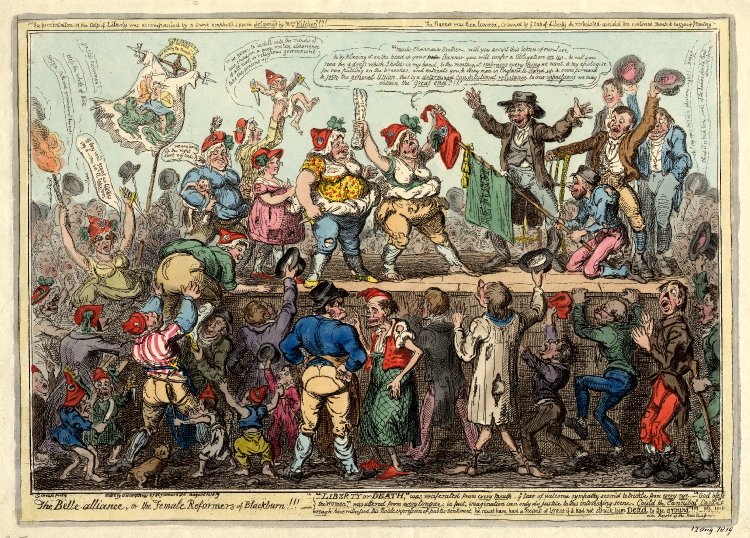 The role of women at the Peterloo Massacre in Manchester (16 August 1819) will be explored in People's History Museum's upcoming exhibition, Disrupt? Peterloo and Protest (opening 23 March 2019).  Numbering around one in eight, many accompanied by their children, women were present not only on the ground amongst the 60,000 protestors, they were also represented on the hustings at the heart of the gathering.
Jenny Mabbott, Head of Collections & Engagement, says, "Ahead of International Women's Day (Friday 8 March) we are reflecting on the stories of the women at Peterloo and how they will be explored in our new exhibition. That women made up a disproportionately high number of the casualties, around one in four, yet represented only a relatively small percentage of protestors, says much of the struggles that women would have to endure to seek representation for many, many years to come."
Disrupt? Peterloo and Protest explores the impact and legacy of the Peterloo Massacre 200 years on through a number of key objects, including original period artefacts, brought together for the first time.  The story of women is visually represented by Mrs Mabbott's dress, a piece which will go on public display for the first time when the exhibition opens on 23 March 2019.
Mrs Mabbott's own story reflects the chaos that ensued in the city when the Manchester and Salford Yeomanry and local government forces charged the crowds, with such force that 18 people would lose their lives and around 700 suffer injury.  Research suggests that Mrs Mabbott, a confectionary shop owner who resided on Bridge Street in the city centre, got caught up in the violence of the day, rather than being an active participant in the protest.  Her dress, made from fawn corded silk with a white linen lined bodice and sleeves, was donated to Manchester Art Gallery in 1948, from whom it is on loan.
One of the most high profile women at Peterloo was Mary Fildes, President of the Manchester Female Reform Society, who stood with the speakers at the hustings holding a banner with the liberty cap on the pole.  Like most women present, the women that she led were at Peterloo not to demand the vote for themselves, but to seek representation for their household whether through their husbands or fathers.  It would be a number of years before women began to campaign for the right to vote for themselves.
Women at Peterloo who were active in the different reform movements were dressed distinctly in white cotton as a symbol of their virtue.  This was in stark contrast to the cartoon The Belle-alliance, or the Female Reformers of Blackburn!!! that was published just four days before, in which the women are caricatured as bawdy and disreputable.  This George Cruikshank print can be seen on display in the main galleries at People's History Museum, and is one of many created over the subsequent century by different anti-suffragists that would cast dispersions on the role and conduct of women.
Historian Helen Antrobus says, "The dresses of the women at Peterloo were both emotionally and physically restricting; not only did they delay escape, but they marked out political women, the usurpers of society, for attack.  Indeed, eye witness reports suggest that women were explicitly targeted during the attacks by the yeomanry, a fact that is supported by the statistics.  To be a political woman took courage, and the women of Peterloo would go on to champion Chartism, the abolition of slavery, and eventually, women's suffrage."
Margaret Downes, Mary Heyes and Martha Partington are all included in the list of those who lost their lives at Peterloo.
Historian Helen Antrobus has written a blog for People's History Museum on the women of Peterloo to mark International Women's Day, which can be read here.
An International Women's Day guided tour will take place at 11.30am on Friday 8 March exploring the lives of women reformists, Chartists, suffragists, suffragettes, MPs, radicals and revolutionaries.  Tickets are £5 and can be booked via Eventbrite.
The exhibition Disrupt? Peterloo and Protest is supported by The National Lottery Heritage Fund.  Alongside the objects will be a talking heads film reflecting on the story of Peterloo, protest, and the road to democratic reform.  A creative space within the exhibition will be a Protest Lab; an experimental gallery for individuals, communities and organisations to use to share and develop their views and ideas for collective action.
Throughout 2019 People's History Museum is exploring the Past, Present and Future of Protest throughout its galleries, exhibitions and events programme.  This includes its current display of banners, with each of the 26 that went on display in January 2019 reflecting significant moments of protest.  The main galleries also take visitors on a journey that follows the fight for representation over two centuries, starting at the Peterloo Massacre and the defining moments that followed.
People's History Museum is open seven days a week from 10.00am to 5.00pm, Radical Lates are on the second Thursday each month, open until 8.00pm.  The museum is free to enter with a suggested donation of £5.  To find out about visiting the museum, its full exhibition and events programme visit phm.org.uk.
ENDS
A selection of images can be found here: https://www.dropbox.com/sh/eh0ql5dy0w6jw73/AAAueNnueXerCdqke2XmvwHOa?dl=0
For further information or to arrange a visit / interviews please contact Fido PR:
clare.short@fidopr.co.uk / laura.sullivan@fidopr.co.uk
0161 832 3588
Notes to editors:
About People's History Museum (PHM)
People's History Museum (PHM) in Manchester is the national museum of democracy, telling the story of its development in Britain: past, present, and future.  The museum provides opportunities for people of all ages to learn about, be inspired by and get involved in ideas worth fighting for; ideas such as equality, social justice, co-operation, and a fair world for all.  PHM offers a powerful programme with annual themes; 2018 looked at representation and commemorated 100 years since the first women and all men won the right to vote in Britain, 2019 sees a year of activities around protest movements to mark the bicentenary of the Peterloo Massacre in Manchester, and the programme for 2020 will be on the theme of migration and identity.  Recent winner of Kids in Museums Family Friendly Museum Award.
About Arts Council England (ACE)
PHM is an Arts Council England (ACE) National Portfolio Organisation (NPO).  The work of PHM is supported using public funding by ACE, the national development body for arts and culture across England, working to enrich people's lives.  ACE support a range of activities across the arts, museums and libraries – from theatre to visual art, reading to dance, music to literature, and crafts to collections.  Great art and culture inspires us, brings us together and teaches us about ourselves and the world around us.  In short, it makes life better.  Between 2018 and 2022, ACE will invest £1.45 billion of public money from government and an estimated £860 million from the National Lottery to help create these experiences for as many people as possible across the country.  artscouncil.org.uk
The National Lottery Heritage Fund (NLHF)
Thanks to National Lottery players, The National Lottery Heritage Fund (NLHF) invest money to help people across the UK explore, enjoy and protect the heritage they care about – from the archaeology under our feet to the historic parks and buildings we love, from precious memories and collections to rare wildlife.  heritagefund.org.uk.  Follow NLHF on Twitter, Facebook and Instagram and use #NationalLotteryHeritageFund.
 Spokespeople:
Jenny Mabbott, Head of Collections & Engagement: 
As Head of Collections & Engagement, Jenny is responsible for overseeing the way that PHM commemorates the bicentenary of the Peterloo Massacre.  In addition to talking about PHM's approach and collections, she can provide both the historical and contemporary context to Peterloo.
Michael Powell, Programme & Learning Officer:
Michael has worked with historians and communities to plan PHM's programme of activity for 2019.  He has also been responsible for developing the Peterloo 2019 learning resources in partnership with Manchester Histories.  In addition to talking about the 2019 bicentenary, he can share his insight into the museum's rich collections and archives.
Dr Shirin Hirsch, Researcher:
Shirin is a historian in residence at PHM.  She specialises in the history of modern Britain with a particular focus on the labour movement, as well as questions of race and Empire. Shirin is currently undertaking research on Peterloo and the global context of the early 1800s democracy movement in Manchester.  She can talk about the history of Peterloo as well as PHM's objects and archive material from this period.
Kloe Rumsey, Conservator:
Kloe specialises in object conservation and cares for PHM's whole collection, including banners, furniture, ceramics and posters.  Kloe has conserved the artefacts that will be on display in 2019's Disrupt? Peterloo and Protest exhibition and can talk about these objects and their stories.
Sam Jenkins, Collections Officer:
Sam manages PHM's whole collection, as well as arranging to borrow loans from other institutions as needed.  She has worked with various museums to arrange loans of objects within 2019's Disrupt? Peterloo and Protest exhibition, and has worked on collecting new items relating to the Peterloo Massacre.  Sam can discuss each of the objects within the exhibition, as well as the wider museum collection.