PHM is coupling revolution and romance with a special Radical Relationships guided tour taking place on 14 February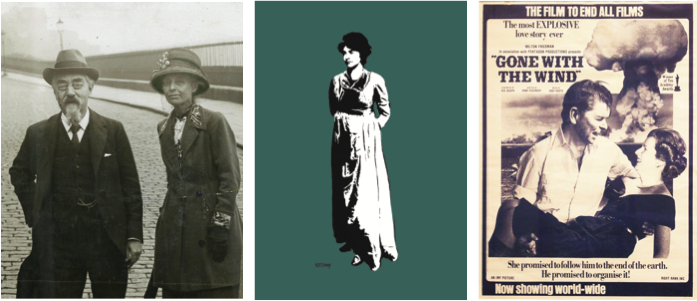 The People's History Museum is coupling revolution and romance this Valentine's Day with a special Radical Relationships guided tour taking place on Thursday, 14 February (from 2.00pm to 2.45pm and 6.30pm to 7.15pm), for those looking for an alternative Valentine's Day experience.
The tour will navigate the galleries at People's History Museum, revealing the stories behind some of the most radical of romances and their place in history; whether it's the meeting of two kindred spirits with the same social values, fighting the same fight – or forbidden love, prohibited by class and society.
John Donegan, Programme Assistant at People's History Museum will lead the Valentine's day tours, and says, "The paths of revolution and romance have always been intertwined, and looking at stories through this lens gives us a colourful insight into fascinating moments of history, with the museum's extensive collections helping to bring them to life."
The tour will include the story of Mary Wollstonecraft, who defiantly lived outside of the social norms of her time and who strongly disagreed with the treatment of women within the institution of marriage, even though she would go on to marry her lover William Godwin.  Friedrich Engels who discovered love when he was researching the lives of the working class in the slums of Manchester, meeting Irish immigrant Mary Burns who he had a relationship with for over 20 years.  Beatrice and Sidney Webb who as a couple played a huge role in the formation of both the Fabian Society and the Labour Party, but who didn't marry until after the death of Beatrice's father, and after much persuasion.
With The Left Bank cafe bar open (where lunch is served, and wine, soft and hot drinks are available throughout the day and evening) and array of creative gift ideas awaiting in the museum shop, it all makes for the perfect Valentine's Day experience for those with a passion for ideas worth fighting for.
Radical Relationships is part of People History Museum's Radical Late for February; a monthly late opening that features a programme of quirky events inspired by the collections, galleries and exhibitions held at the national museum of democracy.  Each month has a theme and introduces different organisations and thought leaders who bring interesting ideas to the fore.
The event is suitable for 16+, booking is required and guests are asked to 'pay what they feel'.  The Left Bank cafe bar and museum shop offer a 10% discount to anyone attending the guided tour, with tickets bookable in advance at: www.phm.org.uk/events/radical-relationships-guided-tour
People's History Museum is open seven days a week from 10.00am to 5.00pm, and is free to enter with a suggested donation of £5.  Radical Lates are the second Thursday each month, when the museum and all its galleries, shop and cafe are open until 8.00pm.
ENDS
For further information or to arrange a visit / interviews please contact Fido PR:
clare.short@fidopr.co.uk / laura.sullivan@fidopr.co.uk
0161 832 3588
Notes to editors:
The Past, Present & Future of Protest
During 2019 People's History Museum will mark 200 years since the Peterloo Massacre (16 August 1819), a major event in Manchester's history and a defining moment for Britain's democracy, with year long programme exploring the past, present and future of protest and a new exhibition opening on 23 March 2019.
Disrupt? Peterloo and Protest exhibition (Saturday 23 March 2019 to Sunday 23 February 2020) will explore creative disobedience and its role in today's ideas worth fighting for.  The storytelling will be illuminated with original artefacts brought together for the first time and at its heart will be a specially commissioned film in which the legacy of Peterloo and the road to democratic reform unfolds.
Visit www.phm.org.uk for more information.
 About People's History Museum (PHM)
People's History Museum (PHM) in Manchester is the national museum of democracy, telling the story of its development in Britain: past, present, and future.  The museum provides opportunities for people of all ages to learn about, be inspired by and get involved in ideas worth fighting for; ideas such as equality, social justice, co-operation, and a fair world for all.  PHM offers a powerful programme with annual themes; 2018 looked at representation and commemorated 100 years since the first women and all men won the right to vote in Britain, 2019 sees a year of activities around protest movements to mark the bicentenary of the Peterloo Massacre in Manchester, and the programme for 2020 will be on the theme of migration and identity.  2017-2018 winner of Kids in Museums Family Friendly Museum Award.
About Arts Council England (ACE)
PHM is an Arts Council England (ACE) National Portfolio Organisation (NPO).  The work of PHM is supported using public funding by ACE, the national development body for arts and culture across England, working to enrich people's lives.  ACE support a range of activities across the arts, museums and libraries – from theatre to visual art, reading to dance, music to literature, and crafts to collections.  Great art and culture inspires us, brings us together and teaches us about ourselves and the world around us.  In short, it makes life better.  Between 2018 and 2022, ACE will invest £1.45 billion of public money from government and an estimated £860 million from the National Lottery to help create these experiences for as many people as possible across the country.  artscouncil.org.uk