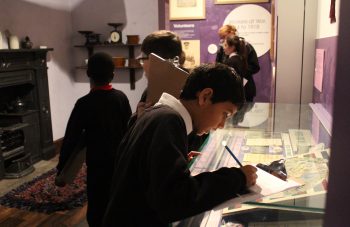 Gallery trails
Explore the development of democracy in Britain: past, present and future.
Support your group as they discover the revolutionaries, reformers, workers, voters, and citizens who campaigned for equality, social justice, co-operation and a fair world for all.
Comparing the past and the present
Suitable for ages 5 to 8 (Key Stage 1)
Working in small groups learners will explore, draw and think as they discover a suffragette kitchen, printing press, Co-op shop and more.
Suitable for ages 7 – 11 (Key Stage 2)
Suitable for ages 11 -14 (Key Stage 3)
Learners will follow a journey that illuminates how the right to vote was won and how worker's fought for their rights.  The Match Factory digital game, an encounter with the Grunwick strikers and a visit to the Co-op shop are just some of the activities featured.
Suitable for ages 14 – 16 (Key Stage 4)
Beginning at a time of revolution, learners will meet those that brought about reform and benefits that were achieved for all, including the welfare state and time off from work.
Please note:
Each resource is divided into sections that can be completed in any order in small groups, pairs or individually
You can choose a selection of sections to complete if time is limited or you have specific topics to cover
Gallery maps can be found at the Info Desk to help you find the locations of particular themes
Please help us protect our objects by only using pencils in the galleries.
Book a group visit