Masks are now part of our everyday lives and possibly will be for the foreseeable future.  This month is the anniversary of the UK's first national lockdown, and we've a treat of a long read from People's History Museum's (PHM) Senior Visitor Services' Callum White, uncovering a selection of masks and mask related objects from birth to death, from alien and nurse to Tony 'Bliar' which were already present in the museum's truly unique collection.
Behind the masks: Five 'masks' from PHM's collection

Why masks?
The year of 2020 was a year like no other.  The Covid-19 pandemic has forced us into accepting massive changes in our everyday lives.  We at People's History Museum (PHM) have felt these effects tremendously and have been hit hard by the pandemic both in terms of a substantial loss of income and of course our frustrating inability to regularly welcome our wonderful visitors through the museum doors.  However, light is at the end of the tunnel with the rollout of vaccines which should put an end to the cycle of lockdowns and social distancing measures, hopefully leading to PHM's reopening.  For the meantime however, most of us are confined to the indoors and only venturing outside (and sometimes inside) when accompanied by our face masks.
Thomas Paine's death mask, 1809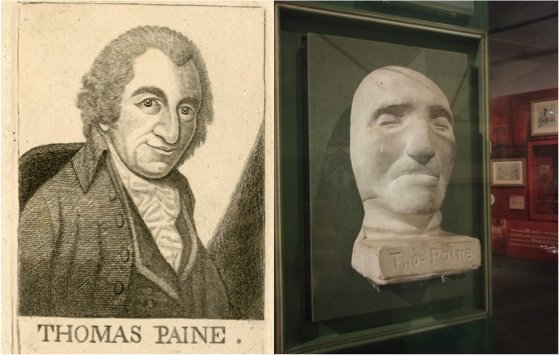 Where else to start than one of the most important objects in PHM's collection; the death mask of massively influential writer and political radical Thomas Paine (1737-1809).  Paine was one of the most important and prominent radicals of his time.  His book, Common Sense (1776) is recorded as being one of the documents that influenced the American Revolution and likewise Rights of Man (1791-1792) was the most widely read pamphlet in the reform movement in Britain in the 1790s.[1]  So what do you do to remember an important man in the late 18th century? Well, you make a cast of his face leaving you with what's called a death mask of course!  Quite peculiar to us, death masks were common during this time but with the advent of early photography, the practice soon went away.
Operating Theatre Nurse painting by Cliff Rowe, date unknown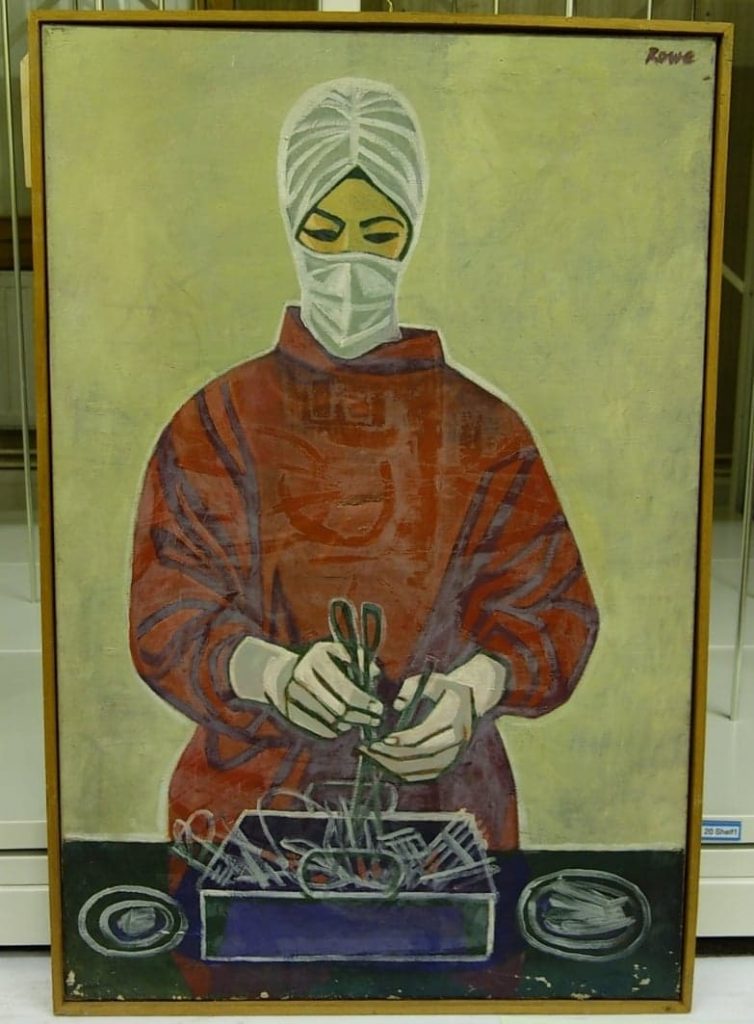 A little more along the lines of what we're used to, this striking oil painting by lifelong socialist, artist and illustrator Clifford Hooper Rowe (1904-1989) shows an operating theatre nurse preparing tools for surgery while donning a surgical mask.  Depicting scenes of industry, war, working life, and ordinary people, Cliff Rowe produced art commonly referred to as socialist realism – the style of art that emerged from the Soviet Union in the 1920s.  Influenced by this art style during his time living in the Soviet Union, Rowe went on to have an interesting career both as a socialist and as an artist.  Rowe designed posters for the Red Army and Clement Atlee's post war Labour government.[2]
Tony 'Bliar' mask and dossier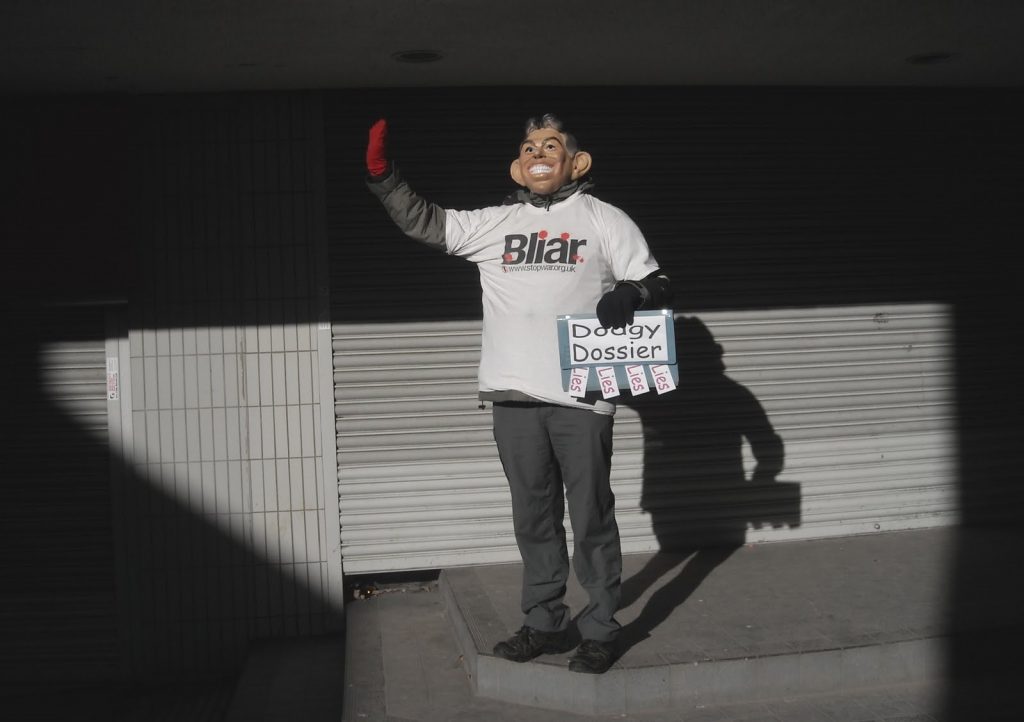 The Rochdale and Littleborough Peace Group, a grassroots organisation that campaigns for causes such as the Campaign for Nuclear Disarmament (CND) and the Stop the War Coalition, unhappy with Tony Blair's apparent reluctance to show remorse for those who had died during the British supported US led invasion of Iraq, staged a walkabout in Rochdale town centre in 2010 where one of their members donned a Tony Blair caricature mask and 'Dodgy Dossier'.  Their petition called for the indictment of Blair at an international war crimes tribunal under both the Geneva and Hague Conventions which cited 14 alleged war crimes. [3]  Although only the 'Dodgy Dossier' resides in PHM's collection and not the mask, the combination of the two demonstrates a perfect example of how mask and costume can be used for the purpose of protest.  Find out more about the Rochdale and Littleborough Peace Group.
Alien Anthropologist mask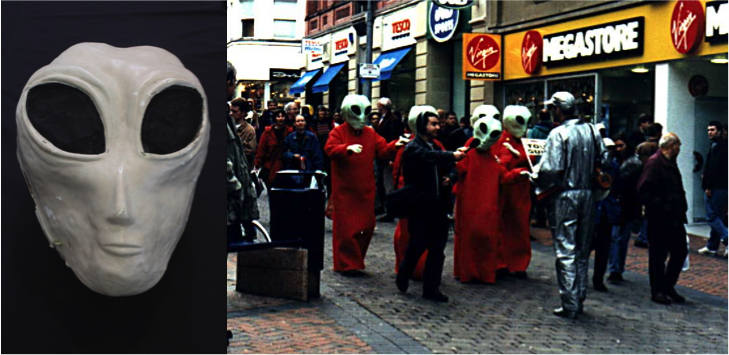 An object that was similarly used on a public demonstration is the recently acquired Alien Anthropologist mask that was displayed in the Protest Lab within PHM's exhibition, Disrupt? Peterloo and Protest (23 March 2019 – 23 February 2020).  This mask is one of five created by cartoonist Polyp for a 1996 street theatre protest on Manchester No Shop Day; part of the anti-consumerism campaign, Never ENOUGH?  For this campaign a group of confused, amateur alien anthropologists were led through Manchester city centre by a human intergalactic tour guide, who valiantly (and hilariously) struggled to explain to them the joys of shopping, the rubbish in the street, why a clothing store might be called Envy, and what the strange visual and verbal messages on advertising hoardings actually mean.  Made from vacuum formed plastic sheeting and one of the more peculiar masks in this list, the Alien Anthropologist mask best exemplifies the use of 'out of this world' humour and satire as a form of political and social commentary.
Infant gas mask, around 1940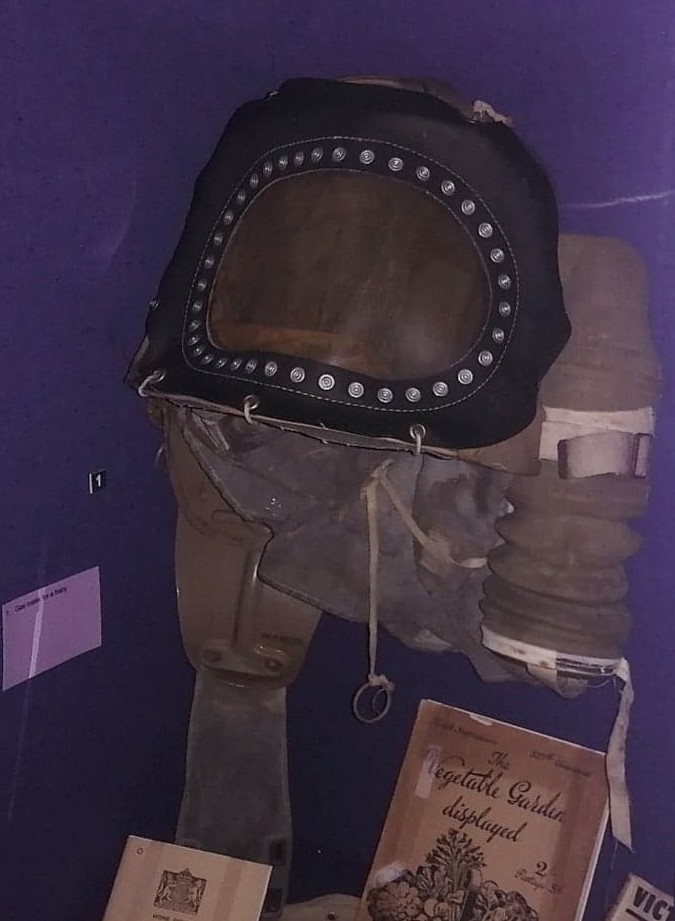 Less of a mask but more of a sealed rubber bag, this creepy looking World War II era device actually intended to keep babies and very small children safe during a gas attack.  The baby would be placed inside this device and the parent would have to regularly pump filtered air into the bag.  This meant that if the parent didn't pump enough air through the device the baby could easily suffocate.  One can only imagine how difficult this might have been, while trying to also care for the rest of the family, with the sound of air raid sirens and the roar of bombers bellowing across the city of London.  The reason this object is so different from the typical gas masks we usually associate with this period is due to the fact that babies' lungs would not have been strong enough to breathe hard enough to use the gas masks suitable for older children and adults.  Fortunately, as gas attacks were never used against the British civilian population during World War II, these gas masks wouldn't have seen much use, but still became 'a disturbing memento of the home fronts' wartime experience'.'[4]
Interested in finding out more?
Discover the Working Class Movement Library (WCML) exhibition, Thomas Paine: citizen of the world (27 November 2019 – 10 January 2021).
PHM has a substantial collection of Cliff Rowe paintings, donated by the artist in 1985. Discover the Cliff Rowe paintings members of PHM's staff picked, that resonated with them in the context of Covid-19, and read PHM's Learning Officer Liz Thorpe's blog post on Cliff Rowe, work, rest and play.
PHM's contemporary collecting is mainly focused on issues and events that are happening right now and expands from events such as the Ambulance Dispute of 1989 through to events in recent weeks and months, including Black Lives Matter protests and Covid-19.  Find out if you have an object of interest to PHM's collection.
As PHM's collection grows, its costs also grow.  You can make a vital difference to the museum's ability to care for and provide access to its unique collection by making a donation or Joining the Radicals.
[1] Stanford Encyclopedia of Philosophy
[2]  Llewellyn
[3] Rochdale and Littleborough Peace Group