Don't let the colder weather keep you in.  Manchester's museums and galleries are inviting you to grab your coat and come enjoy a variety of unique cultural experiences across the city.
In Manchester, there is something for everyone.  Whether you're looking to expand your horizons or plan a memorable half-term, we've got you covered. 
Plan and book your visits now with this guide to our top cultural picks this autumn.  You can also check out visitmanchester.com/culture and browse all that the city has to offer. 
Enjoy Manchester's museums and galleries this Autumn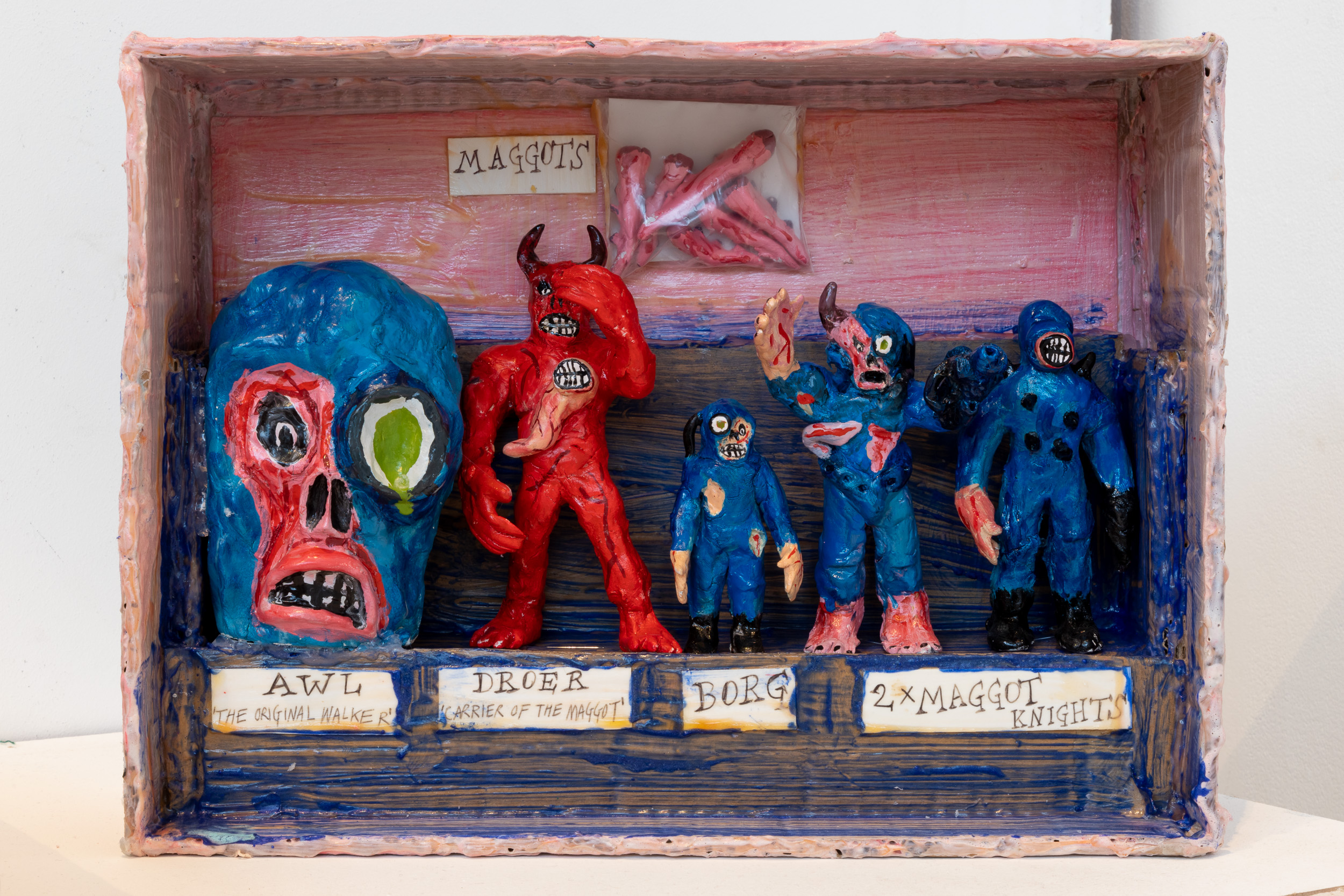 Castlefield Gallery
Visitors to Castlefield Gallery will be transported to the CYBERJUNK universe and the planet Durt 1,000 years after the Quantum Crash; a  botched experiment that saw the first humanoid quantum teleportation result in a disaster of apocalyptic scale. 
A B-movie aesthetic runs through artist John Powell-Jones first major solo exhibition. Characters from the CYBERJUNK story recur in comic illustrations, computer animation, ceramic figures, life-size models and textile pieces throughout an exhibition which takes on the form of a museum of sorts; transporting audiences to the CYBERJUNK universe as spectral observers of a looped timeline spanning a thousand years.
John Powell-Jones' work is informed by the ways in which dominant ideologies and power structures influence our perceptions of reality. In particular, how the warped western view of progress and success affects our understanding of morality. These ideas are explored through the use of speculative fiction, taking inspiration from European folklore, body horror, survival horror and science fiction. He aims to form a dialogue with our present and an imagined dystopian future in which the horrors of capitalism and neoliberal ideology are present as cyborgs, demons and maggots.
Castlefield Gallery is partnering with IMT Gallery (London) to deliver this exhibition in two parts across both venues. CYBERJUNK continues at Castlefield Gallery to Sunday 19 December 2021 and CYBERJUNK: QUANTUM CRASH will be on show at IMT Gallery (London) to Sunday 19 December 2021.
Castlefield Gallery is open Wednesday to Sunday, 12.00 noon – 5.30pm. FREE ADMISSION
The gallery is fully wheelchair accessible, including provision of an accessible bathroom.

castelfieldgallery.co.uk 
Elizabeth Gaskell's House
At a time of year when cats come into their own, there is a lot of feline focused fun to be had at Elizabeth Gaskell's House during October Half Term (Sunday, Wednesday, Thursday and Sunday).  It's also the purrfect place for a little bit of spooky themed crafting.

Inspired by Elizabeth's own love of cats, her favourite being called Cranford, a Cat-themed Trail takes families around the house with a series of toy cats to spot.  These are very distinct and refined cats, with each wearing an outfit made by the House's team of volunteers, and includes a new spooky addition all dressed up for Halloween!

Visitors will find out more about the significance of Cranford in the exhibition A Love Affair with Cranford, which explores one of Elizabeth Gaskell's most successful novels and includes the costume that Dame Judi Dench wore when she depicted the much-loved character Miss Matty in the acclaimed BBC drama.

And in the Servant's Hall it's all about creepy crafts, with all the materials and creative guidance on hand for young visitors to make either a witch's cat or a ghoulish ghost.   After all of the exploring and crafting then a visit to the Tea Room for a drink and a treat (no trick!) might be in order.

All of the October half term activities are included within the entry ticket enabling you to explore the beautiful Grade II listed former home and gardens of Elizabeth Gaskell, which its volunteer guides bring to life wonderfully for visitors of all ages.

Elizabeth Gaskell House October half term opening hours are from 11.00am to 4.30pm (Sunday 24 October, Wednesday 27 October, Thursday 28 October and Sunday 31 October) and entry is £5.50 for adults and £4.50 for concessions (senior citizens and students). Pre Booking is required

elizabethgaskellhouse.co.uk
Half Term at HOME
On Friday 22 to Saturday 23 October, an empty lot near First St. will be transformed into The Fire Garden, an otherworldly landscape of flame-lined shapes and heat.  Award-winning pioneers of outdoor art Walk the Plank are collaborating with HOME to bring The Fire Garden to Manchester. Explore the winding paths through the sculptures and installations – or stand still and enjoy the warmth.  Specially adapted to this open space along the Oxford Road Corridor, a blank expanse becomes a place of wonder.  The Fire Garden will be open 6.00pm to 10.00pm both days, and is free and unticketed.
Also at HOME this half term, join storyteller and musician Emmanuela Yogolelo for a family-friendly performance of Tales from the Congo Basin on the afternoon of Friday 29 October at 2.00pm.  This interactive session uses music and storytelling to gently explore climate change and its links to colonialism, race and migration.  Audience members will be encouraged to join in with the traditional songs including call and response, clapping, body percussion and hear music and stories from the region.  Tickets are £5.
Until Sunday 31 October, children will be able to listen and learn online with Storytime Sessions: The Discarded Oil Drum by Henry & Steel,  a bite-sized mini-musical audio play for all the family. Join Steely the Steel Drum on his musical journey to discover the beauty of how he was made and what he was made from.
Plus, there will be free drop-in workshops based on the Storytime Sessions at Moss Side Powerhouse, Monday 25 October, 3.00pm – 5.00pm; Central Library, Tuesday 26 October, 11.00am – 1.00pm and Longsight Library, Wednesday 27 Oct, 2.00pm – 4.00pm. Using the relaxed and rhythmic sounds of steel pans, these interactive artist-led sessions will transport you to the sunny Caribbean in a fun, musical and movement session.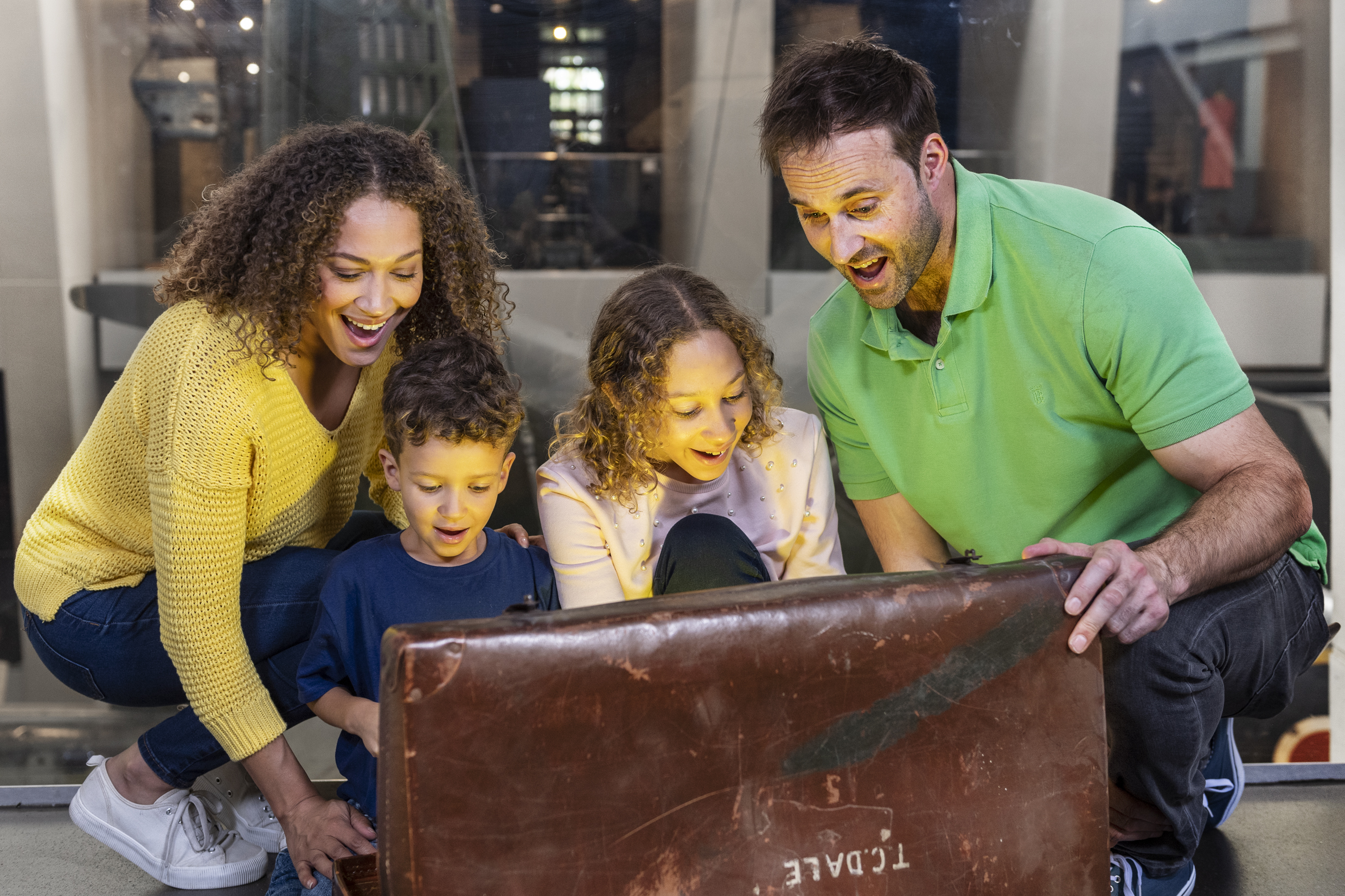 IWM North
This October half term, visit IWM North and explore the history of conflict from World War 1 to the present day; immerse yourself in the Big Picture Show; discover forgotten histories; and get involved in our upcoming activities.

Running from Saturday 23 October to Sunday 31 October, Story Seekers will allow families to get hands on with real artefacts and learn about the global impact of conflict.  Dig deeper into the museum's collections and uncover the moving stories they tell, from people who braved shark-infested waters to ingenious nurses.

On Friday 29 and Saturday 30 October, visitors can meet eyewitnesses to conflict and gain first-hand insight into the impact of war on people's lives with We Were There.  Find our special guests throughout the museum and hear their personal stories – ranging from driving a tank, to being evacuated from the place they called home. Families can also join interactive workshops with illustrators, authors and journalists to explore how memories can be recorded in greater detail.

Later this autumn, the iconic poppy sculptures will permanently return to IWM North, where they'll be combined into a dramatic new artwork, titled Poppies. Opening on Wednesday 10 November, Poppies will cascade 30 metres down and pool within the unique architecture of IWM North's Air Shard.  The thousands of handcrafted ceramic flowers that make up Poppies were originally part of the 2014 Tower of London installation, Blood Swept Lands and Seas of Red and toured to IWM North and IWM London in 2018.

On Sunday 14 November, Remembrance Sunday, a two minute silence will be held at 11.00am. The silence will then be broken. Working with ThickSkin, Breaking the Silence will see young people, aged 14 to 18, explore what contemporary Remembrance means to them, through a brand-new performance at IWM North including song, movement and video installation.
IWM North is open Wednesday to Sunday 10.00am – 5.00pm. Also open Monday 26
and Tuesday 26 October 2021.

iwm.org.uk/north
Manchester Art Gallery
During the October school holidays, family visitors will be able to pick up a Keep Curious Kit. This match box of activities will include a sketch book, pencil, photography filter and prompt cards to help connect families to artworks and ideas.  The current exhibitions you can see are:
Grayson's Art Club – if you have tickets you can see Grayson's Art Club until 31 October 2021.  An exhibition of works selected by artist Grayson Perry during Grayson's Art Club, the popular Channel 4 TV series.

What is Manchester Art Gallery? – a new display introducing the gallery including its origins, how the collection was formed and how it relates to Manchester and its people. 

Jade Montserrat Constellations: Care & Resistance is part gallery, part studio, and this evolving space showcases Jade Montserrat's work exploring race, the body and language. 
Suzanne Lacy: Cleaning Conditions – this exhibition brings together two of Lacy's Manchester projects, Cleaning Conditions and her new collaborative work Uncertain Suzanne Lacy: Cleaning Conditions.
And coming soon to Manchester Art Gallery, Bellotto: Views on a Fortress, from Saturday 20 November 2021 until Sunday 27 February 2022.  The Gallery's fortress interior paintings by Bernardo Bellotto (1722-1780) are brought together with their exterior views for the first time in 250 years. Exhibition organised by the National Gallery and Manchester Art Gallery. 

Also from Tuesday 2 December 2021 to Sunday 10 April 2022, Derek Jarman PROTEST!, a major retrospective of the work of one of the most influential figures in 20th century British culture, Derek Jarman (1942-1994). 

Manchester Art Gallery is open Wednesday to Sunday, 10.00am – 5.00pm.

manchesterartgallery.org
Manchester Jewish Museum
The newly reopened Manchester Jewish Museum have a busy October and November coming up with plenty of activities for all ages including half term family fun and the latest events in their Synagogue Nights season of intimate performances in their restored Spanish and Portuguese Synagogue.
On Wednesday 27 October, 2.30pm join songwriter and storyteller Ana Silvera for a family Learn Ladino Music workshop, as she teams up with PJ Library to discover the magic of Ladino music in this interactive workshop for kids, inspired by Debbie Levy's's book The Key From Spain. £6 full, £4 children.
Book for Ana Silvera: Ladino Laments and Love Songs, an intimate concert as part of Synagogue Nights and Tsitsit Fringe Festival on Thursday 28 October at 7.00pm. Ana Silvera will explore her Sephardi heritage through traditional ladino songs and original tunes as she follows her family's journey from Portugal to Aleppo before finally arriving in Manchester.
The museum has baking for children and adults alike on Sunday 31 October at 12.00 noon and 1.00pm. Bring a sprinkle of colour and pattern to your autumn with their Stained Glass Window Cookie Baking workshops, inspired by their beautiful synagogue windows. £6 full, £5 concessions, £4 children.
National Football Museum
The National Football Museum hosts two football writing festivals this autumn – one for grown-ups, one for kids.
The Children's Football Writing Festival takes place during half term – on Thursday 28 October from 11.00am – 3.00pm. The Family Friendly event encourages children to pick up a pen and transfer some of their football flair to paper.
The action-packed day includes: Skills workshops, football writing training from Ultimate Football Heroes author Matt Oldfield.
The Football Writing Festival for grown-ups, runs from Monday 1 to Friday 5 November.  This is the eighth running of the popular event which brings together the best football writers for five nights of interviews, insight and debate about the beautiful game.  Three of the events will be held in person at the museum, while two can be viewed entirely free of charge via the museum's YouTube channel.
The museum (open Wednesday to Sunday) is gearing up for an exciting half term.  Take part in interactive challenges and games designed to sharpen your football skills.  Test your nerve from 12 yards in the new and improved Penalty Shootout game.  Soak up the pressure and score past the virtual goalkeeper.
Use teamwork with family trails to unearth football treasures.  Enjoy fantastic exhibitions and have your photo taken with the museum's Premier League trophy.
Find out more about the beginnings of football, relive FA Cup fairy tales, see footballing crown jewels from the 1966 World Cup Final ball to Diego Maradona's incredible 'Hand of God' Argentina shirt.
Enjoy new exhibitions: When Football Was Football: Photography of Sefton Samuels 1960s-1980s and The English Hall of Fame. See a new museum gallery dedicated to football's first female superstar – Lily Parr.
The museum is open from Wednesday to Sunday. Tickets are on sale now. The museum is free to City of Manchester residents. 

nationalfootballmuseum.com

People's History Museum
Explore the past, present and future of ideas worth fighting for at People's History Museum (PHM). Across all three floors of the museum, discover new exhibitions, objects and events. 
Visit PHM's newest installation, Migration: a human story, which sees new panels, powerful animations and a brand new banner introduced to our main galleries. A Community Programme Team, made up of people whose lives have been shaped by migration, identified areas of the museum where stories of migration could be amplified. The next Migration guided tour will be on Saturday 23 October, book your tickets.  
Vanished Streets: an exhibition of photographs of lost Jewish Manchester from the 1970s is a part of this Migration theme. PHM is excited to be displaying Shloimy Alman's unique record of daily life in 1970s Manchester's Jewish communities to the public for the first time ever.  
This award winning, Family Friendly museum has some exciting half term activities for their younger visitors. The Migration Passport Trail invites children and their families to follow one of three trails around the gallery and step into the shoes of those who have migrated to the UK. Children can also pick up and play I Spy, a self-guided quiz which takes you through all of the museum to discover key moments in history. For a unique half term activity, join the Parliament takeover workshop on Wednesday 27 October which will involve arts and storytelling. 
And don't miss Open Kitchen Cafe & Bar!  Enjoy a sustainable, ethically-sourced and delicious food experience. 
People's History Museum is open Wednesday to Sunday, 10.00am – 4.00pm. FREE ENTRY with a suggested donation of £5. You can also support the museum by visiting the PHM shop which has unique gifts and souvenirs inspired by the collection. 

phm.org.uk
Science and Industry Museum
Head to the Science and Industry Museum this half term for a week of fun activities all about the body, inspired by Cancer Revolution: Science, innovation and hope, a new world-first exhibition.
Look out for expert Explainers at Science Stops around the museum who are on hand to reveal some of the different ways we can see inside our bodies, from microscopes and magnets to high-tech cameras. Get creative with craft activities and make your own model of a cell to wear on a badge.
Don't miss the next Get Curious events on Tuesday 26 and Wednesday 27 October, where scientists and experts working in STEM (Science, Technology, Engineering and Maths) will be armed with amazing facts and interactives for you to get stuck into.
Stop by a Textiles Demo (not running Monday or Friday) to find out how mill workers' bodies were affected by their jobs and learn more about how cotton transformed the city of Manchester.
Plus, don't miss Cancer Revolution: Science, innovation and hope. Recommended for ages 8 and over, this brand-new free exhibition features never-before seen objects, interactive exhibits, new artist commissions and installations, film, photography and a breadth of personal stories.
The museum café will be open, serving hot and cold drinks, snacks, sandwiches and cakes to eat in or take away. You're also welcome to bring your own food to enjoy in our picnic areas.    
The museum shop will also be open selling a wide range of gifts, books, games, toys and science kits. Every purchase you make supports the museum and our vital work. 
The Science and Industry Museum will be open daily until Sunday 31 October from 10.00am – 5.00pm. Plan your visit and book your free museum admission tickets now.
scienceandindustrymuseum.org.uk
The Lowry
Paintings by the renowned Scottish artist, Jock McFadyen, have gone on display at The Lowry in Salford.
Jock McFadyen Goes to The Lowry: A Retrospective is open now and runs until Sunday 27 February 2022 and is the first major exhibition since the arts centre re-opened following lockdown.
Bringing together a range of works spanning 45 years, the exhibition highlights McFadyen's passion for painting the overlooked margins of the modern city and its inhabitants as well as huge panoramic views of the natural world.  The artist's obsession however is always with the qualities of the painted surface, as is the case with LS Lowry.
In homage, McFadyen has also placed a number of works from The Lowry Collection next to his own pictures, prompting surprising visual connections and placing Lowry alongside contemporary urban landscapes.
The Lowry's galleries are open Tuesday to Friday (11.00am – 5.00pm) and Saturday to Sunday (10.00am – 5.00pm). Admittance is free, donations are welcome.

The Whitworth
The Whitworth is open again and very happy to welcome visitors back to the gallery and park. Visit their newly opened exhibition Still Parents: Life after Baby Loss, which is part of an award-winning programme. Explore the gallery's collections on display in their current exhibitions, including Standardisation and Deviation, The Nancy Rothwell Award, White Psyche, Collections Care Centre, and Exchanges.
Visit in November when the Whitworth presents the first major UK presentation of multiple works of US artist Suzanne Lacy, a pioneer of social practice and community organising for almost five decades.  What kind of city? Suzanne Lacy, which opens Friday 26 November 2021, with free entry and no need to book.
Check out the Natural and Cultural Health Service – a programme of outdoor activities that promote good physical and mental wellbeing. From Meditating in Nature, Iyengar Yoga for Wellbeing to Gardening for good health, at the Whitworth they truly have something for everyone, every week.  Iyengar Yoga, Pilates, and Silent Spaces sessions take place weekly, encouraging you to take time out and enjoy the restorative benefits of being peaceful in a green space. 
And FREE autumn activities for younger visitors include, a Spooky Scavenger Hunt with City of Trees on Saturday 30 October, 12noon-2.00pm. Explore the park whilst solving a series of spooky clues or if you're feeling creative you can grab some apples and paints and create a spooky scene!  You're invited to come dressed up as your favourite spooky character if you would like to! Suitable for ages up to 11 years old. Book your free place here.
And don't miss Outdoor Art Club, Friday 12 and Saturday 20 November, Friday 10 and Saturday 18 December, 10.30am-12.30pm. Bringing art, nature, and creativity together, come rain or shine. Outdoor Art Club sessions are FREE and drop-in, there's no need to book.
The Whitworth is open Wednesday to Sunday, 10am-5pm. There's no need to pre-book tickets to visit the gallery – just turn up on the day.