Whilst the museum is closed we're taking the time to explore some of the treasures within our collection and their relevance today.  This month we're putting the spotlight on the 'There Is No Planet B' placard.
In this post, Programme Officer Michael Powell shares one of the museum's most recent acquisitions collected from the very first Youth Climate Strike in Manchester in 2019.  He looks at how campaigning has gone online, asks whether we can now look forward to a greener future and explains how you can help document the ideas worth fighting for today.
People and planet: is it time to act now?

What is the 'There Is No Planet B' placard?
In 2019 People's History Museum (PHM) spent the year exploring the theme of protest in commemoration of the bicentenary of the Peterloo Massacre.  Our audiences talked a lot about environmental protest, reflecting what was happening and concerning them in the wider world.  The 'There Is No Planet B' placard was collected at the first Youth Climate Strike in Manchester, which was held on 15 February 2019.  The reverse of the placard reads 'If you don't act like adults we will'.
What is the relevance of this placard in the context of Covid-19?
22 April 2020 marked the 50th anniversary of Earth Day, a time when people would usually have gathered together to celebrate the planet and amplify environmental issues.  The Covid-19 outbreak meant that celebrations looked very different this year.  Previously, millions of children and young people marched for climate action, but this year the streets were empty and public spaces deserted.  Although children and young people are staying home, they're continuing to make their voices heard as they move the #ClimateStrikeOnline.
The pandemic has also brought many people closer to, and more appreciative of, our natural world.  Recent weeks have been a testing time for our wellbeing and mental health, but for many people, a locked down society has been a chance to explore nature as a source of hope and comfort during this difficult period.
Is the response to Covid-19 useful in tackling the climate emergency?
Although climate breakdown and Covid-19 are two very different challenges, they do have some key things in common.  Both are global – they do not respect national boundaries – and both require countries to work together, sharing scientific research to find solutions.
Recent weeks have shown that things can change quickly.  The global community has demonstrated that it can act to address a crisis, with governments, businesses and individuals taking measures and changing behaviors in response to the pandemic.
This response has also amplified human kindness as something inherent within us all, especially in a time of crisis.  This has been shown not only by key workers, who have been risking their lives to save others, but also through the mutual aid provided by millions of people who are supporting friends, family and strangers.  When we work together, even small personal actions like social distancing, can make a huge difference and help us to overcome great challenges.
Our elected leaders now face decisions about how to ensure that countries economically recover from the pandemic.  This presents a huge opportunity for society to shift into a greener economy.  The question is, will our elected leaders have the vision and spirit to make major changes now that could secure a greener future?
What else is PHM doing to document the climate emergency and Covid-19?
We believe that collecting material on events happening now is vital for us to tell the continuing story of ideas worth fighting for.  Over the last few years, we have been working to collect and document people's responses to the climate breakdown and now we would especially like this also to represent how Covid-19 has impacted and influenced these responses.
If you have any objects, photographs or videos that you think can help us to tell this story please get in touch at collections@phm.org.uk.
How can I connect with other people to discuss the climate emergency and Covid-19?
We'd like to hear what you think about these issues.  Have you felt differently about the natural world during lockdown?  What do you hope will change in the future?  Share your thoughts with us and others on social media using #PHMNoPlanetB.
If you're under 18, have a go at making a campaign film at home inspired by the 'There Is No Planet B' placard and use the Vital Voters platform to promote it.
If you'd like to talk more about how the natural world benefits our mental health join the digital Have Your Say event on Wednesday 27 May at 7.00pm, where we'll be on Twitter @PHMMcr talking about Covid-19 and mental health with Greater Manchester young people's mental health charity 42nd Street.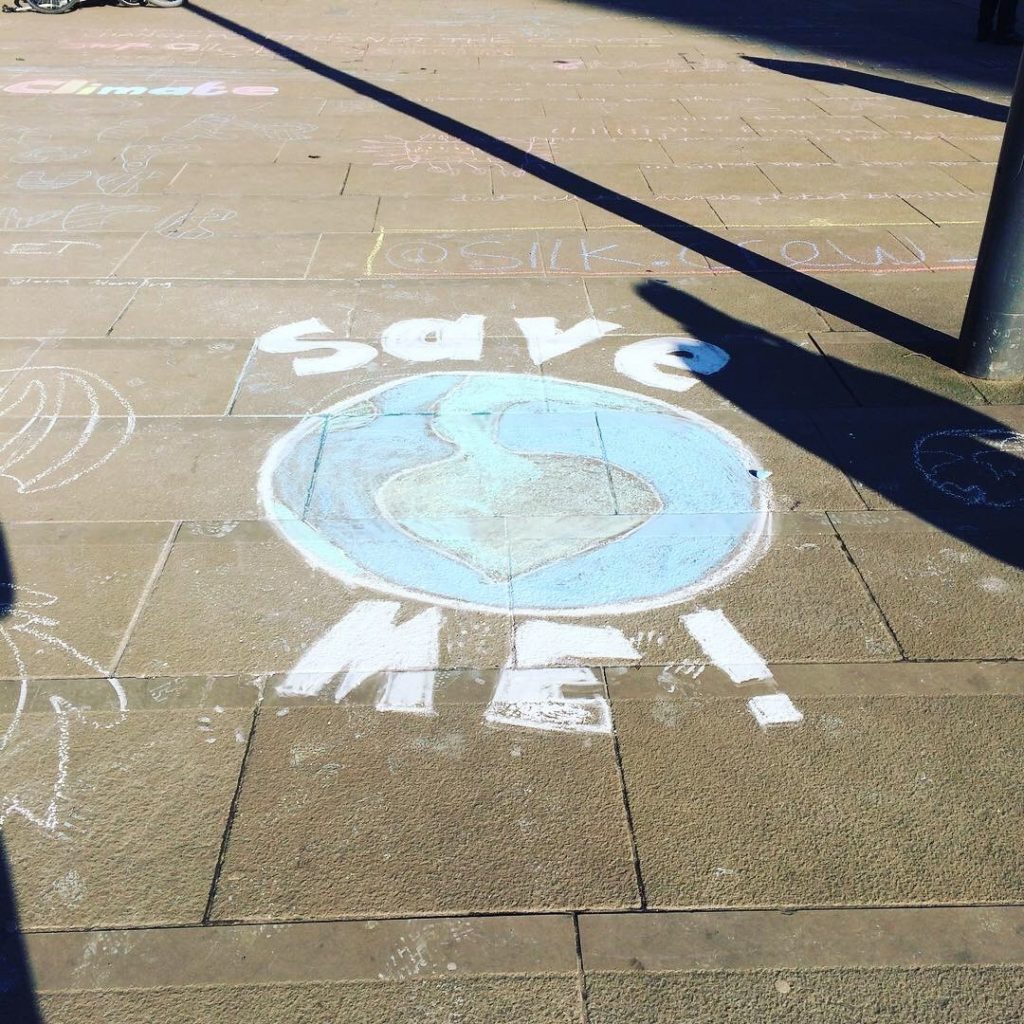 What can be done to stop climate change?
We can't stop climate change, but we can prevent it getting much worse.
Campaigning is an important part of making change happen.
Here are three organisations campaigning for change, in different ways:
We can also make small changes in our everyday lives to reduce our carbon emissions.
Here are three ideas to get you started:
Where can you see the 'There Is No Planet B' placard or find out more?
The placard is not currently on public display at the museum, but you can contact collections@phm.org.uk to arrange to view the object when the museum reopens.  Find out more about the 'There Is No Planet B' placard, picked out as one of the ten treasures in PHM's collection.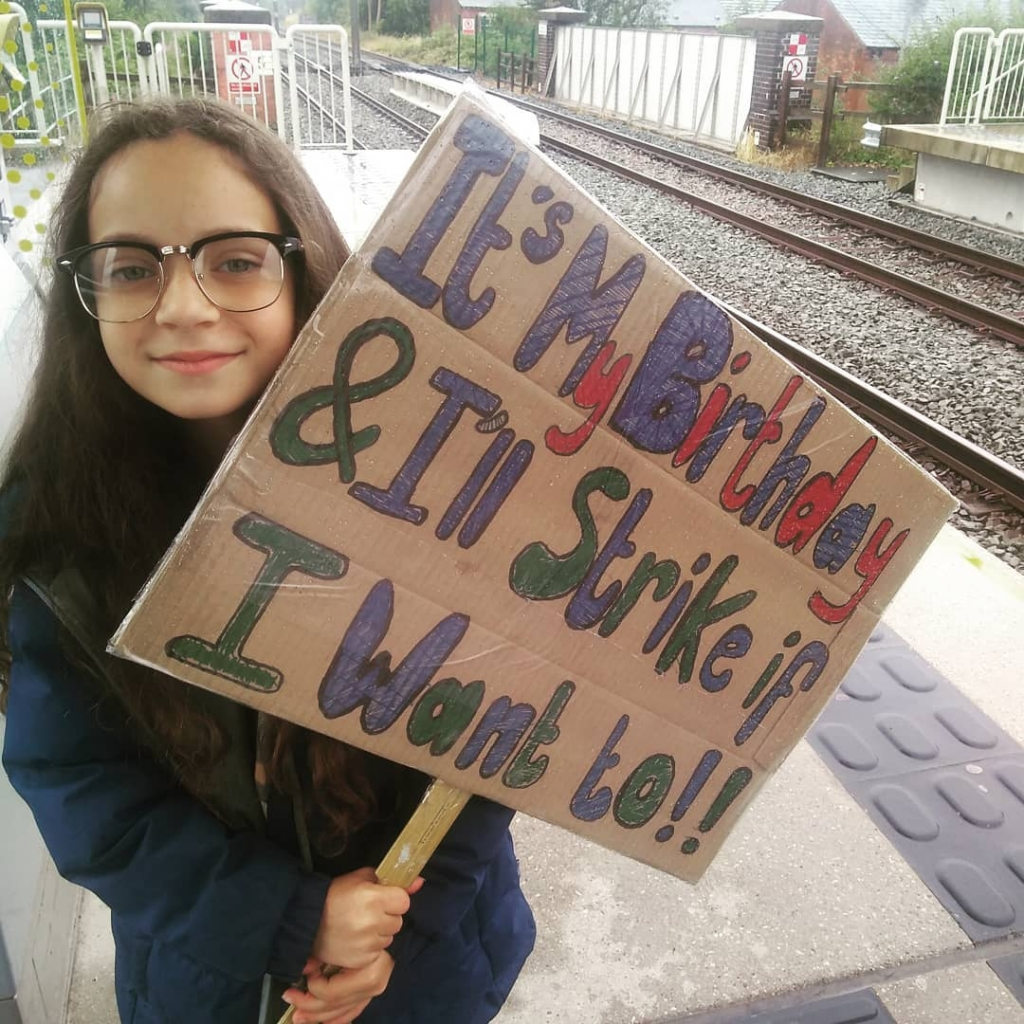 On 27 October 2019 the museum had a 'There is no planet B' creative disobedience day, which put the environment in the spotlight.
Read ten year old youth activist Lillia's guest blog about what's at stake and how she is standing up for climate justice.
Our work to bring people together, spread hope and inspire action has never felt so important.  Our building may be closed, but we are continuing to invite democratic discovery by sharing the stories behind workers' rights, collective action, universal healthcare, equality and democracy.
Help us to continue to bring to life to ideas worth fighting for by sharing our online content, by making a donation, or by joining PHM's Radicals campaign.   Join us in solidarity and support us.