Shop the national museum of democracy's retail collection online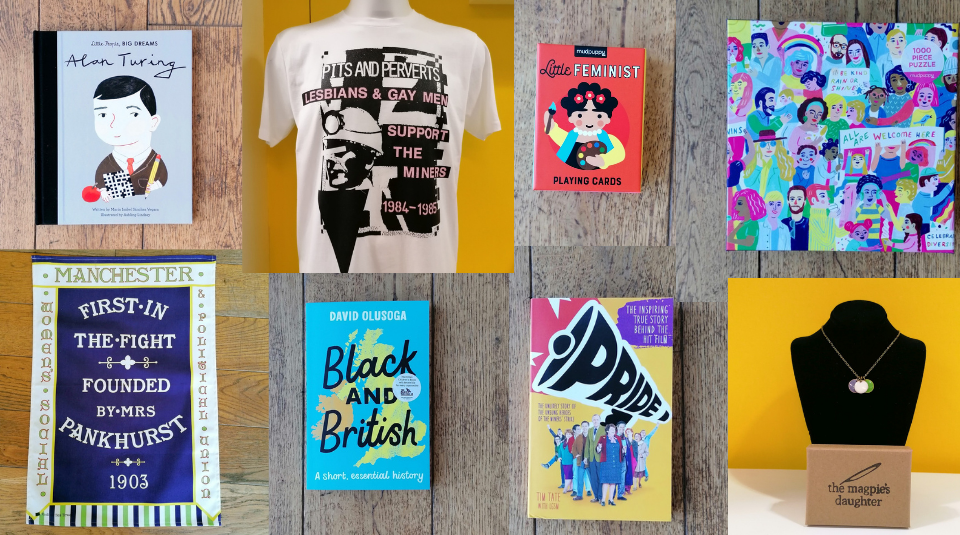 The launch of People's History Museum's (PHM) new online shop means that everyone, everywhere can delve into a retail experience that reflects the vast collections, archives and galleries of the national museum of democracy.  A world where ideas worth fighting for are creatively explored in books, posters, artworks, children's activities, toys, jewellery, t-shirts and more.
Independent companies, individual makers and an array of specialist publishers are all represented by the carefully curated selection of products.  Some products are based upon collection pieces, such as the famous Manchester suffragette banner, and some are inspired by the world changing stories told by the museum, such as equality for all, workers' rights, and votes for women.  PHM is the only place that brings all of these stories together and its shop is filled with unique and extraordinary products inspired by these events, with every purchase made helping to support the work of the museum.
Amber Greenall-Heffernan, PHM shop Manager, says, "People's History Museum is Manchester based, but our audience is both national and international, so it's brilliant to be able to extend the reach of our shop.  Everything we stock links in some way to the museum and its collections and archives, meaning PHM shop is a totally unique retail experience.  Making a purchase is also a wonderful way for people to support the museum and our work, which in these challenging times means a great deal."
Whether you are looking for a product to brighten up your home, a recommended read or a gift idea with a difference, PHM's online shop will be your go to.  To give a flavour of what to expect PHM shop Manager Amber Greenall-Heffernan has picked out ten of her favourite products.
Launched at the museum in 2019, First in the Fight by Helen Antrobus and Andrew Simcock takes its name from the Manchester suffragette banner, which has been part of PHM's collection since 2017, and examines the stories of 20 radical Manchester women with accompanying illustrations by artists from local project
Women in Print. (£19.99)
The Manchester suffragette banner tea towel, made in collaboration with Radical Tea Towel, gives the opportunity to add a suffragette rallying cry to your kitchen. (£12.50 exclusive online price)
Carrying the colours of the movement, The Magpie's Daughter's bespoke suffragette necklace is a product made by this Manchester maker exclusively for PHM. (£20)
The historical impact of women who have fought for what they believe in is colourfully depicted in Little Feminist playing cards, a perfect gift for all young radicals. (£10.99)
Salena Godden's poem of hope, courage and resistance, Pessimism is for Lightweights, is on permanent display at the museum and features in a pamphlet of works published in 2018. (£7.99)
PHM holds the LGSM (Lesbian and Gays Support the Miners) archive, which was the inspiration behind the 2014 film Pride and is explored in the book Pride: The Unlikely Story of the True Heroes of the Miners' Strike by Tim Tate. (£8.99)
Commemorating the gig that was held in December 1984 by LGSM to raise funds for miners is the Pits & Perverts t-shirt. (£15.00)
 The message of the All Are Welcome Here jigsaw embodies the ethos of PHM, and is one of the products selected to echo the theme of migration being explored by the museum throughout 2021. (£14.99)
Black and British: A short, essential history is especially written for young people (12+) by award winning historian and broadcaster David Olusoga. In it David looks back at black British history spanning from Roman times to the present day. (£6.99)
For younger readers (4-7), Little People, Big Dreams: Alan Turing tells the incredible story of someone who changed the course of history and is also remembered as a key figure in LGBT+ history. (£9.99)
On Wednesday 19 May 2021 the museum is planning to reopen, in line with the government's latest roadmap.  You can keep up to date with the latest news by signing up to receive PHM's e-newsletter, subscribing to the blog, or following the museum on social media on Twitter @PHMMcr, Facebook @PHMMcr, and Instagram @phmmcr @phmshop.
ENDS
For further information please contact Fido PR:
laura.sullivan@fidopr.co.uk / clare.short@fidopr.co.uk 0773 474 9995.
Images are available here: https://www.dropbox.com/sh/bqj5nzuh7mefd6z/AACmC93a6EIzRSeaJDBJmFLHa?dl=0
About People's History Museum (PHM)
People's History Museum (PHM) in Manchester is the national museum of democracy, telling the story of its development in Britain: past, present, and future.  The museum provides opportunities for all people to learn about, be inspired by and get involved in ideas worth fighting for; ideas such as equality, social justice, co-operation, and a fair world for all.  PHM offers a powerful programme with varied themes; 2018 looked at representation and commemorated 100 years since the first women and all men won the right to vote in Britain, in 2019 the focus was on protest to mark the bicentenary of the Peterloo Massacre in Manchester, the 2020-2021 programme is on the theme of migration and 2022 will explore disabled people's rights and activism.  Previous winner of Kids in Museums Family Friendly Museum Award.
We are hugely grateful for the generosity of our funders who have supported PHM during our period of closure and to reopen safely:
Arts Council England, Granada Foundation, Greater Manchester Combined Authority, Joseph Rowntree Charitable Trust, Manchester City Council and The National Lottery Heritage Fund.
About Arts Council England (ACE)
PHM is an Arts Council England (ACE) National Portfolio Organisation (NPO).  The work of PHM is supported using public funding by ACE, the national development body for arts and culture across England, working to enrich people's lives.  ACE support a range of activities across the arts, museums and libraries – from theatre to visual art, reading to dance, music to literature, and crafts to collections.  Great art and culture inspires us, brings us together and teaches us about ourselves and the world around us.  In short, it makes life better.  Between 2018 and 2022, ACE will invest £1.45 billion of public money from government and an estimated £860 million from The National Lottery to help create these experiences for as many people as possible across the country.  artscouncil.org.uk.