The idea for the new banner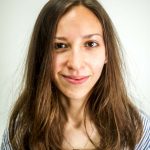 'This fake trade union banner subverts the white Britishness and classical ideals traditionally upheld by other banners in PHM's collection.
Instead of the singularly white, British male worker who saves the day, we wanted a more representative banner that gives migrant workers their due and criticises industries for exploiting vulnerable, marginalised groups.
With a medallion in each corner – symbolising agriculture, textiles, healthcare and hospitality – the banner seeks to empower fellow migrants whose hard work and cheap labour remain unrecognised.  Many of us are forced to put up with low pay, long hours, little to no representation and no stability because of our backgrounds.
A female cleaner stands proudly in the centre, bucket and mop in hand.  A retake on the classical figure of Justice, she highlights the absurdity of the past and the present.  From textile factories in Leicester to Uber delivery drivers, this banner celebrates those whose voices are not heard.'
Monika Titane
Community Programme Team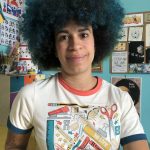 Seleena's statement
'In more recent years within my art practice I've wanted to create more banners.  I've always had a fondness for banners, the craftsmanship involved, what they stand for, how they can be used. A way to share one's voice and be heard.
One half of my family came to England from Jamaica in the 1950s and 1960s, so migration has always been present in my life.  I was born in England but am visibly still not 'from here'.
To get the opportunity to create a banner, to use my skills to create a space and give a voice to those often spoken about or not heard at all, was something I couldn't pass on.  I hope I've helped my family and others just like them to TAKE UP SPACE!
The aim of the banner was to create a voice for migrant workers, to share their story and to take up space.  Working alongside the Community Programme Team, we wanted to represent as many migrant workers as possible; from those working in the care sector to those working in hospitality, and from agriculture to the textile industry.  Workers who are often undervalued and mistreated.
The slogan on the banner 'The Journey We Made Across Land and Sea, To Build a Country Not Made for Me' speaks about the hostility migrants face when coming to the UK the narrative told in mainstream media and the poor treatment, not just as workers, but as people'.