Family Friendly activities to enjoy at the national museum of democracy

People's History Museum has a series of must-see spectacles to enjoy on a grand scale and of a grand age this school summer holidays.  A visually stunning art installation of 100 pairs of ceramic feet, a moving display of Charlie Mackesy's 5ft tall thank you card to the nation and the 200th birthday of the oldest banner in its world-renowned collection are just some of the highlights awaiting discovery at the national museum of democracy.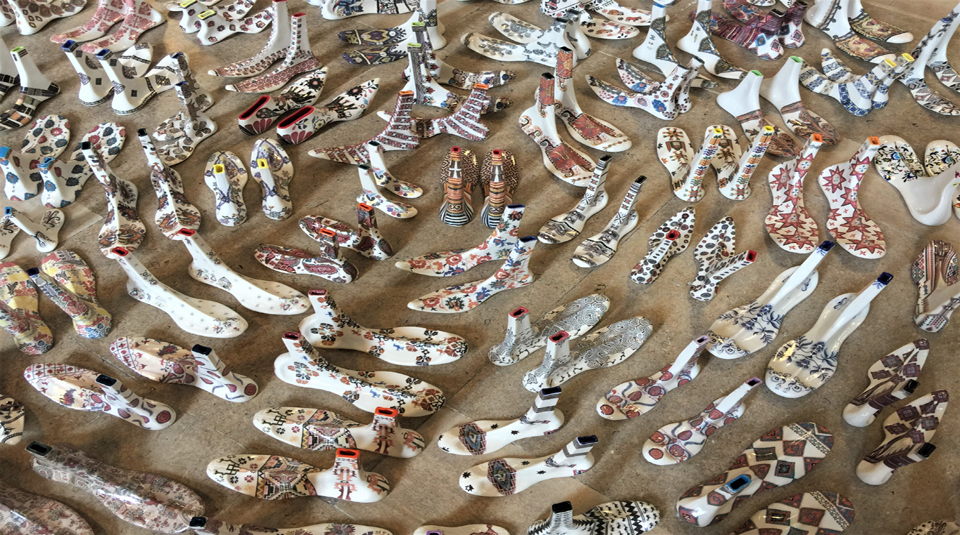 Counter-flow: the movement of cultures from one place to another – Wednesday 21 July 2021 to Sunday 10 October 2021
Visitors to People's History Museum will find themselves standing alongside 100 pairs of ceramic feet each individually decorated with textile patterns that make different global references to collectively symbolise demographic shifts across the world and the spread of cultural identities.  Every piece in Counter-flow is a work of art in its own right, with all created by artist Eva Mileusnic to reflect individual stories, beginning with that of her parents who came to Britain as refugees from Hungary. Counter-flow art installation is one part of this exhibition, which looks at cultural and national identity through different art forms.  In National Relics the depiction of identity through vintage costume dolls that were popular between the 1950s and 1970s is one route and in Inter-National Grid a patchwork grid of national costumes is superimposed onto a vintage map of England and Wales to create a multicultural fabric of British society in modern day Britain. This celebration of diversity is part of the museum's migration programme and continues until Sunday 10 October 2021.
Entry to the museum is free with a suggested donation of £5.  Opening hours are Wednesday to Sunday, 10.00am to 4.00pm.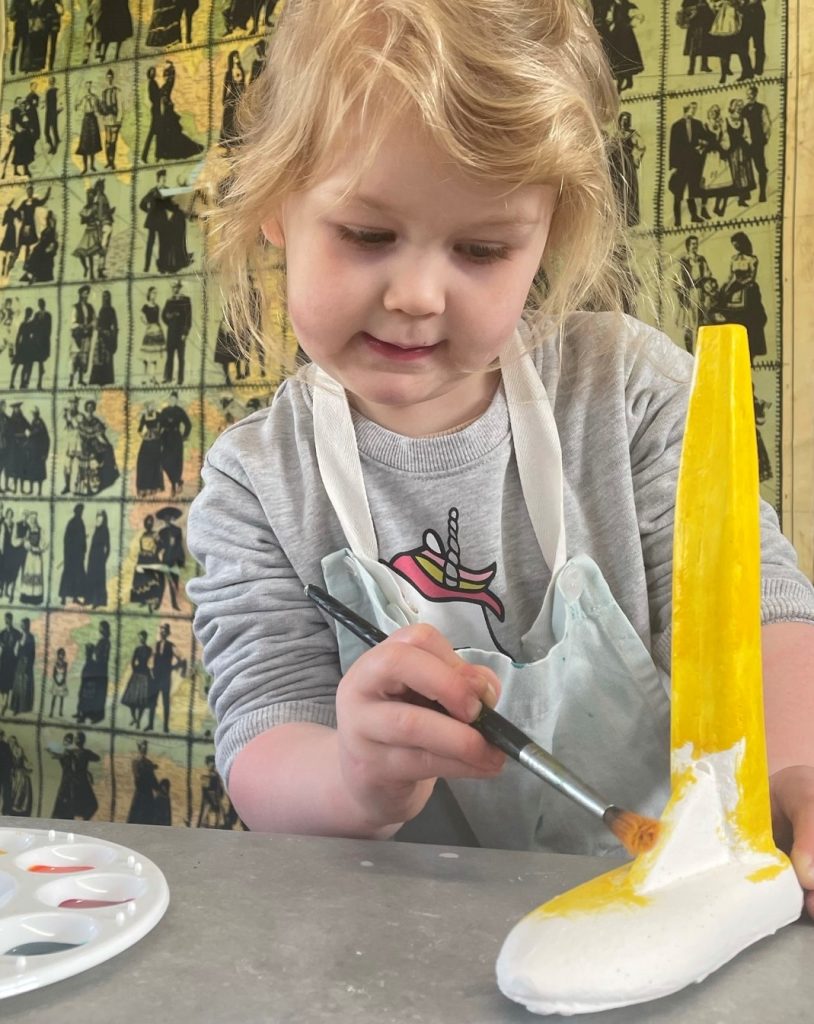 Counter-flow Family Friendly workshop: identity feet – two sessions every Wednesday of the school holidays beginning on Wednesday 28 July
Inspired by the artist Eva Mileusnic's art installation Counter-flow, families will have the opportunity to decorate a pair of plaster cast feet with a design that reflects their own identity.  An array of materials will be available to use and experiment with including painting, printing, drawing and decal transfer application.  The activity is Family Friendly and designed to be suitable for all ages.
Workshop tickets are priced at £6, £2 and free (plus booking fee for paid tickets) and all the details, schedule of dates and booking information is here.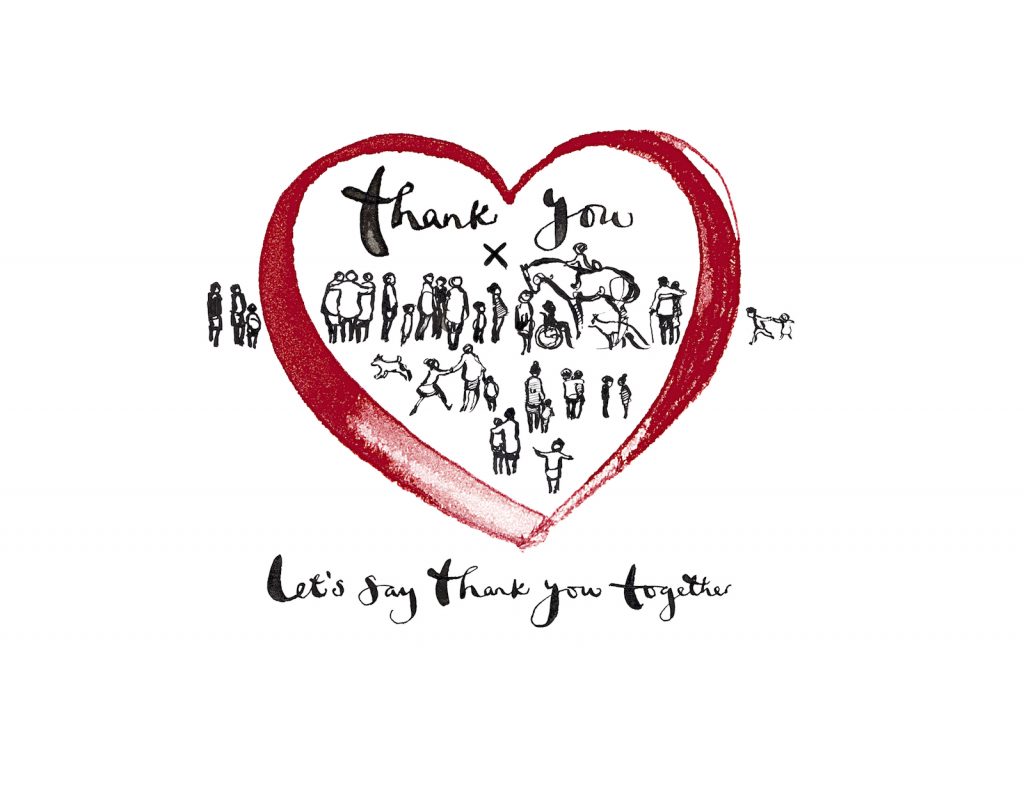 A national Thank You card for Thank You Day – Sunday 4 July 2021 to Wednesday 4 August
Charlie Mackesy, author and illustrator of the highly-acclaimed book The Boy, the Mole, the Fox and the Horse, has come together with the Together Coalition to create a Thank You card from the nation to all those who have helped in so many different ways during the Covid-19 Pandemic.  The result is a card that stands over 5 foot tall, carries an illustration created by Charlie featuring his much-loved characters on the outside and the words and contributions from schools across the country.
Standing in the Foyer of People's History Museum the Thank You card from the nation will be an unmissable sight for visitors to the national museum of democracy, who will be able to read the comments and have pictures taken besides the card, which carries with it a heart-warming message of love and hope.  And on sale in PHM shop is Charlie Mackesy's book The Boy, the Mole, the Fox and the Horse.
Entry to the museum is free with a suggested donation of £5.  Opening hours are Wednesday to Sunday, 10.00am to 4.00pm.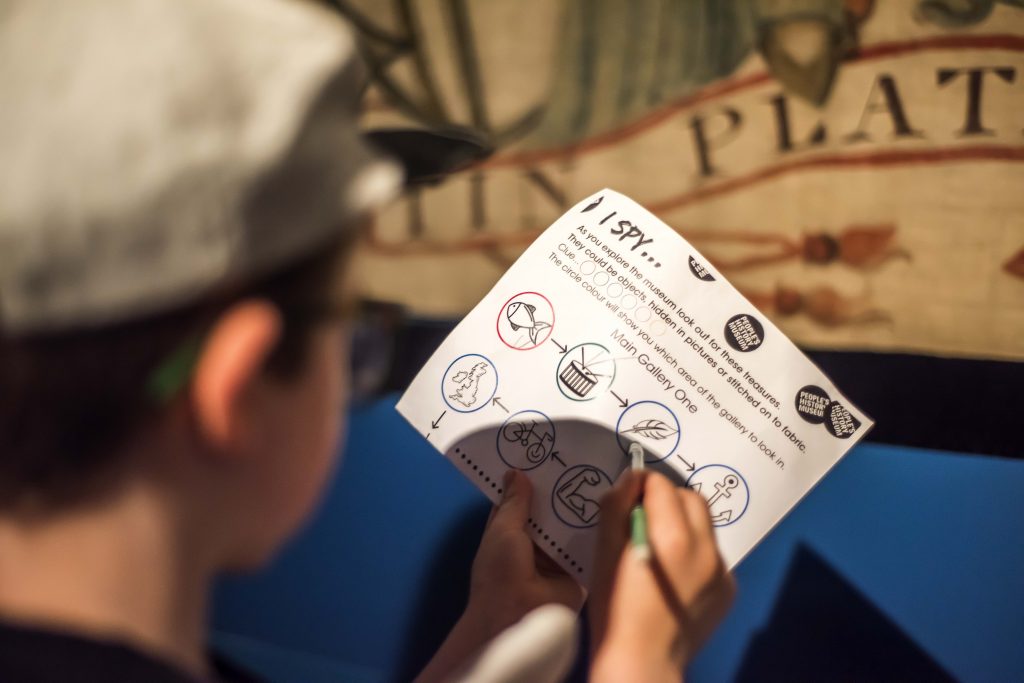 200th birthday of the Tin Plate Workers Society banner – on permanent display in Main Gallery One
As the oldest banner in what stands as the world's largest collection of trade union and political banners, the Tin Plate Workers Society banner has a special place at People's History Museum.  Created by William Dixon for the celebration of the coronation of George IV (19 July 1821) it has a flag like configuration and uses oil on linen meaning it is very fragile.  The imagery, which includes the Union Jack, the figures of hope and justice and the all-seeing eye, was intended to inspire pride, hope and justice.
The Tin Plate Workers Society banner is featured as part of the museum's fun I Spy activity, which gives eagle-eyed families the chance to discover some of PHM's treasures as part of this self-guided quiz.  It might be an object that you have to spot or an interesting aspect of an artefact that requires some further investigation!  Votes for Women, the Peterloo Massacre and workers' rights are some of the stories of change makers that form a backdrop to I Spy.
Entry to the museum is free with a suggested donation of £5.  Opening hours are Wednesday to Sunday, 10.00am to 4.00pm.  I Spy is a free Family Friendly activity.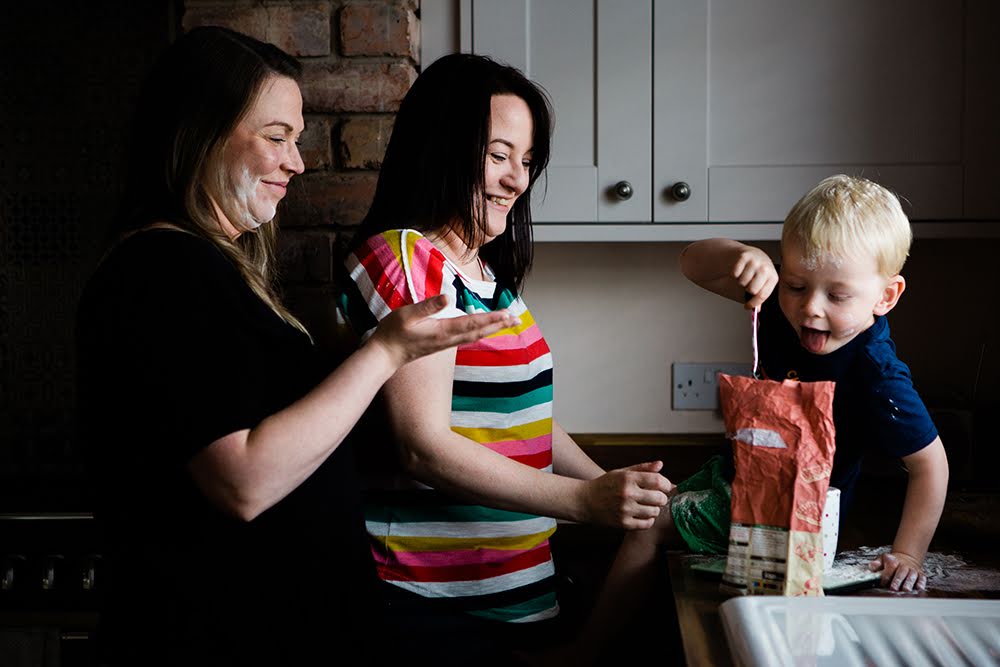 The 'Unseen Community' – Saturday 24 July 2021 to Wednesday 1 September 2021
A collaboration with Proud2bParents and artist Allie Crewe, this photographic exhibition illuminates the everyday family life experiences of LGBT+ parents with the images representing a decade long study.  As well as looking at the lighter side of life, The 'Unseen Community' captures some of the discriminatory issues LGBT+ parents can face.
Entry to the museum is free with a suggested donation of £5.  Opening hours are Wednesday to Sunday, 10.00am to 4.00pm.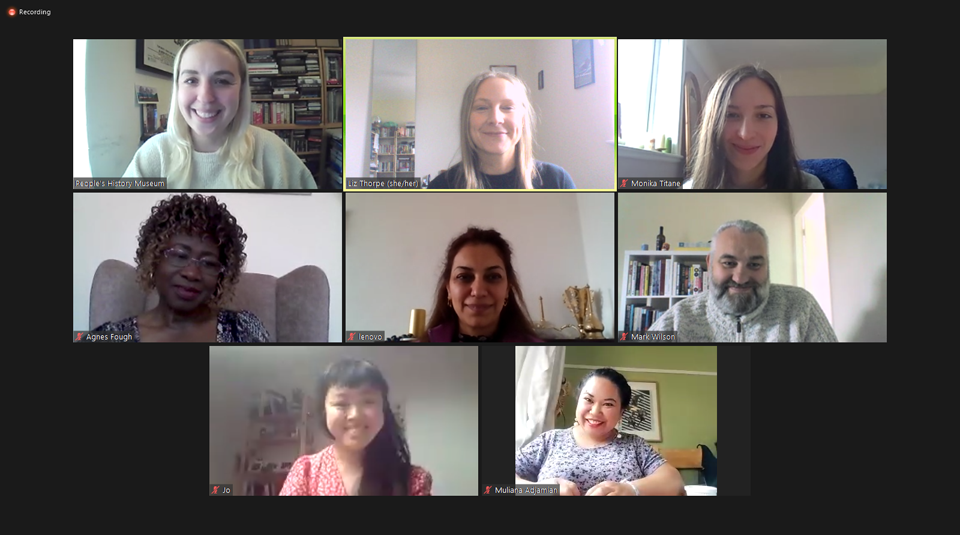 Migration: a human story – Wednesday 11 August 2021 to Sunday 24 April 2022
Set for a mid-summer launch are a series of interventions that will challenge the way in which migration stories are told at People's History Museum.  These are being staged by the Community Programme Team, a group of individuals whose lives have been shaped by migration that the museum has been working with since 2019.  An important part of the project is a new banner, inspired by the classical imagery and design of historic banners like the Tin Plate Workers Society banner, but also subverting, challenging and reinventing.  Designed by textile artist Seleena Daye it represents migrant workers, whose hard work and cheap labour has been so often unrecognised, overlooked and erased.  Also expect short animations, trails and more, with plenty of Family Friendly content as part of the activities to be discovered throughout the museum's galleries.
Full details of the interventions will be released in early July.  To keep up with the latest news sign up to receive PHM's e-newsletter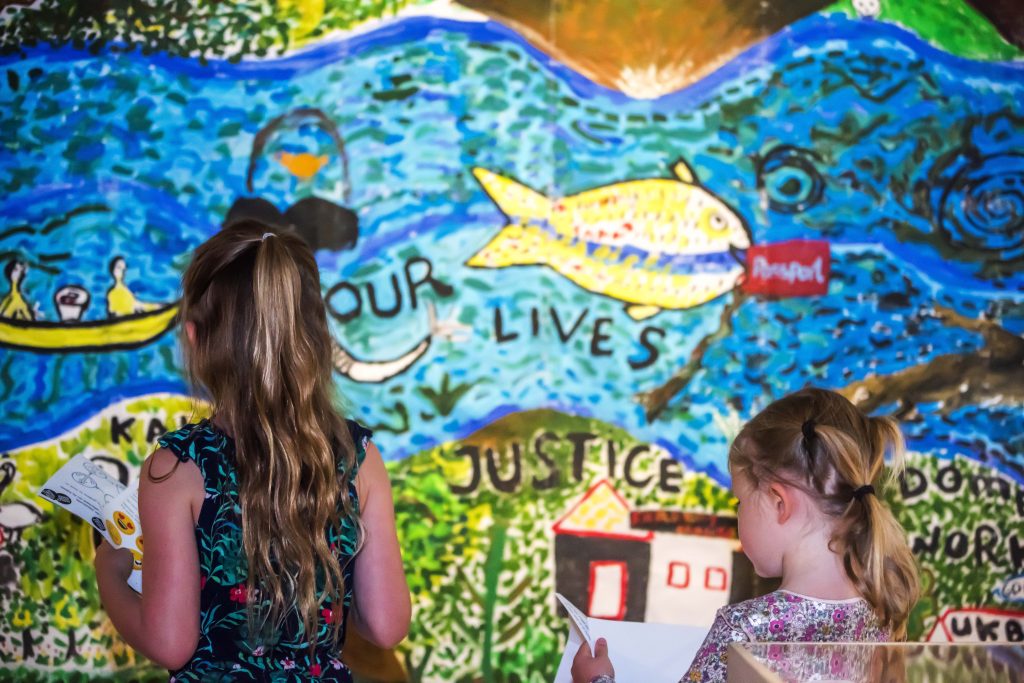 The whole experience of visiting People's History Museum is designed to be Family Friendly.  Other things to look out for include the Family Friendly trail in the exhibition More in Common: in memory of Jo Cox and the PHM Shop; full of ideas inspired by PHM's collection and holder of the Let Toys Be Toys "Toymark" Good Practice Award.
New for summer 2021 is the Family Friendly menu from the museum's recently launched cafe, Open Kitchen Cafe & Bar at PHM; a sustainable dining experience with a focus on delicious fresh, locally sourced food.  Choices feature a breakfast selection, sandwiches, hot dishes, drinks and a Kids Meal; which includes a sandwich, organic juice carton and small portion of cake, piece of fruit or fruit salad for £3.  There is also a dedicated picnic space in the museum's Processional Way for families that want to bring their own lunch or snacks.
People's History Museum's opening hours are Wednesday to Sunday, from 10.00am to 4.00pm.  The museum and its exhibitions are free to visit with a suggested donation of £5.  To find out about visiting the museum, its full exhibitions and events programme based both at the museum and online visit phm.org.uk, and you can keep up to date with the latest news by signing up to receive PHM's e-newsletter, subscribing to the blog, or following the museum on social media on Twitter @PHMMcr, Facebook @PHMMcr, and Instagram @phmmcr.
ENDS
For further information please contact Fido PR:
laura.sullivan@fidopr.co.uk / clare.short@fidopr.co.uk

Images are available here: https://www.dropbox.com/sh/t8s2z8mvknqefx2/AABg7rUGGPRGgDoA56pJKWqba?dl=0

Notes to editors:
About People's History Museum (PHM)
People's History Museum (PHM) in Manchester is the national museum of democracy, telling the story of its development in Britain: past, present, and future.  The museum provides opportunities for all people to learn about, be inspired by and get involved in ideas worth fighting for; ideas such as equality, social justice, co-operation, and a fair world for all.  PHM offers a powerful programme with varied themes; 2018 looked at representation and commemorated 100 years since the first women and all men won the right to vote in Britain, in 2019 the focus was on protest to mark the bicentenary of the Peterloo Massacre in Manchester, the 2020-2021 programme is on the theme of migration and 2022 will explore disabled people's rights and activism.  Previous winner of Kids in Museums Family Friendly Museum Award.
We are hugely grateful for the generosity of our funders who have supported People's History Museum (PHM) during our period of closure and to reopen safely:
Arts Council England, Greater Manchester Combined Authority, Here for Culture, Manchester City Council and The National Lottery Heritage Fund.
About Arts Council England (ACE)
PHM is an Arts Council England (ACE) National Portfolio Organisation (NPO).  The work of PHM is supported using public funding by ACE, the national development body for arts and culture across England, working to enrich people's lives.  ACE support a range of activities across the arts, museums and libraries – from theatre to visual art, reading to dance, music to literature, and crafts to collections.  Great art and culture inspires us, brings us together and teaches us about ourselves and the world around us.  In short, it makes life better.  Between 2018 and 2022, ACE will invest £1.45 billion of public money from government and an estimated £860 million from The National Lottery to help create these experiences for as many people as possible across the country.  artscouncil.org.uk.